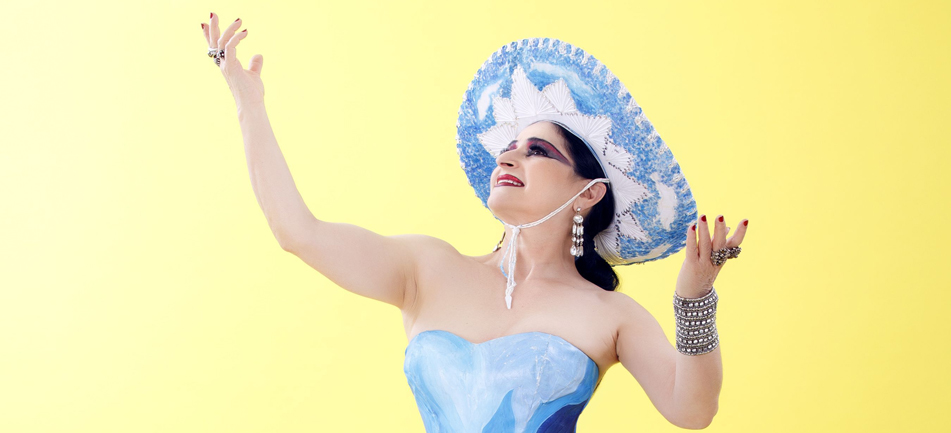 28 Sep

I Am Made In Mexico by Astrid Hadad

Sábado 1 de junio – 8:30 p.m. I Am Made In Mexico por Astrid Hadad en el Teatro Colony de Miami Beach (1040 Lincoln Rd Miami Beach.

Con vestimentas escandalosas, la feroz diva del performance de la Ciudad de México Astrid Hadad mezcla feminismo y fabulosidad en eventos extravagantes con una banda en vivo. Hadad se enfrenta a la política, la hipocresía mexicana, el machismo y la corrupción en producciones de estilo cabaret. Sustentando su labor de crítica social, historiadora y activista, Hadad presenta performances vocales y visuales no convencionales colmados de música "Heavy Nopal" (en honor al cactus del que proviene el Tequila), combinando rancheras, boleros, rumba y rock con disfraces extravagantes que funcionan como escenarios portátiles y que se han convertido en sello distintivo de sus actuaciones. Este ícono cultural ha heredado un surrealismo femenino exclusivamente mexicano, generando un estilo propio que palpita con humor e ironía.

75 minutos sin intermedio.

What: I Am Made In Mexico por Astrid Hadad (Mexico)

When: Jun. 1st at 8:30 p.m.

Where: The Colony Theater, Miami Beach (1040 Lincoln Rd Miami Beach, FL 33139)

Cost: $30 adults | $25 students and seniors | $20 for groups of 10 or more

Tickets: http://www.colonymb.org/tickets-events-1

More Information: (305) 674 1040

QUE: I Am Made In Mexico por Astrid Hadad

CUANDO: Sábado Junio 1 a las 8:30 p.m.

DONDE: The Colony Theater de Miami Beach

COSTO: $30 adultos | $25 estudiantes y adultos mayores | $20 para grupos de 10 y más.

TICKETS: The Colony Theater en https://www.colonymb.org, en la taquilla del teatro:

(305) 674-1040 de Martes a Domingo desde las 11:00 a.m. a las 5:00 p.m., o en Ticketmundo Customer Service: (800) 211-1414

THE COLONY THEATRE is located in the heart of South Beach on Lincoln Road. It first opened on January 25, 1935 as a Paramount Pictures movie house. Recently, the building underwent a three-year $6.5 million renovation to restore its original Art Deco grandeur and update its stage and technical equipment.

Today, the COLONY is a 417-seat state of the art venue proudly managed by Miami New Drama. Its impressive art deco design makes it one of the crown jewels of Miami Beach. The theatre hosts an exciting array of events, including music, dance, comedy, and theatre performances. The Colony Theatre is also home to Miami New Drama's own exciting theatrical season. http://www.colonymb.org/

FUNDarte  es una organización no lucrativa, multidisciplinaria, dedicada a la presentación, producción y promoción de música, teatro, danza, cine y artes visuales que hablan a la diversidad cultural de Miami, con énfasis en las artes y cultura de Latinoamérica, el Caribe y España. FUNDarte trabaja particularmente para nutrir y elevar a los artistas emergentes y aquellos poco conocidos por los públicos en el Sur de la Florida; facilitar intercambios interculturales a nivel internacional; y proporcionar oportunidades educativas para las audiencias y los artistas locales para ampliar sus perspectivas creativas, críticas y sociales.