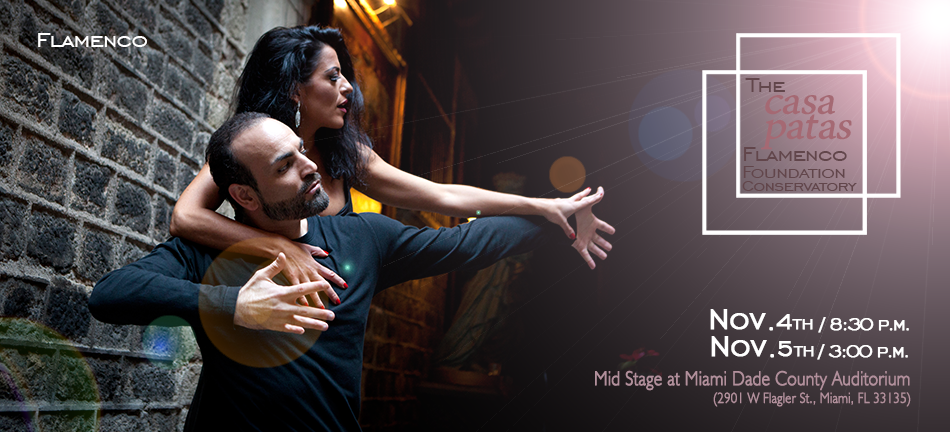 31 Aug

Binomio, by Casa Patas Flamenco Foundation – Conservatory

FUNDarte proudly presents Binomio, a fiery new Flamenco performance by the Casa Patas Flamenco Foundation – Conservatory featuring Anabel Moreno and Francisco Hidalgo. Don't miss this sizzling music and dance extravaganza direct from Madrid, Spain on Nov. 4th / 8:30 p.m. & Nov. 5th / 3:00 p.m at Mid Stage Miami Dade County Auditorium (2901 W Flagler St., Miami, FL 33135)

The passionate strength of Madrid's famed Casa Patas returns to Miami direct from Spain, with an incendiary performance showcasing the sensuality and technical brilliance of the celebrated dancer Anabel Moreno and renowned choreographer Francisco Hidalgo in Binomio, a celebrated new work that is currently thrilling global dance audiences with performances in various U.S. and international cities.

Binomio is the energy that flows between the forms of two dancers who together create Art. It is born through a relationship of observation, admiration, and a shared approach to understanding dance and capturing the artistic immensity that erupts into movements and expressions of the body. Two identities, two visions, two manners of thought … aligned with one another to create a dialogue of senses, feelings, and responses that are interpreted through the music of flamenco. Binomio is a familiar dialogue between two individuals who search within themselves to find a connection and give form to a mutual understanding of their Art.

Casa Patas will also provide a master class for local dance professionals. For more information, please call FUNDarte at (786) 348-0789.

What: Binomio by Casa Patas Flamenco Foundation
When: November 4th, 2017 – 8:30 p.m. and
November 5th, 2017 – 3:00 p.m.
Where: Mid Stage at Miami Dade County Auditorium (2901 W Flagler St., Miami, FL 33135)
Cost: $30 Adults | $25 Seniors and Students with ID (Limited).
Tickets: on sale via Ticketmaster at www.ticketmaster.com; by phone (800) 745-3000 and at the Miami Dade County Auditorium Box Office, Monday through Friday from 9:00 a.m. – 4:00 p.m.
More Information: (305) 547-5414; (786) 348-0789

About the Casa Patas Flamenco Foundation:

The Casa Patas Flamenco Foundation-Conservatory was born in the year 2000 with the goal of becoming a national clearinghouse for all activities related to the teaching, research and promotion of flamenco song, music and dance. Hence it is the mission of Casa Patas to actively promote this Art Form that was recognized by UNESCO in 2010 as an Intangible Cultural Heritage of Humanity. To that end, the Foundation-Conservatory organizes and presents performances, offers master classes and inter-cultural activities both in Spain and other parts of the world. The broad gamut of artists who represent different dance and, song and music styles, appear weekly at the Casa Patas tablao (flamenco stage) totaling about 300 performances annually. These artists also perform in theaters, and at festivals, and cultural centers all over the globe.
http://www.fundacioncasapatas.com/
Binomio by Casa Patas Flamenco Foundation, featuring Anabel Moreno and Francisco Hidalgo. Photograph by Ana  Palma
Francisco Hidalgo
Francisco was born in Cádiz. He studied Flamenco dance in Seville, and Jerez and worked with such masters as Manolo Marín, Pilar Ortega, Alejandro Granados, Manuel Betanzos, Israel Galván, Antonio Canales, Isabel Bayón and Rafaela Carrasco. He began dancing professionally at the age of 17, already then exhibiting his personal form and style. Mr. Hidalgo is the recipient of numerous awards, including the National Prize Aniya la Gitana, in Ronda (2008), Second Prize at the 50th International Festival Cante de las Minas (2010), and Special Mention at Jóvenes Valores at the National Competition in Flamenco Dance at Hospitalet, Barcelona (2002). He was the principal dancer in the musical Flamenka, directed by Karen Ruimy, which was performed at the Pierre Cardin, Folies Bérgere and Casino de Paris Theatres as well as The Lyric Theatre of London. He was invited to dance in Douze Siccler de la vid de un Rouaume, which premiered at the Festival of Fez, directed by the choreographer Leacen, and featured 200 artists from different countries and disciplines. In 2011, he performed in Eight Provincias y Peñas de Guardia and was invited by Miguel Poveda to be the principal dancer in a series of cante (singing) recitals. He also performed with Mr. Poveda at Lincoln Center in New York at the premier of the film Los Abrazos Rotos, directed by Pedro Almodóvar. Mr. Hidalgo participated in a great many projects with such artists as Cristina Hoyos and Javier Latorre, forming part of the dance ensemble of the Zarzuela Theatre under the direction of Juan Carlos Plaza. In 2012, he performed at the Madrid Jazz Festival with pianist Andom Alcaaz and singer Tony Zenet. In 2013, he appeared in Dulcinea at the National Theatre of Nagoya in Japan. His staging of Recital de Baile was shown at major festivals including Noches Brujas (Bewitching Nights) at Suma Flamenca, the Festival of Tío Luis de la Juliana, the Flamenco Festival of San Blas, Festival de Cante Grande de Ronda, Jornadas Flamencas de la Fortuna and the Festival Flamenco de Campanario. Another of his projects, Sonidos Blancos realized with the Casa Patas Foundation and the Cervantes Institute, was presented on a city-tour of Algeria as part of the Noches de Ramadan Festival and at the National Theatre of Tunis as part of the Festival de la Medina. In 2016, Mr. Hidalgo created, choreographed, and danced in Los Silencios del Baile, which toured Miami, Washington, D.C., Seattle and Olympia, Washington.
Anabel Moreno
Anabel Moreno was born in Granada. She began her flamenco studies with Mariquilla and continued them with Juan Andrés Maya, Cristóbal Reyes, Javier Barón, Manolete and Belén Maya. She also studied classical and contemporary dance with Maité Galán and Andrés Williams, in addition to piano and music theory. With time, she established her own unique style and was sought after by prominent artists, such as Mariquilla, in whose Ballet she danced as a soloist in the Jardines de Neptuno (Neptune Gardens) in Madrid and on tours throughout Spain, Morocco, France and Germany. She appeared on Italian television as well as on television programs in Holland, France, Germany, Brazil and Japan. In 1992, she participated the corps de ballet in the flamenco-zarzuela fusion production created by the choreographer Rafael Aguilar. In 1995, she began dancing in the corps de ballet of the Company of Juan Andrés Maya, and as a dance partner and soloist, performing in galas throughout Spain, Holland and Japan. In 1996, she was the principal dancer at the 44th Music and Dance Festival in Granada, interpreting Mis Raíces (My Roots) created and choreographed by Juan Andrés Maya. In 1997, she began to delineate a so¬lid and fruitful artistic career, forming part of the corps de ballet of El Amor Brujo, composed by Manuel de Falla, and directed by Manolo Marín, for the 45th International Music and Dance Festival in Granada. She also danced in the Festival in a piece called Flamenco Soy, produced by Manolete. She took on an acting role in Rómula, by Enrique Torres Infantes, and won the first prize in a subsequent competition. Anabel Moreno admires dancers: Manolete, Farrruco, La Revuelo and Carmen Amaya. Among her most recent dance recitals are soloist roles in the Bienal de Sevilla and in the Corsica Fes¬tival, as well as in the productions of Rew and Nómada, created by Manuel Liñan and Daniel Doña. She has danced in their productions since 2011, and has toured with them throughout the world, performing at a variety of international festivals. When not on tour, she performs at tablaos (flamenco venues) such as Casa Patas.
***
This performance is funded in part by a grant from South Arts in partnership with the National Endowment for the Arts, and co-presented in partnership with The Miami Dade County Auditorium as part of FUNDarte's NO BORDERS series, which presents innovative and challenging contemporary work from around the world, representing all disciplines and celebrating Miami's unique and exciting cultural diversity.
This event is part of the global performing arts series NO BORDERS presented by FUNDarte Inc. This series focuses on innovative contemporary works from Latin America, the Caribbean, and Spain, celebrating Miami's diverse multiethnic culture.
Financial and administrative support for FUNDarte's No Borders 2017-18 series is provided in part by Miami Dade County Auditorium; Miami-Dade County Department of Cultural Affairs and the Mayor and Board of County Commissioners; State of Florida Department of State, Division of Cultural Affairs and the Florida Arts Council; National Endowment for the Arts; The John S. and James L. Knight Foundation; South Arts; Southern Exposure: Performing Arts of Latin America, a program of Mid Atlantic Arts Foundation; Centro Cultural Español de Miami, University of the Miami, Department of Modern Languages and Literatures Joseph Carter Memorial Fund, Cuban Theater Digital Archive; Funding Arts Network (FAN); Miami Art Guide, MiamiArtZine, El Nuevo Herald, Generación Asere; Glassworks Multimedia; and Romaldesign.
FUNDarte is an engine for multicultural arts and culture in the U.S., presenting a yearly season of music, theater, dance, and cultural events that enrich local communities with artistic offerings from around the world, particularly focusing on Latin America, Spain, and the Caribbean, while also nurturing and showcasing Miami-based artists. For the last 15 years, FUNDarte's programs have built cultural bridges across Miami's diverse communities and provided cultural links to the global arts scene, promoting interdisciplinary and international collaborations. FUNDarte engages and empowers artistic communities locally and globally by promoting innovative artistry and international cultural exchange.