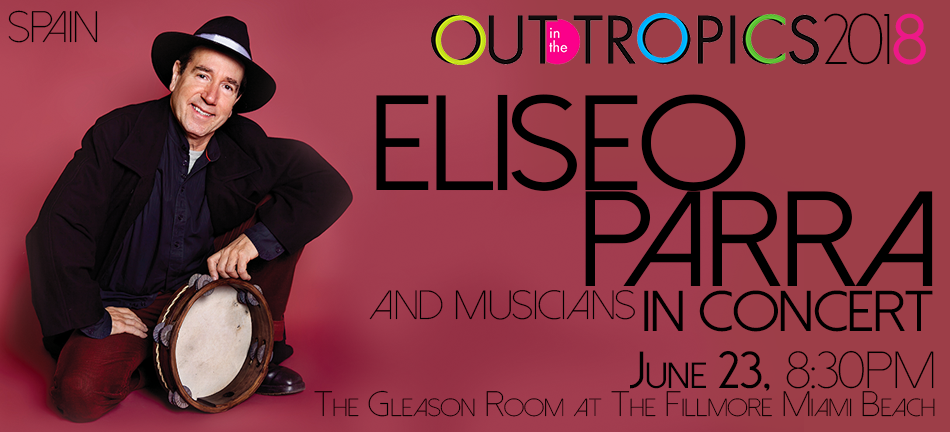 04 May

Eliseo Parra in Concert

FUNDarte and Centro Cultural Español (CCEMiami) present Eliseo Parra  in Concert,  as part of  a month-long series Out in the Tropics 2018 (OITT), an exhilarating program of multi-disciplinary performance art.

For one intoxicating evening, renowned Spanish composer Eliseo Parra, performs live with his five musicians, in a not-to-be-missed performance that will renovate traditional folk music outside and beyond the Flamenco tradition on Saturday, June 23rd, 2018 at 8:30 PM at the Gleason Room at the Fillmore Miami Beach.

WHERE: The Gleason Room at the Fillmore: 1700 Washington Avenue, Miami Beach

ADMISSION: $25 General Admission per performance / $20 for students (under 18)   and seniors (over 65), Centro Cultural Español (CCEMiami) members. and Miami Beach Residents, with I.D., in person, at the theater Box Office Only.

TICKETS: Purchase tickets for The Gleason Room Backstage at the Fillmore Miami Beach through www.ticketmaster.com or by phone (800) 745-3000 (ticketmaster) or (305) 673-7300 (Fillmore Miami Beach Theater). Tickets also available at the Fillmore Miami Beach Theater Box Office, Monday thought Friday 11:00 a.m. to 6:00 p.m. Group rates are available calling FUNDarte 786.348.0789.

 ELISEO PARRA is one Spain's leading performers and researchers of folk music outside and beyond the Flamenco tradition. He has traveled to small villages to rediscover old songs and musical instruments and has learned how to play some instruments in the traditional style. He reconstructs folk music by adding modern elements. Born in Sardon de Duero (Valladolid), Parra began his musical career in Barcelona in the late 1960s as a drummer in several rock groups. In 1971, he recorded his first LP with the group Mi Generacion; an album that featured his own songs. After many years of continued study and experimentation with different genres, including various recordings with collaborators as well as his own bands, Eliseo Parra is known as one of Spain's foremost folklorists and musical performers. He has garnered a global reputation for his world music recordings. https://www.last.fm/music/Eliseo+Parra/+wiki

This project has also been made possible by the Program of the state agency Acción Cultural Española (AC/E) as part of the Program for the Internationalization of Spanish Culture (PICE) in the framework of the Mobility grants, which facilitates the presence and collaboration of Spanish artists: Eliseo Parra and Musicians, Josete, Aleix Tobias, Daniel Espasa, Francesc – Xavier Lozano, Guillem Aguilar y Pablo Martin.

Project and organizational support for FUNDarte's Out in The Tropics 2018 comes in part from Miami-Dade County Department of Cultural Affairs and the Mayor and Board of County Commissioners; the National Endowments for the Arts; the City of Miami Beach Cultural Affairs Program, Cultural Arts Council, and the Miami Beach Mayor and City Commissioners; State of Florida, Department of State, Division of Cultural Affairs and the Florida Council on Arts and Culture; South Arts; Funding Arts Network (FAN); The Miami Foundation; Acción Cultural Española; Centro Cultural Español; MicroTheater Miami; The Gleason Room at the Fillmore Miami Beach; Miami Beach Botanical Garden, University of Miami Departments of Women and Gender Studies, LGBT Studies, and Modern Languages and Literatures, Miami Art Guide; MiamiArtZine; and The Miami Herald.

 

Centro Cultural Español de Cooperación Iberoamericana, Inc. (CCEMiami) was founded in 1996.  Organized for charitable, educational, artistic, and cultural purposes as set forth in Section 501 (c) (3) of the Internal Revenue Code that aims to promote and foster cultural cooperation, local creativity and the creation of a space for dialogue and exchange by means of a culturally relevant and continuous annual program.

Visit www.ccemiami.org to find out more CCEMiami and the network of cultural centers belonging to the Spanish Agency for International Cooperation and Development (AECID). CCE Miami is the only one of its kind in the U.S. with a continuous annual program offered in every cultural discipline.

FUNDarte (www.fundarte.us) is a multidisciplinary non-profit organization dedicated to producing, presenting, and promoting music, theater, dance, film and visual arts that speak to Miami's diverse cultures.