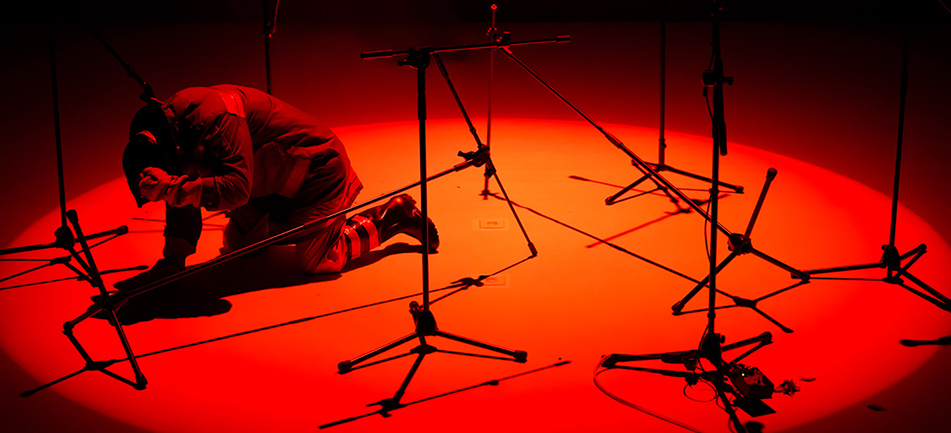 28 Sep

Estado Vegetal, Theatre by Manuela Infante (Chile)

Estado Vegetal, Theatre by Manuela Infante (Chile) – CLIMAKAZE MIAMI. Apr. 20th at 8.30 p.m. & 21st at 3:00 p.m. | On.Stage Black.Box at Miami Dade County Auditorium

Manuela Infante is a renowned Chilean playwright and director, and is arguably one of the most prolific and interesting voices in contemporary Chilean theater and Latin America today. Estado Vegetal (Vegetative State) is a riveting one-woman show based on the revolutionary thinking of plant philosopher Michael Marder and plant neurologist Stefano Mancuso, which probes the ways in which concepts such as plant intelligence, the vegetative soul, or plant communication can change human perspectives.

Synopsis:

Created with an all-woman team, the play uses Infante's sublime sense for comedy and theater in service of philosophical concepts about plant intelligence and vegetative soul. The individual stories of Estado Vegetal branch out from a collision with a tree and proceed to imagine a scenario in which plants decide to reclaim their kingdom.

In one sense, Estado Vegetal probes the human need to communicate; alternately, by staging the possibility of communication between plants, it also anticipates a post-anthropocentric theater. The work raises Infante's concerns with time and image, how perception is shaped, and the cognitive effects of something vanishing. Attuned to both the durational being and hidden language of plants, Estado Vegetal interrogates the value of a life that takes more time to process information or translate it into motion. It is hard to look at difference in people, or anything that photosynthesizes, in the same light after this.

What: Estado Vegetal, Theatre by Manuela Infante (Chile)

When: Apr. 20th at 8.30 p.m. & 21st at 3:00 p.m.

Where: On. Stage Black. Box Theater at Miami Dade County Auditorium (2901 W Flagler St., Miami, FL 33135)

Cost: $30 adults | $25 students and seniors | $20 for groups of 10 or more.

Tickets: On sale via Ticketmaster at www.ticketmaster.com; by phone (800) 745-3000 and at the Miami Dade County Auditorium Box Office, Monday through Friday from 9:00 a.m. – 4:00 p.m.

Information: (305) 547-5414; (786) 348-0789

Approximate running time:  70 minutes with no intermission. Performed in Spanish with English supertitles. The 2018-2019 U.S. tour of "Estado Vegetal" is supported in part by Southern Exposure: Performing Arts of Latin America.


About the Artist

Manuela Infante is a preeminent playwright, director, screenwriter, and musician. She earned an MA in Cultural Analysis from the University of Amsterdam.

She regards her plays as essays in a corpus of broader currents of thought that stems from theoretical writings, science, and cultural studies. She characterizes her work as "a kind of 'irresponsible philosophy'; irresponsible in the sense that we strive from stealing from theory to make work, and not having to inscribe myself responsibly/responsively back into the academic corpus. My work is about letting ideas acquire a material life of their own, watching them find their way into the material world, into our bodies and our relations, and thus into time."

Infante is widely celebrated for feminist re-envisioning of famous historical figures, combining slapstick humor, prose, and memorable mise-en-scènes for works such as Cristo (2008), based on the life of Jesus of Nazareth. What's He Building in There? was developed through a 2011 residency at The Watermill Center, where she worked with visual art curator Camila Marambio and Juan Esteban Varela, an internationally recognized magician who is blind. On the Beach (2012) was curated by Robert Wilson and premiered at the Baryshnikov Arts Center in New York, and Don't Feed the Humans (2014) was premiered at the Hebbel am Ufer in Berlin. In 2016 she debuted at Kyoto Experiment with Zoo, a lecture performance examining the themes of humans in exhibition and linguistic differences through Darwin's On the Origin of the Species. She has toured her theater extensively in Latin America and to Holland, Ireland, Spain, Italy, Germany, Japan, the United States, and Mexico. Estado Vegetal has toured to Spain, Singapore, Switzerland, and Korea.

FUNDarte is a multidisciplinary non-profit organization dedicated to producing, presenting, and promoting music, theater, dance, film, and visual arts that speak to Miami's diverse cultures with an emphasis on Hispanic/Latino arts and culture. FUNDarte particularly works to nurture emerging artists and those with little or no exposure to South Florida audiences; facilitate intercultural and international exchanges; and provide local audiences and artists with educational opportunities that expand their creative, critical, and social perspectives.