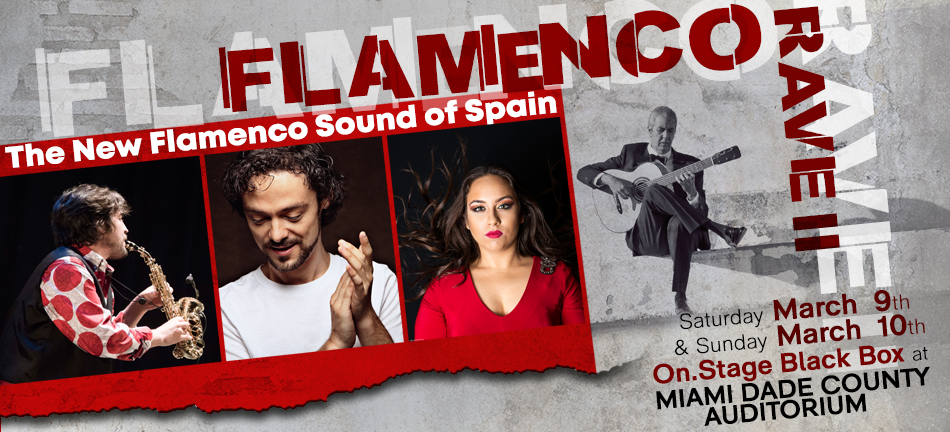 21 Dec

Flamenco Rave II – Nuevo Flamenco in Miami Dade 2019

FUNDarte in collaboration with The Miami Dade County Auditorium proudly presents Flamenco Rave II – Nuevo Flamenco featuring Sergio de Lope; Diego Guerrero; María Terremoto; and Miguel Ángel Cortés with Dani Bonilla and Lucía Álvarez "La Piñona", among others. March 9 – 8:30 p.m. & 10, 2019 – 6:00 p.m. Miami Dade County Auditorium.

Experience the explosive movement and sound of 15 contemporary flamenco musicians that are currently redefining the genre in this extended performance featuring the most challenging and innovative experiments in freshly updated flamenco expression from the Iberian Peninsula.

This program features several of Spain's most celebrated talents in the Flamenco genre: Sergio de Lope; Diego Guerrero; María Terremoto; and Miguel Ángel Cortés with Dani Bonilla and Lucía Álvarez "La Piñona", among others.

This event is part of FLAMENCOS, a special series of flamenco events for FUNDarte's 18-19 season.

What: Flamenco Rave II – Nuevo Flamenco featuring Sergio de Lope; Diego Guerrero; María Terremoto; and Miguel Ángel Cortés with guest artists: Dani Bonilla and Lucía Álvarez "La Piñona", among others.

When: March 9th, 2019 at 8:30 p.m. & 10th at 6:00 p.m.

Where: On.Stage Black.Box at Miami Dade County Auditorium

(2901 W Flagler St., Miami, FL 33135).

Cost: $30 adults | $25 seniors and students with ID | $20 for groups of 10 or more | $50 Special Pass for Two Days Show

Tickets: On sale via Ticketmaster at www.ticketmaster.com; by phone (800) 745-3000 and at the Miami Dade County Auditorium Box Office, Monday through Friday from 9:00 a.m. – 4:00 p.m.

Information: (305) 547-5414 or (786) 348-0789 / www.fundarte.us, info@fundarte.us
Flamenco Rave | Saturday, March 9th
8:30 p.m.  45 minutes each performance with 15 minutes intermission
Sergio de Lope, Ser de luz (Being of Light)
Saturday, March 9th  at 8:30 p.m.  45 minutes
If music is the memory of the world, then Flamenco is the memory of Andalusian people, which becomes more expansive every day. With "Ser de luz" Sergio de Lope brings to life the force of Flamenco on its affect on people. "Ser de luz" is an appeal to the musical remembrance of all people: from the "good vibes" music to the grandmasters of Flamenco from whom we have learned so much and who have continued the legacy of so many human lives. These artists create light! Imagine that time does not exist, only the here and now: live and enjoy the moment; stir you senses and let music flow and move throughout your body. Art humanizes us, Flamenco makes us free! "Ser de Luz" will arouse your emotions and shed light on life. Sergio de Lope is accompanied in this program by Javier Rabadan, David Caro, JuanFe Pérez y El Mati.
Diego Guerrero, Vengo caminando (I come walking)
Special Guest: Leo García and TIMBALIVE.
Saturday, March 9th  at 9:30 p.m. 45 minutes
Diego Guerrero, provocateur of exchanges, musical agitator, has always transcended Flamenco in his music. Diego is not only a singer, but also a prolific musical producer, arranger, composer and guitarist, and one of the top references in the world when it comes to the fusion of Flamenco with other genres. The unusual story of this Andalusian native began with his studies in the conservatories of Seville, Granada and Cordoba. By day he worked on majoring in Composition and Orchestral Music, and by night, he immersed himself in the oral tradition of Flamenco, gathered around a fire with a guitar coupled with the characteristic sounds of palmas and Flamenco singing. This duality marked the birth of his daring provocations which bring Flamenco closer to other musical styles. His debut album, "Vengo Caminando", is an eclectic work rooted in Flamenco, yet tastefully opens doors into other styles of music. Its release immediately achieved him status as one of the most important artists of the genre and received international recognition, being nominated by prestigious Latin Grammy Awards in the category of "Best Flamenco Album".
Diego Guerrero is accompanied in this program by Nasrine Ranmani, JuanFe Pérez y J.M. Pedraza "Petaca".
Special Guests: Leo García and TIMBALIVE
 Flamenco Rave | Sunday, March 10th
6:00 p.m.  45 minutes each performance with 15 minutes intermission
María Terremoto, La huella de mi sentío (The mark of my feeling)
Sunday, March 10th at 6:00 p.m. 45 minutes
María Terremoto comes from the Terremoto legacy, from Jerez de la Frontera: granddaughter of the genius Fernando Fernández Monje, "Terremoto of Jerez" and daughter of singer Fernando Fernández Pantoja "Fernando Terremoto". She was the youngest ever artist to receive the Giraldillo award for new artist at the Seville Flamenco Biennial. Following a career replete with glowing reviews, Maria has been labeled as "The flag bearer for young flamenco singers". She has just released her first album, La huella de mi sentío, in which she presents the cantes (songs) that have been with her since childhood. Her orthodox expression of cante maintains a fresh coherence with the modern sounds of flamenco.
María Terremoto is accompanied in this program by José "El Pechuguita" y Nono Jero
Miguel Ángel Cortés, Sonantas en tres movimientos. Guest artists: Dani Bonilla and Lucía Álvarez "La Piñona"
Sunday, Mar 10th 7:00 p.m. 45 minutes
Miguel Ángel Cortés is one of the most respected and acclaimed guitarists of the contemporary flamenco scene. A remarkable artist renowned for his powerful and evocative renditions of contemporary flamenco, Miguel Ángel will present his latest work Sonantas en tres movimientos. This project combines classical music, flamenco tradition and the most revolutionary sounds. In the first act, including compositions of guitar master José M. Gallardo, classical music is the undisputable protagonist. The second act is dedicated to guitar master Sabicas; and in the third one, Cortés pays tribute to his period linked to the project Omega leaded by flamenco master Enrique Morente. Two guest artists will accompany Miguel Ángel: Dani Bonilla (vocals, palmas and percussion) and Lucía Álvarez "La Piñona" (dance).
Financial and administrative support for this event is provided in part by Miami Dade County Auditorium; Miami-Dade County Department of Cultural Affairs and the Mayor and Board of County Commissioners; State of Florida Department of State, Division of Cultural Affairs and the Florida Arts Council; Centro Cultural Español de Miami; University of Miami, Department of Modern Languages and Literatures; Joseph Carter Memorial Fund; Acción Cultural Española; Fundación SGAE; Instituto Cervantes; Pamela's Restaurant; Cava Restaurant; Miami Art Guide, MiamiArtZine; El Nuevo Herald; Generación Asere; Glassworks Multimedia; Romaldesign; and The Broadmoor Hotel.
These concerts are part of the series Flamenco Eñe organized by Fundación SGAE.: Diego Guerrero, María Terremoto and Miguel Ángel Cortés.
This project has also been made possible by the Instituto Cervantes, and the Programme of the state agency Acción Cultural Española (AC/E) for the Internationalization of Spanish Culture (PICE), in the Mobility category, which facilitates the presence and collaboration of Spanish or Spanish-resident artists, professionals or creators in the international activities and programmes of foreign cultural organizations and institutions, both public and private'.
FUNDarte is a multidisciplinary non-profit organization dedicated to producing, presenting, and promoting music, theater, dance, film, and visual arts that speak to Miami's diverse cultures with an emphasis on Hispanic/Latino arts and culture. FUNDarte particularly works to nurture emerging artists and those with little or no exposure to South Florida audiences; facilitate intercultural and international exchanges; and provide local audiences and artists with educational opportunities that expand their creative, critical, and social perspectives.