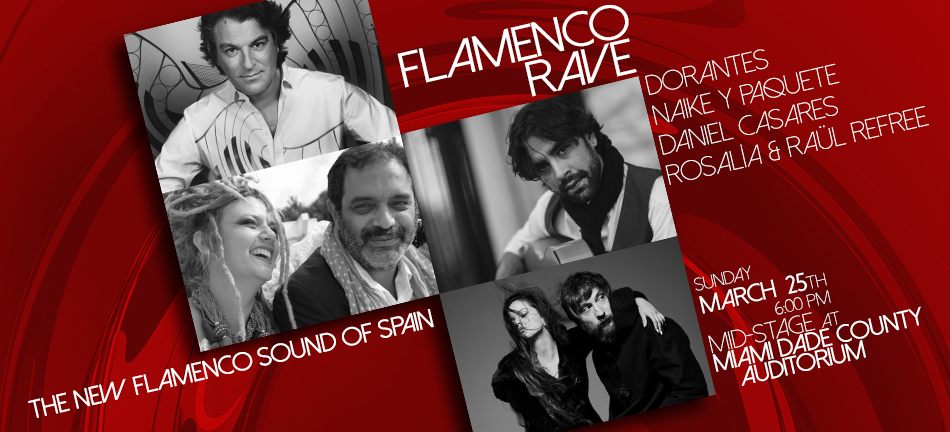 01 Sep

Flamenco Rave

FUNDarte proudly presents Flamenco Rave, featuring DORANTES, Daniel Casares, Naike y Paquete, and Rosalía and Raül Refree, in concert on Sunday, March 25th at 6:00 p.m. at Miami Dade County Auditorium.

Experience the explosive movement of contemporary flamenco that is currently taking Spain by storm in this day-long festival featuring the most challenging and innovative experiments in freshly updated flamenco expression from the Iberian peninsula. This program features several of Spain's most celebrated talents in the Flamenco genre: master pianist DORANTES, as well as acclaimed contemporary artists Daniel Casares, Naike y Paquete, vocalist Rosalía and guitarist Raül Refree. These artists are known worldwide for their daring and bold flamenco style, blending the traditional grit and audacity of Flamenco with smooth contemporary influences to create a musical fusion that is hypnotic and mesmerizing, breathtaking and passionate, at once ancient and new.

What: Flamenco Rave featuring DORANTES, Daniel Casares, Naike y Paquete, and Rosalía & Raül Refree

When: Sunday, March 25th, 2018 – 6:00 p.m.

Where: Mid-Stage at Miami Dade County Auditorium (2901 W Flagler St., Miami, FL 33135)

Cost: $40 Adults | $35 Seniors and Students with ID (Limited). $25 for Centro Cultural Español (CCEMiami) members, with valid ID, in person at the Box Office.

Tickets: on sale via Ticketmaster at www.ticketmaster.com; by phone (800) 745-3000 and at the Miami Dade County Auditorium Box Office, Monday through Friday from 9:00 a.m. – 4:00 p.m.

More Information: (305) 547-5414; (786) 348-0789

A Limited number of $25 Tickets are available for groups of 20 or more by calling (305) 469-8823

Program and cast

El tiempo por testigo: DORANTES

with Javi Ruibal

Con Nombre de Mujer: Naike y Paquete

with Yelsy Heredia and José Suárez "Paketito"

Picassares: Daniel Casares

with Nelson Doblas, Miguel Ortiz "Nene" and dancer Sergio Aranda

Los Ángeles: Rosalía & Raül Refree

About the Artists:

DORANTES

El tiempo por testigo

DORANTES, known as 'the Paco de Lucía of the keyboard,' is an artist for whom the piano has become a flamenco instrument; and flamenco, in turn, sounds like something new. He gracefully combines classical, jazz, Celtic or Brazilian influences into his melodies, resulting in a unique style that has earned him countless international awards and accolades as well as the 2009 National 'Young Creator' Award from Spain's Ministry of Culture. An extraordinary artist, he was born in Lebrija (Sevilla, Spain) to a legendary flamenco family and is recognized globally as one of Spain's most exciting and compelling flamenco pianists and composers. DORANTES is accompanied in this program by Javi Ruibal

NAIKE Y PAQUETE

CON NOMBRE DE MUJER

Juan José Suarez "Paquete," an influential force in flamenco guitar in recent decades, joins the stunning vocalist Naike Ponce to recreate some of the most beautiful songs dedicated to women. They perform selections from their CD Con nombre de mujer (With a Woman's Name), which includes such classic songs as Víctor Jara's "Te recuerdo Amanda," Joan Manuel Serrat's "Lucía," Enrique Morente's "Estrella," and Sting's "Roxanne." In this elegant work, they use flamenco as a foundation in keeping alive important songs that extol women. Naike y Paquete is accompanied in this program by Yelsy Heredia y José Suárez "Paketito"

DANIEL CASARES

Picassares

A guitar virtuoso, Daniel Casares brings to Miami audiences his acclaimed show Picassares, which pays tribute to his fellow countryman from Malaga, the legendary painter Pablo Picasso. Through this remarkable program, Casares conveys the essence of flamenco and thanks Picasso, himself a lover of flamenco and especially of the guitar, for the impact the master's work and genius have had on his music. Casares composed this work in 2015, celebrating his 25 years in flamenco. He has been the recipient of many of Spain's prestigious awards and honors and worked with such important figures as José Mercé, Miguel Poveda, Dulce Pontes, and Alejandro Sanz. Casares is accompanied in this program by Sergio Aranda (dance), Nelson Doblas (violin) and Miguel Ortiz "Nene" (percussion).

 

ROSALÍA & RAÜL REFREE

LOS ÁNGELES

A sensational new duo in contemporary flamenco, Rosalía & Raül Refree transverse the borders of modernity and tradition, presenting flamenco in its raw, emotional state. Rising star Rosalía is renowned for her versatile and breathtaking singing; she has worked with Chicuelo, Rocío Márquez and Madrid rapper C. Tangana, and was recently nominated for a Latin Grammy in the "Best New Artist" category. Guitarist Raül Refree, acclaimed for his instrumental experimentation, incorporates his love of flamenco into his own personal style. Their new CD, Los Ángeles, is a revelation in Spanish music.

This event is part of the global performing arts series NO BORDERS presented by FUNDarte Inc. This series focuses on innovative contemporary works from Latin America, the Caribbean, and Spain, celebrating Miami's diverse multiethnic culture. This event is presented in partnership with Miami-Dade County Auditorium, Festival Flamenco, and Flamenco Eñe, a program of Foundation SGAE.

This project has also been made possible by the Program of the state agency Acción Cultural Española (AC/E) for Season of Spanish Musical Heritage as part of the Internationalization of Spanish Culture (PICE), in the Mobility category, which facilitates the presence and collaboration of Spanish artists: Dorantes, Rosaía & Refree, Naike y Paquete, y Daniel Casares.

Financial and administrative support for FUNDarte's No Borders 2017-18 series is provided in part by Miami Dade County Auditorium; Miami-Dade County Department of Cultural Affairs and the Mayor and Board of County Commissioners; State of Florida Department of State, Division of Cultural Affairs and the Florida Arts Council; National Endowment for the Arts; The John S. and James L. Knight Foundation; South Arts; Southern Exposure: Performing Arts of Latin America, a program of Mid Atlantic Arts Foundation; Funding Arts Network; Centro Cultural Español de Miami, University of Miami, Department of Modern Languages and Literatures Joseph Carter Memorial Fund, Accion Cultural Española; Fundación SGAE; NuFlamenco; Pamela's Restaurant; Cava Restaurant; Miami Art Guide, MiamiArtZine, El Nuevo Herald, Generación Asere; Glassworks Multimedia; and Romaldesign.

FUNDarte is a Miami-based cultural incubator that links our community to the world.  Every year, we present an array of concerts, plays, dance performances, films and visual arts that enliven local culture with the flavors of Latin America, Spain, the Caribbean, and the world beyond. Our programs nurture local artistic talent and bring exciting international artists to local audiences, connect diverse communities, and create safe spaces for artistic experimentation and international collaboration. FUNDarte is about engaging and empowering communities through the magic of innovative artistry and cross-cultural communication.