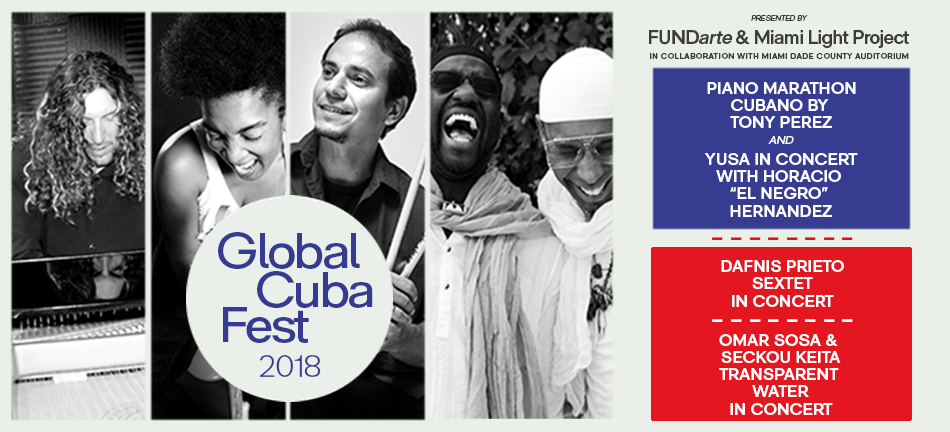 01 Sep

Global Cuba Fest 2018

FUNDarte and Miami Light Project in collaboration with Miami Dade County Auditorium present Global Cuba Fest 2018 featuring the Piano Marathon Cubano by acclaimed pianist Tony Perez and world-renowned artist Yusa in Concert with Horacio "El Negro" Hernandez on Saturday March 10th at Miami Dade County Auditorium, followed by Dafnis Prieto Sextet and Omar Sosa & Seckou Keita Transparent Water on March 16th and 17th at The Light Box at Goldman Warehouse.

Every year, FUNDarte and Miami Light Project, in collaboration with Miami Dade County Auditorium, team up to present Global Cuba Fest, a celebration of the culture and rhythms of Cuba, with concerts by an exciting array of artists from Cuba and the Cuban Diaspora. This year's lineup opens with a concert featuring Piano Marathon Cubano by celebrated pianist Tony Perez and multi-instrumentalist Yusa in Concert with Horacio El Negro Hernandez, both appearing on Saturday March 10 at 8:30 p.m. at Mid Stage at the Miami Dade County Auditorium (2901 W Flagler St., Miami, FL 33135). This program will be followed by Dafnis Prieto Sextet on March 16th and Omar Sosa & Seckou Keita Transparent Water on March 17th at The Light Box at Goldman Warehouse (404 NW 26 Street Miami, FL 33127). These world-renowned Cuban artists will grace the Miami stage with concerts of virtuosic and soulfully rooted music that reinvents contemporary Cuban music!

 

Expand your musical horizons through the music of acclaimed Cuban pianist Tony Perez, considered one of Cuba's top musical geniuses, in an unforgettable Piano Marathon Cubano that spans a range of diverse musical genres and styles, including jazz, salsa, timba, and even rock and funk. Bask in the soulful passion and sensuality of Yusa, a talented composer, multi-instrumentalist, and powerful vocalist gracing the Miami stage after successful engagements in cities around the globe. Yusa's work defies any genre or category and incorporates world influences with introspective and transformative lyrics, often penned by the artist herself. Shake your body to the rhythms of Dafnis Prieto, one of the leading drummers and composers of his generation, known for his inventive, sensitive playing and propulsive rhythms. His compositions, like his playing style, bristle with confidence, emotion, and energy, weaving musical narratives that are inviting and reflect the expansive musical influences that permeate his life. Omar Sosa's latest project, Transparent Water presents a perfect example of Sosa's transcendent determination to seek new musical ground through combinations that bring together diverse influences and forces. Sosa will be joined by Ovalles and Keita, who recently won the 2016 Songlines Best Album Award for Africa & the Middle East for his latest solo album 22 Strings.

Global Cuba Fest is a yearly series composed of two weekend-long events from March 10th to the 17th, featuring artists from Cuba and the Cuban Diaspora.

Global Cuba Fest showcases a fresh and varied assortment of artists that raise local and global awareness of the diversity and scope of work produced on and off the island, featuring hybrid outgrowths of Cuban creative expression as it exists in Cuba and around the world, performed by artists that maintain a solid Cuban identity while responding to contemporary global influences.

Events at Miami Dade County Auditorium:

What: Piano Marathon Cubano by Tony Perez and Yusa with Horacio El Negro Hernández in Concert

When: March 10th, 2018 – 8:30 p.m.

Where: Mid Stage at Miami Dade County Auditorium (2901 W Flagler St., Miami, FL 33135)

Cost: $50 VIP (Include Preference Seat and two drinks) | $25 Adults | $20 Seniors and Students with ID (Limited).

Tickets: on sale via Ticketmaster at www.ticketmaster.com; by phone (800) 745-3000 and at the Miami Dade County Auditorium Box Office, Monday through Friday from 9:00 a.m. – 4:00 p.m.

More Information: (305) 547-5414; (786) 348-0789

 

FUNDarte's 2-year Knights Arts Challenge program "From El Barrio to the Mainstage" generously supports GCF's presentation of Yusa as a featured Miami-based artist and recipient of a Knight Arts Challenge commission.

Other two programs scheduled for Global Cuba Fest 2018 on March 16th and 17th at The Light Box at Goldman Warehouse (404 NW 26 Street Miami, FL 33127)

Dafnis Prieto Sextet – Friday, March 16th at 8:00 p.m.

Omar Sosa & Seckou Keita Transparent Water – Saturday, March 17th at 8:00 p.m.

Contact: www.miamilightproject.com for more information and Tickets

 

About the Artists:

 

Born in Sancti Spiritus, Cuba, Tony Perez began his jazz training at Cuba's National School of Arts and is currently considered to be one of Cuba's most accomplished contemporary musicians. He has performed and recorded with many renowned artists in the Latin American music scene, also leading several Afro-Cuban jazz ensembles with top-name musicians, including such names as Isaac Delgado, Fania Allstars, Celia Cruz, Jose Luis Cortes, and Giraldo Piloto's group 'Klimax', who referred to Perez as "one of the greatest pianists in Cuban music." In 1998 Mr. Perez was hand-picked by Chucho Váldes to become the pianist for the most internationally renowned Cuban group of all time, 'Irakere' and participated in the production of the all-star collaboration "La Rumba Soy Yo," a recording that won a Grammy in the 2001 Latin Music Awards. His relocation to Boston, MA in the early 21st Century placed him among the greats in the Boston Berklee Jazz Scene, where he has flexed his jazz muscles playing with local giants. Among his accomplishments, Tony Perez has released two recordings, the 1998 solo-piano disc "Soneao" on Tamarindo Records, and "From Enchantment and Timba to Full Force Jazz," a sophisticated yet hard-driving collection of Latin Jazz originals released by Pimienta Records in 2005.

Yusa is a Cuban singer and songwriter, born in the Buena Vista district of Havana, Cuba and brought up in East Havana, Yusa's childhood was cradled by music. She started studying guitar at the age of 6, and completed her musical studies at the Amadeo Roldán Music Conservatory, where she concentrated on a particular type of Cuban guitar called the tres, after which she began performing in small bars and clubs in Havana. Yusa is a multi-instrumentalist who is perfectly at ease playing guitar, bass, keyboard, or percussion instruments. Her voice is also a powerful instrument, and she writes a great deal of her own material. Her music is defined as a young and thoroughly modern musical style laced with funk, jazz, rap, and soul influences, but holding on tightly to its African and Caribbean roots. Yusa is often described as a poet, and her songs expose the personal daily struggles of living in Havana. A master collaborator, Yusa has recorded and performed with top artists working in a variety of musical genres, creating a fresh and sophisticated sound that opens up a new dimension of Cuban music.

Dafnis Prieto: Since arriving in the U.S. from Cuba in 1999, Dafnis Prieto has been fearless in his vision, playing and writing across styles, always with a forward-looking eye. Prieto has composed for numerous configurations — trios, quartets, quintets, sextets, and big bands — amassing a catalog of more than 50 original works featured on more than 10 albums. His compositions, known for their grace and subtlety, mixing lush melodies with polyrhythms, range from classical chamber music to Latin jazz, the community in which he's built his reputation as a trailblazing artist. Prieto earned the prestigious MacArthur Foundation "Genius" Award in 2011. His citation noted that his "rhythmically adventurous compositions combine a range of musical vocabularies" and that he "transposes elements from his Afro-Cuban musical heritage onto a jazz drum kit."

Omar Sosa, Composer-pianist-bandleader Omar Sosa was born in 1965 in Camagüey, Cuba's largest inland city. At age eight, Omar began studying percussion and marimba at the music conservatory in Camagüey; in Havana, as a teenager, he took up piano at the prestigious Escuela Nacional de Música, and completed his formal education at the Instituto Superior de Arte in Havana. Among his influences, Omar cites traditional Afro-Cuban music, European classical composers (including Chopin, Bartok, and Satie), Monk, Coltrane, Parker, Oscar Peterson, Herbie Hancock, Chick Corea, Keith Jarrett, Chucho Valdés, and the pioneering Cuban jazz group Irakere. Moving in 1993 to Ecuador, Omar immersed himself in the folkloric traditions of Esmeraldas, the northwest coast region whose African heritage includes the distinctive marimba tradition. He relocated to the San Francisco Bay Area in 1995, and soon invigorated the Latin jazz scene with his adventurous writing and percussive style.

This event is part of Global Cuba Fest presented by FUNDarte and Miami Light Project in collaboration with Miami Dade County Auditorium. This series focuses on highlighting the freshest new artists and work from Cuba and the Cuban Diaspora.

Financial and administrative support for the concerts of Global Cuba Fest 2018 is provided in part by The John S. and James L. Knight Foundation; the Miami Dade County Auditorium, Miami-Dade County Department of Cultural Affairs, the Cultural Affairs Council, the Mayor and Miami-Dade County Board of County Commissioners; National Endowment for the Arts; State of Florida, Department of State, Division of Cultural Affairs and the Florida Council on Arts and Culture, University of the Miami, Department of Modern Languages and Literatures Joseph Carter Memorial Fund, Centro Cultural de España en Miami, WDNA, WLRN, The Miami Herald, El Nuevo Herald, Miami Art Guide, Glassworks Multimedia, Generacion Asere, The Batchelor Foundation, Publix Super Markets Charities, The Children's Trust, The Vagabond Hotel, and Romaldesign,

FUNDarte is an engine for multicultural arts and culture in the U.S., presenting a yearly season of music, theater, dance, and cultural events that enrich local communities with artistic offerings from around the world, particularly focusing on Latin America, Spain, and the Caribbean, while also nurturing and showcasing Miami-based artists. For the last 15 years, FUNDarte's programs have built cultural bridges across Miami's diverse communities and provided cultural links to the global arts scene, promoting interdisciplinary and international collaborations. FUNDarte engages and empowers artistic communities locally and globally by promoting innovative artistry and international cultural exchange.

Founded in 1989, Miami Light Project is a not-for-profit cultural organization which presents live performances by innovative dance, music and theater artists from around the world; supports the development of new work by South Florida-based artists; offers educational programs for students of every age; and cultivates the development of new audiences reflecting the diverse cultural and economic make-up of South Florida. Miami Light Project is a cultural forum to explore some of the issues that define contemporary society.

Miami-Dade County Auditorium opened its doors in 1951. It has a splendid history as one of South Florida's premiere performing arts center. Over the years it has hosted countless numbers of operas, symphonies, theatre presentations, ballets, concerts, lectures, presidential candidates, graduations, naturalization services and a host of other programs of great community interest. This popular multipurpose theatre features Art Deco Revival décor. Recently renovated, this state of the art facility has for decades served as the center for showcasing the diversity of our cultural life and celebrating the Hispanic arts community. The operation of Miami-Dade County Auditorium was transferred to the Department of Cultural Affairs in January 2012; the Department has a track record and reputation for innovation and artistic excellence. The Auditorium is managed by the Miami-Dade County Department of Cultural Affairs (www.miamidadearts.org), with funding support from the office of the Miami-Dade County Mayor and Board of County Commissioners.

Visit us at www.fundarte.us for more information about our exciting and diverse live programming.