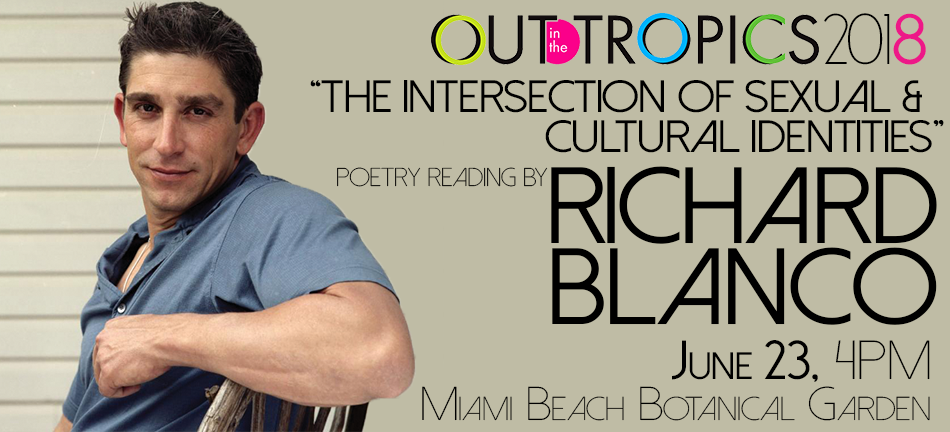 04 May

Richard Blanco: The Intersection of Sexual & Cultural Identities

FUNDarte and Centro Cultural Español (CCEMiami) present poetry reading with Richard Blanco,  as part of  a month-long series Out in the Tropics 2018 (OITT), an exhilarating program of multi-disciplinary performance art.

 

Richard Blanco the fifth inaugural poet of the United States, as well as the first Latino, openly gay-identified and youngest person to hold the position to date, hosts the free public reading The Intersection of Sexual & Cultural Identities of his inspiring and heartfelt poetry on Saturday, June 23, 2018 at 4:00 PM at the Miami Beach Botanical Garden.

WHERE: Miami Beach Botanical Garden: 2000 Convention Center Drive, Miami Beach.

ADMISSION: This performance is FREE and open to the Public on a first come first seated basis.

You can reserve tickets at: eventbrite.com
RICHARD BLANCO earned a Master of Fine Arts in creative writing in 1997. His books have won such prestigious awards as the Agnes Lynch Starrett Poetry Prize (1998); PEN American Center Beyond Margins Award (2005); Paterson Poetry Prize (2005); Maine Literary Award for Poetry (2012); Thom Gunn Award (2012); Maine Literary Award for Memoir (2015); and Lambda Literary Award for Gay Memoir (2015). Blanco was selected in 2012 to serve as the fifth inaugural poet in U.S. history, joining the ranks of such luminaries as Robert Frost and Maya Angelou as the youngest, first Latino, first immigrant, and first gay person to serve in such a role. He has been named a Woodrow Wilson Visiting Fellow and received honorary doctorates from Macalester College, Colby College, and the University of Rhode Island. His poems and essays have appeared in numerous publications and anthologies, including the Best American Poetry series, the Nation, the New Republic, the Huffington Post, and Condé Nast Traveler.
Project and organizational support for FUNDarte's Out in The Tropics 2018 comes in part from Miami-Dade County Department of Cultural Affairs and the Mayor and Board of County Commissioners; the National Endowments for the Arts; the City of Miami Beach Cultural Affairs Program, Cultural Arts Council, and the Miami Beach Mayor and City Commissioners; State of Florida, Department of State, Division of Cultural Affairs and the Florida Council on Arts and Culture; South Arts; Funding Arts Network (FAN); The Miami Foundation; Acción Cultural Española; Centro Cultural Español; MicroTheater Miami; The Gleason Room at the Fillmore Miami Beach; Miami Beach Botanical Garden, University of Miami Departments of Women and Gender Studies, LGBT Studies, and Modern Languages and Literatures, Miami Art Guide; MiamiArtZine; and The Miami Herald.
Centro Cultural Español de Cooperación Iberoamericana, Inc. (CCEMiami) was founded in 1996.  Organized for charitable, educational, artistic, and cultural purposes as set forth in Section 501 (c) (3) of the Internal Revenue Code that aims to promote and foster cultural cooperation, local creativity and the creation of a space for dialogue and exchange by means of a culturally relevant and continuous annual program.
Visit www.ccemiami.org to find out more CCEMiami and the network of cultural centers belonging to the Spanish Agency for International Cooperation and Development (AECID). CCE Miami is the only one of its kind in the U.S. with a continuous annual program offered in every cultural discipline.
FUNDarte (www.fundarte.us) is a multidisciplinary non-profit organization dedicated to producing, presenting, and promoting music, theater, dance, film and visual arts that speak to Miami's diverse cultures.