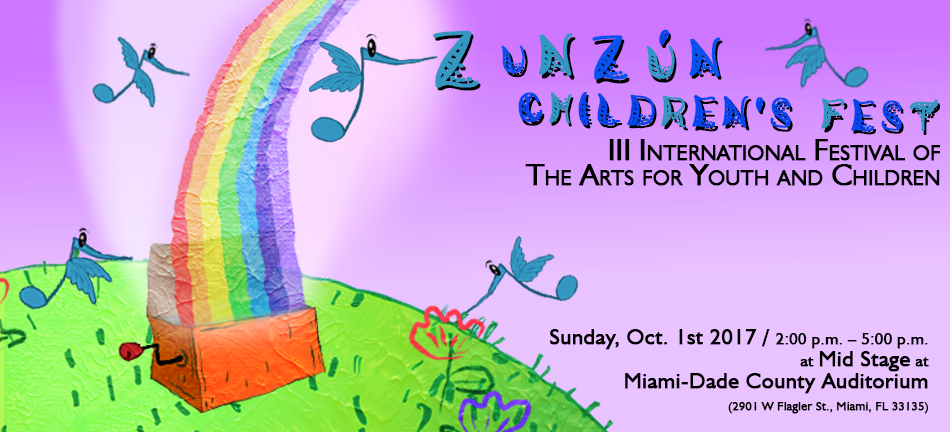 31 Aug

Zun Zún Children's Fest 2017

Zun Zún Children's Fest Brings Music and Theatre for the Entire Family!

 

FUNDarte's FY 2017-18 Season opens Sunday, October 1, 2017 with the 3nd edition of our International Festival of The Arts for Youth and Children, "Zun Zún Children's Fest" featuring: Rita Rosa Ruesga (Cuba/Miami), Nicolas Tovar (Colombia/Miami), Yusa (Cuba/Miami), AnaBé (Cuba/Miami), Lluvia (Venezuela/Miami), Inez Barlatier (Haiti/Miami), and visiting artist Maria del Sol Peralta (Colombia), and Theatre performance "iWant" by Yerandy Basart, Alegnis Castillo, Elizabeth San Miguel and Javier Fano.

Enjoy a day of lively family-friendly entertainment at FUNDarte's Zun Zún Children's Fest, featuring an afternoon of music celebrating Latino and Caribbean childhood! Sing along and shake your body to the vivacious Afro-Caribbean sounds of singer/songwriter Rita Rosa Ruesga, 4-time Grammy nominee and Scholastic Book author; and talents such as the sensational multi-instrumentalist and singer-songwriter Yusa; flutist and vocalist AnaBé; multiple Latin Grammy winner Nicolas Tovar; Venezuelan children's entertainer Lluvia; Haitian percussionist, vocalist, dancer, and singer/songwriter Inez Barlatier; and renowned Mexican-Colombian writer, educator and performing artist Maria del Sol Peralta.

The Zun Zún Children's Fest provides top quality cultural programming for families and young audiences in Miami by an array of talented visiting and local artists, creating unforgettable opportunities to experience, appreciate, and learn about music from Latin America and the Caribbean.

Rita Rosa Ruesga will be presented as a recipient of one of our Knight Arts Challenge commissions, generously funded by a 2-year Knight Arts Challenge award from the Knight Foundation for the project "From El Barrio to the Mainstage," an initiative to commission and present four Miami-based musical productions. "From El Barrio to The Main Stage" is the 3rd of a series of music concerts and events by local artist projects commissioned by FUNDarte with Knight Foundation support.

This event is presented in partnership with Zunzún Arts and Education and The Miami Dade County Auditorium.

What: Zun Zún Children's Fest

When: October 1st, 2017 – 2:00 p.m. – 5:00 p.m.

Where: Miami Dade County Auditorium (2901 W Flagler St., Miami, FL 33135)

Cost: $15 Adults | $5 Children under 14.

Tickets: on sale via Ticketmaster at www.ticketmaster.com; by phone (800) 745-3000 and at the Miami Dade County Auditorium Box Office, Monday through Friday from 9:00 a.m. – 4:00 p.m.

More Information: (305) 547-5414; (786) 348-0789

Educational Activities: Music and Theatre Performances for K-5 Students

Friday, September 29th / 10:00 a.m. – 12:00 p.m. at Miami-Dade County Auditorium (2901 W Flagler St., Miami, FL 33135)

FUNDarte is thrilled to present this colorful and interactive theatre and concert event, focusing on theater and music that expresses the pride of our plural Latino and Caribbean heritage, featuring versions of classic children's songs by Rita Rosa Ruesga, Maria del Sol Peralta, Michael Gil in concert and Theatre performance by Yerandy Basart, Alegnis Castillo, Elizabeth San Miguel and Javier Fano

More Information: ruesgarita@gmail.com – (786) 218-2800

About the artists:

 

Rita Rosa Ruesga is a four-time Grammy award nominee who has impacted over 10,000 children with her Afro-Caribbean and Latin American musical projects for young audiences in Cuba, Mexico, Bolivia, Puerto Rico, Germany, Sweden, Panama, and the USA. Rita has produced several recordings of children's music, for which she has received international acclaim, and has worked with such renowned artists as Celia Cruz and Ricky Martin, as well as many others. Rita holds a degree in Choral Conducting from the National Art School of Havana and has written 3 children's books published by Scholastic Books.

Nicolas Tovar is one of the most celebrated composers, producers, and contemporary singers in the Latin Music Industry, having worked for more than 11 years as a fundamental element of Emilio Estefan's select writing team, delivering unforgettable hits that are now sung by millions of people around the world. Born in Barranquilla, Colombia, this singer/songwriter has an impressive list of international hits, recorded by such artists as Ricky Martin, Chayanne, Alejandro Fernandez, Jon Secada, Cristian Castro, Carlos Ponce, Banda El Recodo, Jacy Velasquez, Ainhoa, India, and Paulina Rubio, and many others. His achievements have been recognized several times by organizations such as ASCAP, BMI, Billboard and the prestigious Latin Grammy, which he has won on 5 occasions. Tovar is also widely recognized in the United States for his performance in the reality show "Protagonistas de la Música", as a strict judge and Talent Director, winning the hearts and respect of international television audiences.

Yusa, a multi-instrumentalist who is perfectly at ease playing guitar, bass, as well as keyboard or percussion instruments, Yusa's music is defined as a young and thoroughly modern musical style influenced by funk, jazz, rap, and soul, while honoring the artist's African and Caribbean heritage. Yusa's original songs contain deeply poetic lyrics, and her work has often been compared to the work of Tracy Chapman. Yusa's songs are rooted in her childhood in Havana and bear the mark of traditional Cuban music, which she creatively updates by arranging its intrinsic substance and fusing it with new influences, following the trends of the Cuban New Wave.

AnaBé, (born Ana Belén Abreu) is a Cuban artist educated in the Havana's most renowned conservatories, where she studied ballet and musical theater beginning at the age of 6. She later studied at the prestigious Manuel Saumelle Conservatory where she began her career as a classical flutist. Her journey continued in Venezuela, where she studied under the tutelage of internationally renowned teachers William Bennet (UK) and Tadeo Cohelo (Brazil). She is a graduate of the Music Performance Program at Florida International University FIU and has performed in TV commercials, telenovelas and independent films. This versatile artist is internationally recognized both as a flutist and vocalist and has worked with such renowned artists as Chilean songwriter Alberto Plaza, Argentinean pianist Raul Diblasio and stars such as Marc Antony, Chayanne, and Marco Antonio Solis. She currently works in collaboration with keyboard player and producer Doug Emery, creating work that blends pop sounds with electronic elements. AnaBé is also the founder and director of A.B.A. Music Studio, a program for music education, located in Aventura, Florida.

Lluvia (Coralia Torrealba) is a Venezuelan theater producer, educator, singer/songwriter and actress who has recorded 6 albums of children's music, and currently directs and produces a children's theater program called "Lluvia y la Gran Carrera," winner of the Venezuelan National Children's Theater award in 2007. She currently directs a children's performing arts company for students aged 5-11 through Inna's Hall of Fame Performing Arts School in Cooper City, Florida.

Inez Barlatier is a Miami-grown songstress! Originally a founding member of Kazoots, and long-time member of Jan Sebon & Kazak International, Barlatier has performed extensively as a singer-songwriter, folkloric dancer, actress & hand drum percussionist/instructor. She has now defined a powerful Roots sound that reflects her Haitian heritage and infuses African, Brazilian, and Caribbean influences in a strong contemporary flow, giving voice to a wholly unique representation of tropical folk.

This event is part of the global performing arts series NO BORDERS presented by FUNDarte Inc. This series focuses on innovative contemporary works from Latin America, the Caribbean, and Spain, celebrating Miami's diverse multiethnic culture.

Financial and administrative support for FUNDarte's No Borders 2017-18 series is provided in part by Miami Dade County Auditorium; Miami-Dade County Department of Cultural Affairs and the Mayor and Board of County Commissioners; State of Florida Department of State, Division of Cultural Affairs and the Florida Arts Council; National Endowment for the Arts; The John S. and James L. Knight Foundation; South Arts; Southern Exposure: Performing Arts of Latin America, a program of Mid Atlantic Arts Foundation; Centro Cultural Español de Miami, University of the Miami, Department of Modern Languages and Literatures Joseph Carter Memorial Fund, Cuban Theater Digital Archive; Funding Arts Network (FAN); Miami Art Guide, MiamiArtZine, El Nuevo Herald, Generación Asere; Glassworks Multimedia; and Romaldesign

FUNDarte (www.fundarte.us) FUNDarte is a multidisciplinary non-profit organization dedicated to producing, presenting, and promoting music, theater, dance, film and visual arts that speak to Miami's diverse cultures with an emphasis on Hispanic arts and culture. FUNDarte particularly works to nurture emerging artists and those with little or no exposure to South Florida audiences; facilitate intercultural and international exchanges; and provide local audiences and artists with educational opportunities that expand their creative, critical and social perspectives.