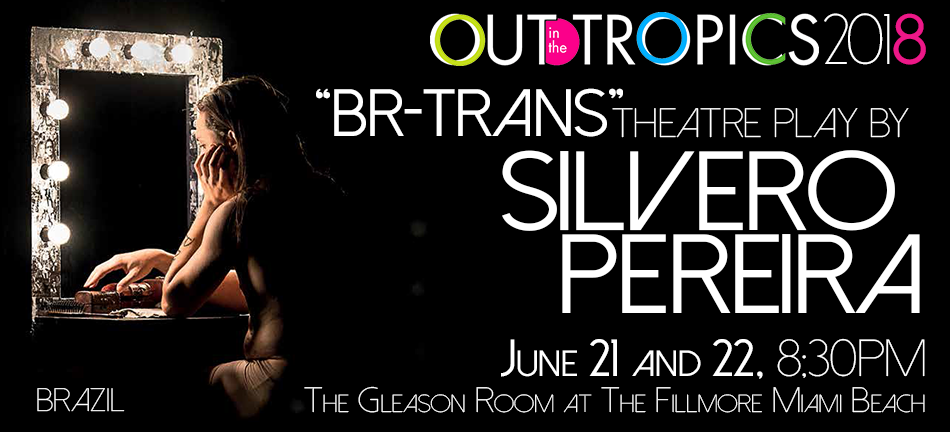 21 May

BR TRANS de Silvero Pereira e a Cia de Teatro As Travestidas

Como parte da programação de um mês da série Out in the Tropics 2018 (OITT), a FUNDarte e o Centro Cultural Español (CCEMiami), apresentam BR TRANS realizada pelo autor, ator e diretor, Silvero Pereira (Brasil) na quinta-feira, 21 de junho e sexta-feira, 22 de junho de 2018 às 20h30 no Gleason Room do Teatro Fillmore. Apresentado em português com legendas em inglês.

 

Apresentando histórias reais reunidas durante um processo de pesquisa realizado através de viagens e oficinas teatrais com transexuais em todas as regiões do noroeste e sul do Brasil, este enfático e oportuno monólogo explora soberbamente seus temas pungentes com sagacidade e riqueza de dramatizações.

Silvero Pereira é ator, diretor, produtor e escritor. Graduado em arte dramática pelo Instituto Federal de Educação do Ceará, Pereira iniciou sua carreira em 1998 como ator na Companhia de Teatro Dionisyos. No mesmo ano, ele fundou o Parque de Teatro, no qual desenvolveu um trabalho comunitário com jovens carentes em uma área rural em seu estado, usando as artes como uma forma de educação. Em 2005, criou o Coletivo Artístico As Travestidas, produzindo e dirigindo Uma Flor De Dama (2005), Cabaré Da Dama (2008), Engenharia Erótica – Fabrica de Travestis (2012), Br-Trans (2013), Cabaré Das Travestidas ( 2014) e Qtmt – Quem Tem Medo De Travesti (2015). A peça BR-Trans foi nomeada uma das dez melhores peças em 2015 por um dos jornais mais importantes do Brasil. Esta peça foi vista por mais de 30.000 pessoas em todo o Brasil e ganhou o prêmio Aplauso Brasil nas seguintes categorias: melhor ator, direção e dramaturgia em 2016. http://coletivoastravesti.wixsite.com/astravestidas

O QUE: BR TRANS de Silvero Pereira e a companhia de teatro As Travestidas

QUANDO: 21 de junho e sexta-feira, 22 de junho de 2018 às 20h30 no Gleason Room

Onde: Gleason Room no Teatro Fillmore: 1700 Washington Avenue, Miami Beach.

INGRESSO: US$ 25 por espetáculo / US$ 20 para estudantes (abaixo de 18 anos) e idosos (acima de 65 anos), membros do Centro Cultural Español (CCEMiami) e Residentes de Miami Beach com identificação em pessoa, sómente na bilheteria do teatro.

Este evento faz parte do Out in the Tropics 2018 (OITT), um emocionante espetáculo multidisciplinar de teatro; abrangendo a poesia rica em histórias, um músico folclorista, uma prolífica pintora lésbica de Cuba, um espetáculo de teatro multidisciplinar brasileiro e uma excitante temporada de um mês de sete peças teatrais inéditas. O evento vai de quinta-feira, 24 de maio à domingo, 24 de junho de 2018, em diversos locais do condado de Miami-Dade. Para mais informações, visite www.fundarte.us

 
Atuação de Silvero Pereira na obra BR TRANS.

Evento do Festival OITT, presentado FUNDarte e Centro Cultural Espanhol de Miami (CCEMiami).

22 de junho de 2018. O quarto Gleason no Fillmore.

Fotografia por Manolo Romalde
Este projeto também foi possível graças ao Programa da agência estadual Ação Cultural Espanhola (AC / E) para a Temporada do Patrimônio Musical Espanhol como parte da Internacionalização da Cultura Espanhola (PICE), na categoria Mobilidade, que facilitou a presença e colaboração dos artistas espanhóis: Eliseo Parra e Músicos.
O patrocínio e apoio organizacional para a série Out in The Tropics 2018 da FUNDarte vem em parte do Miami-Dade County Department of Cultural Affairs and the Mayor and Board of County Commissioners; do National Endowments for the Arts; do City of Miami Beach Cultural Affairs Program, Cultural Arts Council, Miami Beach Mayor and City Commissioners; do Estado da Flórida, Department of State, Division of Cultural Affairs and the Florida Council on Arts and Culture; das organizações artísticas South Arts e Funding Arts Network (FAN); da Miami Foundation; da Acción Cultural Española; Centro Cultural Español e MicroTheater Miami; do The Gleason Room at the Fillmore Miami Beach; do Miami Beach Botanical Garden, da University of Miami Departments of Women and Gender Studies, LGBT Studies, and Modern Languages and Literatures; das revistas Miami Art Guide e MiamiArtZine; e do jornal The Miami Herald.
Atuação de Silvero Pereira na obra BR TRANS.

Evento do Festival OITT, presentado FUNDarte e Centro Cultural Espanhol de Miami (CCEMiami).

22 de junho de 2018. O quarto Gleason no Fillmore.

Fotografia por Manolo Romalde
O Centro Cultural Espanhol de Cooperação Iberoamericana, Inc. (CCEMiami) foi fundado em 1996. Organizado para fins beneficentes, educacionais, artísticos e culturais, conforme estabelecido na Seção 501 (c) (3) do Código da Receita Federal que visa promover e fomentar a cooperação cultural, a criatividade local e a criação de um espaço de diálogo e intercâmbio por meio de um programa anual culturalmente relevante e contínuo.
Visite www.ccemiami.org para saber mais sobre o CCEMiami e a rede de centros culturais pertencentes à Agência Espanhola de Cooperação Internacional e Desenvolvimento (AECID). O CCE Miami é o único do gênero nos EUA com um programa anual contínuo oferecido em todas as disciplinas culturais.
A FUNDarte (www.fundarte.us) é uma organização multidisciplinar sem fins lucrativos dedicada à produção, apresentação e promoção de música, teatro, dança, cinema e artes visuais que tocam as diversas culturas de Miami.