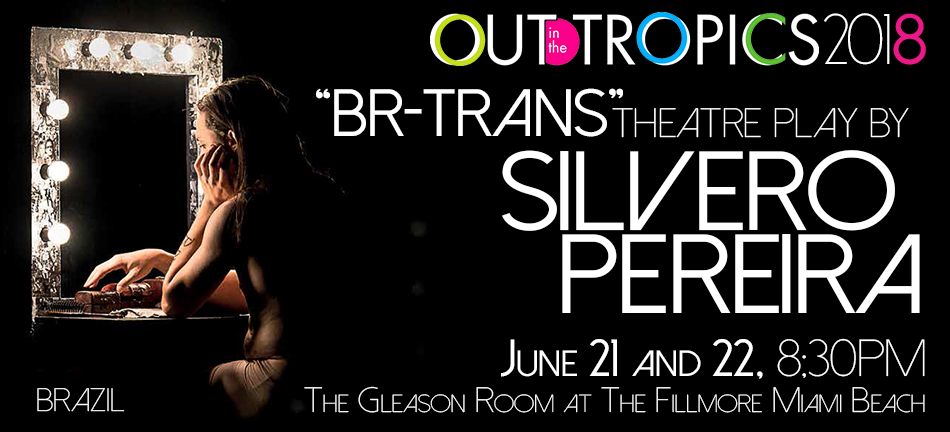 04 May

BR TRANS by Silvero Pereira and Brazilian theater company, As Travestidas

FUNDarte and Centro Cultural Español (CCEMiami) present BR TRANS by Silvero Pereira and Brazilian theater company, As Travestidas  as part of  a month-long series, Out in the Tropics 2018 (OITT) an exhilarating program of multi-disciplinary performance art.

For two-nights only, author, actor, director, Silvero Pereira (Brazil) will perform BR TRANS by Brazilian theater company, As Travestidas. Featuring real stories gathered during a research process undertaken while traveling and working with transsexuals throughout Brazil's northwestern and southern regions, this emphatic and timely solo-play superbly explores its poignant themes with wit and rich stagecraft. Thursday, June 21 and Friday, June 22, 2018 at 8:30 PM at the Gleason Room, at the Fillmore, Presented in Portuguese with English supertitles.

  

WHERE: The Gleason Room at the Fillmore: 1700 Washington Avenue, Miami Beach.

ADMISSION: $25 General Admission per performance / $20 for students (under 18) and seniors (over 65), Centro Cultural Español (CCEMiami) members. and Miami Beach Residents, with I.D., in person, at the theater Box Office Only.

TICKETS:       Purchase tickets for The Gleason Room Backstage at the Fillmore Miami Beach through www.ticketmaster.com or by phone (800) 745-3000 (ticketmaster) or (305) 673-7300 (Fillmore Miami Beach Theater). Tickets also available at the Fillmore Miami Beach Theater Box Office, Monday thought Friday 11:00 a.m. to 6:00 p.m. Group rates are available calling FUNDarte 786.348.0789.

BR TRANS | Silvero Pereira is an actor, director, producer, and writer. He holds an acting degree from the Federal Institute of Education of Ceará and began his career in 1998 as an actor in the Dionisyos Theater Company. The same year, he founded Parque de Teatro, in which he developed community-based work with underserved youth in a rural area in his state, using the arts as a form of education.  In 2005, he created the Artistic Collective As Travestidas, producing and directing Uma Flor De Dama (2005), Cabare Da Dama (2008), Engenharia Erótica – Fabrica de Travestis (2012), Br-Trans (2013), Cabare Das Travestidas (2014) and Qtmt – Quem Tem Medo De Travesti (2015). The piece BR-Trans was named one of the ten best plays in 2015 by one of the most important newspapers in Brazil. This piece has been seen by over 30,000 people across Brazil and won the Aplauso Brasil award in the following categories: best actor, direction and dramaturgy in 2016. http://coletivoastravesti.wixsite.com/astravestidas

Project and organizational support for FUNDarte's Out in The Tropics 2018 comes in part from Miami-Dade County Department of Cultural Affairs and the Mayor and Board of County Commissioners; the National Endowments for the Arts; the City of Miami Beach Cultural Affairs Program, Cultural Arts Council, and the Miami Beach Mayor and City Commissioners; State of Florida, Department of State, Division of Cultural Affairs and the Florida Council on Arts and Culture; South Arts; Funding Arts Network (FAN); The Miami Foundation; Acción Cultural Española; Centro Cultural Español; MicroTheater Miami; The Gleason Room at the Fillmore Miami Beach; Miami Beach Botanical Garden, University of Miami Departments of Women and Gender Studies, LGBT Studies, and Modern Languages and Literatures, Miami Art Guide; MiamiArtZine; and The Miami Herald.

 

Centro Cultural Español de Cooperación Iberoamericana, Inc. (CCEMiami) was founded in 1996.  Organized for charitable, educational, artistic, and cultural purposes as set forth in Section 501 (c) (3) of the Internal Revenue Code that aims to promote and foster cultural cooperation, local creativity and the creation of a space for dialogue and exchange by means of a culturally relevant and continuous annual program.

Visit www.ccemiami.org to find out more CCEMiami and the network of cultural centers belonging to the Spanish Agency for International Cooperation and Development (AECID). CCE Miami is the only one of its kind in the U.S. with a continuous annual program offered in every cultural discipline.

FUNDarte (www.fundarte.us) is a multidisciplinary non-profit organization dedicated to producing, presenting, and promoting music, theater, dance, film and visual arts that speak to Miami's diverse cultures.