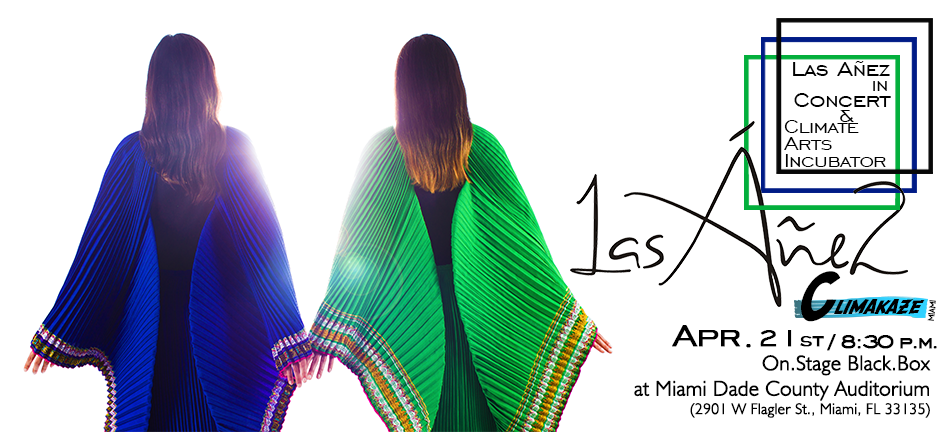 01 Sep

CLIMAKAZE MIAMI 2018

CLIMAKAZE MIAMI! featuring:

Las Añez in Concert & Climate Arts Incubator

Apr. 21st / 8:30 p.m.

On.Stage Black.Box at Miami Dade County Auditorium (2901 W Flagler St., Miami, FL 33135)

Revel in the unforgettable, beguiling sounds of Colombian vocal duo Las Añez, twin sisters who bring to life the ancient music of South America's indigenous ancestry through wild contemporary arrangements. Las Áñez fill every corner of their resonant medium and make listeners enter a hypnotic resounding ritual. This year also features Climate Arts Incubator with The Arctic Cycle, and special guests April 20-22, 2018.

What: CLIMAKAZE MIAMI!

When: Apr. 21st / 8:30 p.m.

Where: On.Stage Black.Box at Miami Dade County Auditorium

Price: $25 Adults | $20 Seniors and Students with ID (Limited).

Tickets: Ticketmaster at www.ticketmaster.com; by phone (800) 745-3000 and at the Miami Dade County Auditorium Box Office, Monday through Friday from 9:00 a.m. – 4:00 p.m.

More Information: (305) 547-5414; (786) 348-0789 www.climakazemiami.org

Founded and directed by Elizabeth Doud, Climakaze Miami combines live performances, workshops, and community conversations in a mini-festival format that fuses visionary activism with artistic innovation to address climate change and cultural collaboration. Climakaze unites artists, educators, activists, concerned citizens, and climate champions in local government in dialogues that perform and address our current global climate crisis. This event is presented in partnership with The Miami Dade County Auditorium.

FUNDarte (www.fundarte.us) is a multidisciplinary non-profit organization dedicated to producing, presenting, and promoting music, theater, dance, film and visual arts that speak to Miami's diverse cultures with an emphasis on Hispanic arts and culture. FUNDarte particularly works to nurture emerging artists and those with little or no exposure to South Florida audiences; facilitate intercultural and international exchanges; and provide local audiences and artists with educational opportunities that expand their creative, critical and social perspectives.