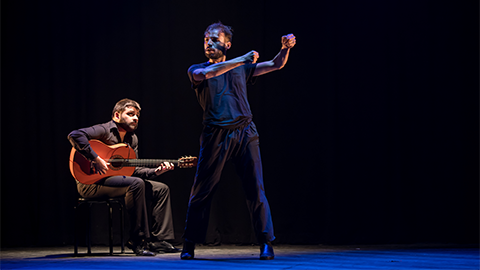 27 Apr

Milonga, Sonata y Plata by Marco Flores

This production unites two important contemporary Spanish artists: Marco Flores, multi-awarded bailaor and choreographer, and José Almarcha, lead guitarist.

Both develop a dance; scenic and musical dialogue that spontaneously juggles embracing and departing from classical forms, which creates their own contemporary expression.

The work will reference the Silver Age of Spanish culture: Antonio José Martínez Palacios, Sabicas, and García Lorca. Also present will be the Italian-Spanish Baroque composer Domenico Scarlatti along with original music composed by Jose Almarcha.
May 6 at Mid Stage at Miami Dade County Auditorium
May 6, 2022 8:00 p.m. Milonga, Sonata y Plata by Marco Flores at Mid Stage at Miami Dade County Auditorium.
More information: http://ciamarcoflores.com/en/home/
What:             Milonga, Sonata y Plata by Marco Flores
When:            May 6, 2022 8:00 p.m.
Where:          Miami Dade County Auditorium (2901 W Flagler St., Miami, FL 33135)
Cost:              $30 | $25
Tickets:         Ticketmaster; by phone (800) 745-3000 and at the Miami-Dade County Auditorium Box Office, Monday through Friday from 9:00 a.m. – 4:00 p.m.
+Info:              www.FUNDarte.us | | www.miamidadecountyauditorium.org 305.547.5414 | 786.348.0789
PLEASE NOTE: Before attending, please review our updated Health & Safety Measures for indoor performances at Miami-Dade County Auditorium.
Out in the Tropics will present daring and innovative performances showcasing artists and projects that address gender politics, sexuality, and the LGBTQ identity. Featuring: Corporeal Decorum choreographed by Liony Garcia, Requiem por un Alcavarán by Lukas Avendaño, Sadonna a musical performance by Miguel Gutierrez, Trópico de Covadonga by Rodrigo Cuevas; Andares by Makuyeika Theatre Collective; Milonga, Sonata y Plata by Marco Flores; a literary reading and art exhibit by Ena Columbie; and Latin Standards by Marga Gomez among others.
FUNDarte is a multidisciplinary non-profit organization dedicated to producing, presenting, and promoting music, theater, dance, film, and visual arts that speak to Miami's diverse cultures with an emphasis on Hispanic/Latino arts and culture. FUNDarte particularly works to nurture emerging artists and those with little or no exposure to South Florida audiences; facilitate intercultural and international exchanges; and provide local audiences and artists with educational opportunities that expand their creative, critical, and social perspectives. Visit us at www.fundarte.us for more information about our exciting and diverse live programming.
(APRIL 7 – MAY 7)