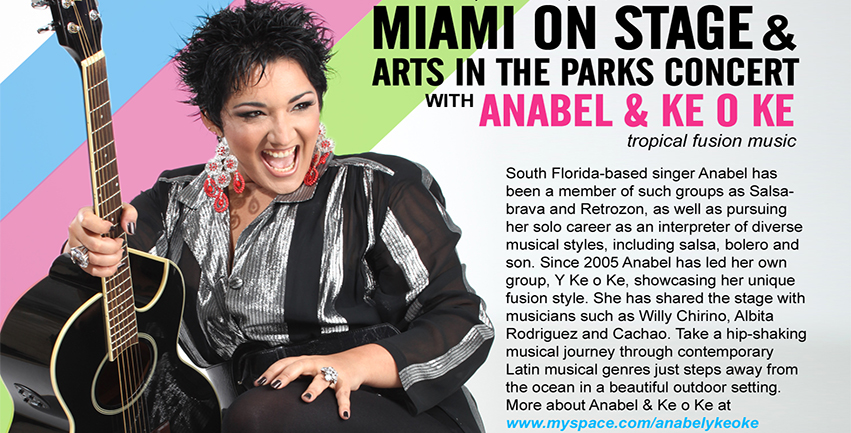 03 Sep

Anabel & Ke o Ke in concert

FUNDarte presents Anabel & Ke o Ke in concert, as part of Miami On Stage Series. Saturday, March 6 at North Beach Open Space Park.

A community's culture is created by those who live and work there. Miami already has a homegrown, exciting contemporary performing arts scene, but it can only continue to grow if area artists have high-quality, public showcases that expose their talent to South Florida audiences. The new Miami On Stage project will do just that by presenting locally produced work on a regular basis. It will feature some of the best of Miami's performing artists in a series that takes place in Miami Beach's North Beach neighborhood, beginning March 6 with a free "tropical fusion" concert by Anabel & Ke o Ke at the North Beach Open Space Park. Miami On Stage is produced by FUNDarte, one of the South Florida's most adventurous and successful presenters of alternative culture, particularly with a Latin flavor.

What:             Anabel & Ke o Ke in concert


When:            Mar 6, 2010. 4:00 p.m.

Where:           North Beach Open Space Park. (8328 Collins Ave, Miami Beach, FL 33141)

Cost:                Free Event

More Information: (786) 348-0789 / www.fundarte.us, info@fundarte.us

Singer Anabel is based in South Florida but was born in Cuba to a musical family. She has been a member of such groups as Salsabrava and Retrozon, as well as pursuing her solo career as an interpreter of diverse musical styles, including salsa, bolero and son. Since 2005 Anabel has been based in South Florida and led her own group, Ke o Ke, showcasing her unique fusion style. She has shared the stage with musicians such as Willy Chirino. Albita Rodriguez and Cachao. This first Miami On Stage concert, just steps away from the ocean in a beautiful outdoor setting, begins at 4:00 pm as the sun begins to go down, and promises to be a hip-shaking musical journey through contemporary Latin musical genres. It is co-presented with the City of Miami Beach as part of its Arts in the Parks program.

"We are so pleased to be able to launch our new, annual Miami On Stage series this year, and provide a professional venue for contemporary, regional performing artists who the general public here is often not exposed to, " says Ever Chavez, Executive Director of FUNDarte. More information about the upcoming Anabel concert, which is free and does not require a ticket, and the entire series, can be found online at www.fundarte.us or by contacting FUNDarte at info@fundarte.us or (305) 316-6165. North Beach Open Space Park's entrance is at 81 Street and Collins Avenue.

Miami On Stage will continue on the first Saturday of each month, through June of this year. April 3 will feature the great timba band Tiempo Libre at North Beach's Byron Carlyle Theater with the Miami.

FUNDarte is a multidisciplinary non-profit organization dedicated to producing, presenting, and promoting music, theater, dance, film, and visual arts that speak to Miami's diverse cultures with an emphasis on Hispanic/Latino arts and culture. FUNDarte particularly works to nurture emerging artists and those with little or no exposure to South Florida audiences; facilitate intercultural and international exchanges; and provide local audiences and artists with educational opportunities that expand their creative, critical, and social perspectives.