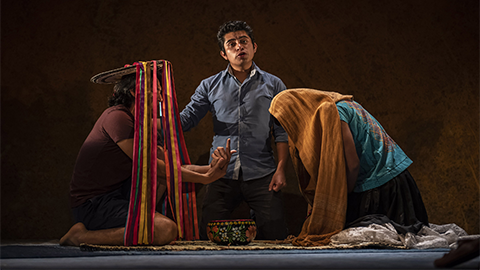 24 Feb

Andares by Makuyeika Theatre Collective

Makuyeika uses keen, artistic sensibility to address themes of great social, cultural, and human value that create original narratives and theatricalities of Mexico's indigenous people. Makuyeika means "wayfarer" in the language of the Wixarika people and was formed, as part of a Julie Taymor World Theatre Fellowship project. Andares (Pathways) centers on the lives of indigenous youths in México, devised collectively through personal anecdotes, ancestral myths, as well as traditional music and art forms. The play shines light on a range of realities; land usurpation, widespread violence, ancestral duties, and community resistance that indigenous people face at the crossroads of modern life and tradition. Andares is a genuine, eye-opening, and intimate close-up on Mexico's most remote corners and the extraordinary stories of its humble, everyday inhabitants.
April 22 & 23 at On.Stage Black.Box at Miami Dade County Auditorium
Makuyeika Theatre Collective
Apr. 22 & 23, 2022, 8:00 p.m.: Andares by Makuyeika Theatre Collective (Mexico) at On.Stage Black.Box at Miami Dade County Auditorium.
More information: http://www.makuyeika.co/
What: Andares by Makuyeika Theatre Collective
When: Apr. 22 & 23, 2022, 8:00 p.m.
Where: Miami Dade County Auditorium (2901 W Flagler St., Miami, FL 33135)
Cost: $20 | $15
Tickets: Ticketmaster; by phone (800) 745-3000 and at the Miami-Dade County Auditorium Box Office, Monday through Friday from 9:00 a.m. – 4:00 p.m.
+Info: www.FUNDarte.us | | www.miamidadecountyauditorium.org 305.547.5414 | 786.348.0789
PLEASE NOTE: Before attending, please review our updated Health & Safety Measures for indoor performances at Miami-Dade County Auditorium.
Out in the Tropics will present daring and innovative performances showcasing artists and projects that address gender politics, sexuality, and the LGBTQ identity. Featuring: Corporeal Decorum choreographed by Liony Garcia, Requiem por un Alcavarán by Lukas Avendaño, Sadonna a musical performance by Miguel Gutierrez, Trópico de Covadonga by Rodrigo Cuevas; Andares by Makuyeika Theatre Collective; Milonga, Sonata y Plata by Marco Flores; a literary reading and art exhibit by Ena Columbie; and Latin Standards by Marga Gomez among others.
FUNDarte is a multidisciplinary non-profit organization dedicated to producing, presenting, and promoting music, theater, dance, film, and visual arts that speak to Miami's diverse cultures with an emphasis on Hispanic/Latino arts and culture. FUNDarte particularly works to nurture emerging artists and those with little or no exposure to South Florida audiences; facilitate intercultural and international exchanges; and provide local audiences and artists with educational opportunities that expand their creative, critical, and social perspectives. Visit us at www.fundarte.us for more information about our exciting and diverse live programming.
(APRIL 7 – MAY 7)