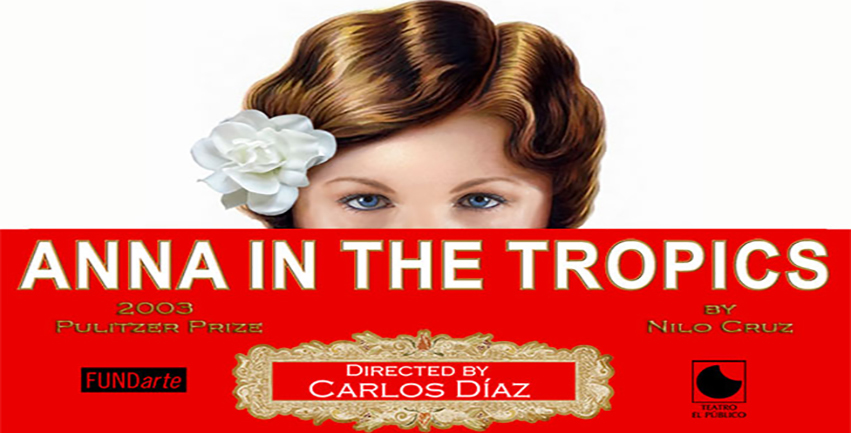 17 Aug

Anna in the Tropics, by Nilo Cruz, directed by Carlos Diaz

FUNDarte & Teatro El Publico
In collaboration with the Cuban Theater Digital Archive, and University of Miami's Departments of Theater Arts, Modern Languages and Literatures and the Center for Latin American Studies present a highly unconventional and innovative staging of the Pulitzer Prize winning play "Anna in the Tropics" by Nilo Cruz in three full-evening performances at the Colony Theater (1040 Lincoln Road, Miami Beach), on Friday and Saturday, November 22nd and 23rd at 8:30 p.m. and Sunday November 24th at 5:00 p.m.

The original text by Nilo Cruz is transformed in this new production directed by Carlos Díaz of the famed Havana based Teatro El Público, and performed in Spanish with English supertitles by members of Teatro El Público in collaboration with Miami performing artists Carlos Caballero, Lili Rentería and Mabel Roch, with a performance by Elizabeth Doud. Cuban guest artists include Osvaldo Doimeadios, Fernando Hechavarria, and Alexis Diaz de Villegas, among others.

The notoriously irreverent Díaz's unique new adaptation of the play updates and complicates the already inspired story via layers of contemporary ingredients that expand the work conceptually and resonate powerfully with Miami's diverse immigrant communities and Cuban audiences alike.

Readings and rehearsals for the play started July 2013 with the director and the Miami cast at the University of Miami's Department of Theater Arts. Lalis Solórzano, a stage management student, worked with the group as assistant director and stage manager. She will resume as stage manager in November when the group returns to the University of Miami for rehearsals and workshops with students November 18-20.

About the play: Set in 1929 in Tampa, this now-classic drama showcases the plight of a community of cigar factory workers facing pressures from the mechanization of the cigar industry. The story focuses on a 'lector' – a person hired by cigar workers to read to them in the factory. He is presumably the last of his breed as eminent industrialization is making his work obsolete. The personal struggles of the characters unfold as Tolstoy's Anna Karenina is read in the factory, creating a narrative that poetically blurs distinctions between art and life. This highly charged work explores themes of immigration, conflicts about new technologies and lost traditions and the longing for passions beyond one's reach.

This performance is co-produced with Teatro El Público, and supported by funding from the Miami Dade County Department of Cultural Affairs' International Cultural Exchange Grant.

What:          Anna in the Tropics by Nilo Cruz, directed by Carlos Diaz

When:         November: 22, 23, AT 8:30 p.m. and 24 at 5:00 p.m.

Where:       Colony Theater (1040 Lincoln Road, Miami Beach)

Cost:            $ 30 General Admission and $ 5 discount for students (-18) and seniors (+65) with ID

Tickets:       www.fundarte.us or www.ticketmaster.com 1.800.745.3000 or at Colony Theater Box Office, Monday to Friday 12:00 p.m. to 5:00 p.m.

Info:             (305) 674 1040

FUNDarte is a multidisciplinary non-profit organization dedicated to producing, presenting, and promoting music, theater, dance, film, and visual arts that speak to Miami's diverse cultures with an emphasis on Hispanic/Latino arts and culture. FUNDarte particularly works to nurture emerging artists and those with little or no exposure to South Florida audiences; facilitate intercultural and international exchanges; and provide local audiences and artists with educational opportunities that expand their creative, critical, and social perspectives.