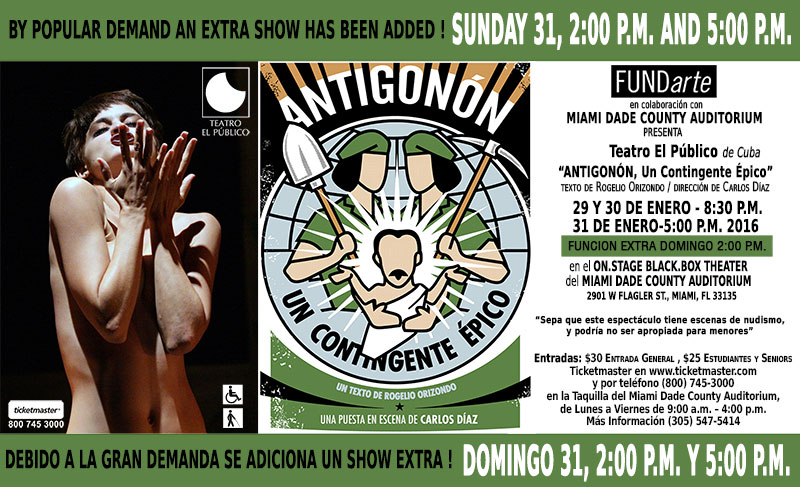 12 Jan

Antigonón un contingente épico by Cuba's Teatro El Público

FUNDarte in collaboration with the Miami Dade County Auditorium presents Teatro El Público's Antigonón, written by the unbelievably sharp young playwright Rogelio Orizondo, and directed by the audacious and unwavering Carlos Díaz. The work departs from the myth of Antigone to fuse with old and new heroes of Cuban history. Heroes are reborn and others are abandoned -in particular the myth of renowned poet José Martí, considered the founder of Cuban revolutionary thought- and join in the post-modern Greek tragic chorus to serve up a remix of frustrations and demands placed upon the bodies of the performers.

Between derision and poetry, between travesty and reality, the spectacle becomes the mirror of a society that maintains a strained relationship with its own history. The text reflects a new view of contemporary Cuba from a subtle perspective that slices through moments of the island's history and surprises us with questions regarding the present.  Structured on a series of non-linear monologues, and embroidered with exotically absurd costumes and some punctuating physicality, the work flows like a series of flashbacks.

This brave and irreverent work, directed by notorious director Carlos Díaz and Havana's most irreverent theatre company, Teatro El Público, at times shocks, and at times draws tears from audiences, rocking the spectator's emotional and political sensibilities across an unexpected spectrum of absurdity that has become all too real. Having sold out over 100 performances in Havana, and now touring internationally, this highly relevant and passionate work will be performed in Miami for 3 nights only!

What: Antigonón un contingente épico by Cuba's Teatro El Público

Where: On.Stage Black.Box Theater at Miami-Dade County Auditorium (2901 W Flagler St., Miami, FL 33135)

When: January 29, 30 at – 8:30 p.m. and January 31 – 5:00 p.m

Tickets: Ticketmaster at www.ticketmaster.com and by phone (800) 745-3000

Miami Dade County Auditorium Box Office, Monday through Friday from 9:00 a.m. – 4:00 p.m. More Information (305) 547-5414

Admission: $30 General Admission, $25 Students and Seniors, $20 CCE Members

A limited number of $20 tickets are available for groups of 10 people or more

More info: (305) 547-5414; (305) 316-6165

Sobre los autores

 

About Carlos Díaz

Born in Havana, Cuba, (1955) and a graduate of the Facultad de Artes Escénicas del Instituto Superior de Arte, Díaz has become one of the most celebrated names in Cuban theater. His theater, a mis of contemporary discourses and languages within a multidisciplinary dimension, has incorporated not only actors, dramaturges and designers, but also musicians, visual artists, choreographers and dancers. Current artistic and general director of Teatro el Publico, he has participated in projects such as Teatro Irrumpe, Ballet Teatro de La Habana, as well as collaborating with DanzAbierta, Danza Contemporánea de Cuba, and several film projects. Díaz was recently awarded the National Prize for Theater by the Republic of Cuba.

Rogelio Orizondo

Orizondo's work has been translated to German and has been read in Germany and New York. He was a graduate of the Advanced Screenwriter's Workshop at the International of Film and TV at San Antonio de los Baños in 2010. In 2011, he won a fellowship from the Goethe Institute, the Schauspiel award from Stuttgart, and the Maximo Gorki Theater. His writings have premiered in Cuba in the hands of directors such as Carlos Díaz and Juan Carlos Cremata. As a director, he has premiered the works "Porque los no nacidos también son personas/Why the unborn are also people" (Based on "The Name" by Jon Fosse) which was performed at the Bergen International Festival in 2012, and "Perros que jamás ladraron/Dogs that never barked" which received the 2012 Aire Frío award for best art direction.
FUNDarte presented, Antigonón un contingente épico by Cuba's Teatro El Público. FUNDarte presented On.Stage Black.Box Theater del Miami Dade County Auditorium. Noviembre 19-22, 2015. Fotografía por Randy Valdes (GlassWorks Multimedia)
This event is part of the global performing arts series NO BORDERS presented by FUNDarte Inc. in collaboration with MDCA. This series focuses on innovative contemporary works from Spain, Latin America, the Caribbean, and Spain, celebrating Miami's diverse multiethnic culture. Also as part of CUBAAHORA: the next generation in collaboration with Centro Cultural Español en Miami and the embassies of Spain in Havana and Washington.
Financial and administrative support for FUNDarte's No Borders 2015 series is provided in part by Miami Dade County Auditorium; Miami-Dade County Department of Cultural Affairs and the Mayor and Board of County Commissioners; State of Florida Department of State, Division of Cultural Affairs and the Florida Arts Council; National Endowment for the Arts; The John S. and James L. Knight Foundation; Glassworks Multimedia; Romaldesign; The Deauville Hotel; Miami Art Guide, MiamiArtZine, El Nuevo Herald, Xael Charters, Centro Cultural Español de Miami, and University of the Miami, Department of Theater Arts, Office of the Provost, Department of Housing and Residential Life, Modern Languages and Literatures Joseph Carter Memorial Fund, Cuban Theater Digital Archive.
FUNDarte presented, Antigonón un contingente épico by Cuba's Teatro El Público. FUNDarte presented On.Stage Black.Box Theater del Miami Dade County Auditorium. Noviembre 19-22, 2015. Fotografía por Randy Valdes (GlassWorks Multimedia)
FUNDarte (www.fundarte.us) FUNDarte is a multidisciplinary non-profit organization dedicated to producing, presenting, and promoting music, theater, dance, film and visual arts that speak to Miami's diverse cultures with an emphasis on Hispanic arts and culture. FUNDarte particularly works to nurture emerging artists and those with little or no exposure to South Florida audiences; facilitate intercultural and international exchanges; and provide local audiences and artists with educational opportunities that expand their creative, critical and social perspectives.