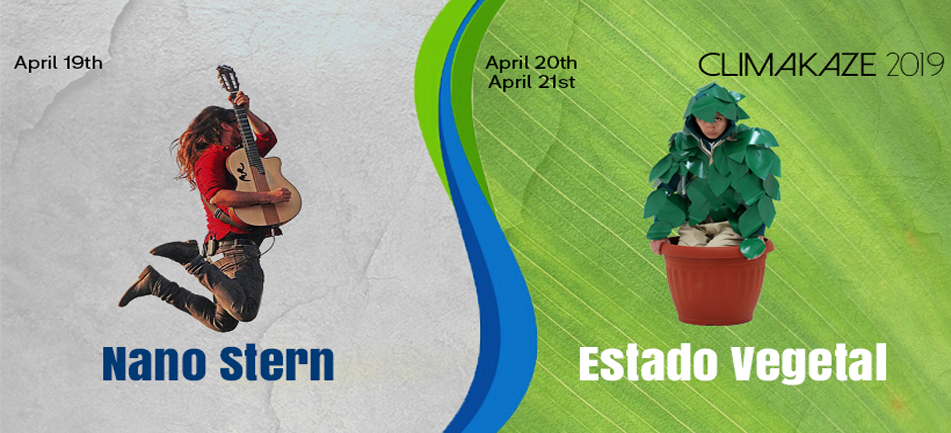 19 Mar

Climakaze Miami 2019

Produced by FUNDarte, in collaboration with the Rhythm Foundation and Miami Dade County Auditorium, Climakaze Miami will host three diverse days contemporary Chilean performing arts on April 19th, 20th and 21st at the  Sand Bar + Kitchen
6752 Collins Ave, Miami, FL 33141, and the On.Stage Black.Box at The Miami Dade County Auditorium in Little Havana. Climakaze Miami provides a thoughtful and intriguing interdisciplinary platform for artists creating work addressing environmental issues and climate change.

Due to rainy weather, the Nano Stern concert at the North Beach Bandshell scheduled for Friday, April 19th has been moved indoors to the The Will Call Lounge at Sand Bar + Kitchen just a few blocks away from The bandshell. RSVPs will be honored at the new venue and the schedule remains the same with doors at 8pm and showtime at 8:30pm. We apologize for any inconvenience and look forward to seeing you at the show!

The Will Call Lounge at Sand Bar + Kitchen
6752 Collins Ave, Miami, FL 33141

Produced by FUNDarte, in collaboration with the Rhythm Foundation, Climakaze Miami provides a thoughtful and intriguing interdisciplinary platform for artists creating work addressing environmental issues and climate change.

On Friday, April 19th, the weekend will kick off with an outdoor concert by Nano Stern in North Beach, presented in partnership with the Rhythm Foundation. Cherished by the millennial generation of Chile, as well as international audiences, Nano Stern is an energetic mix of global indie rock and Chilean tradition, and channels the unflinching troubadour spirit of the great Latin American singer-songwriters of the 60's and 70's. His path as an artist follows richly crafted song lines laid by his family and his Chilean musical ancestry, and unites those with a sound utterly fresh and relevant. The confluence of recent student and environmental political events in his home country Chile and Nano's rise as an articulate writer and performer have positioned him as the voice of a newly politicized Chilean generation.

In 2016, Nano toured with Joan Baez, infusing concerts with his acoustic power and poignant vocals. In his performances, he reignites some of Chile's most iconic ballads and introduces his own songs, which are an equal match for the classics he so reverently interprets. A social activist and timely poet, he agilely traverses a range of instruments, layering indigenous, African and European elements on top of punk-rock roots. Political, articulate, passionate and experimental, his love for the natural world and concern for issues of ecology has included him in this year's Climakaze celebration.

In partnership with Miami Dade County Auditorium this year's Climakaze Miami will feature the remarkable play Estado Vegetal (Vegetal State), by Manuela Infante on Saturday and Sunday, April 20th and 21st.   Written and directed by one of Chile's most exciting and innovative young playwrights, the Miami premiere of her work is part of a five-city U.S. tour.

Vegetal State (Estado Vegetal) is a monologue in which the extraordinary Chilean actress Marcela Salinas brings to life, through the masterful use of her voice, the story of an accident, and the dozens of characters linked to the event, which revolves around the existence of an immense tree that has wide ranging impacts on the life of a community. As the only human being on stage, her dialogues, debates and depositions sprout from under an arc of lights, between plants, microphones, pedestals and pots to express the rejection, respect, attachment, love and incomprehension between humans and plants. This deceptively compact work establishes a timely, philosophical reflection on different ways of relating to the animal and plant kingdoms. This work is performed in Spanish with English supertitles.

Created with an all-woman team, the play uses Infante's sublime sense for comedy and theater in service of philosophical concepts about plant intelligence and vegetative soul.   Estado Vegetal probes the human need to communicate; alternately, by staging the possibility of communication between plants, it also anticipates a post-anthropocentric theater. Estado Vegetal interrogates the value of a life that takes more time to process information or translate it into motion. It is hard to look at difference in people, or anything that photosynthesizes, in the same light after this.

In addition to the live performances, FUNDarte will host an artist talk with Manuela Infante. Free admission.
FUNDarted presented: Master Class by Manuela Infante and company members April 22, 2019 – 7:00 p.m. at The Colony Thetre, Miami Beach. Photographer Generacion Asere
Ticketed Events at The North Beach Bandshell
What: Nano Stern in Concert
When: Friday, April 19, 8:30PM

Where: The Will Call Lounge at Sand Bar + Kitchen
6752 Collins Ave, Miami, FL 33141
Cost: Event is free with suggested donation on entry
Free with RSVP: Rhythm Foundation
More Information: (305) 672-5202; (786) 348-0789
Ticketed Events at On.Stage Black Box Theater at Miami Dade County Auditorium
What: Estado Vegetal (Vegetative State) by Manuela Infante
When: Saturday, Apr. 20th at 8.30 p.m. & Sunday, April 21st at 3:00 p.m.

Where: On.Stage Black.Box Theater at The Miami Dade County Auditorium
(2901 W Flagler St., Miami, FL 33135)
Cost: $30 adults | $25 students and seniors | $20 groups of 10+
A limited number of tickets for youth patrons through: www.cultureshockmiami.com.
Tickets: Ticketmaster at www.ticketmaster.com; by phone (800) 745-3000 and at the Miami Dade County Auditorium Box Office, Monday through Friday from 9:00 a.m. – 4:00 p.m.
More Information: (305) 547-5414; (786) 348-0789
For a full event schedule and artist bios, go to: https://www.climakazemiami.org/program-info/
The Mermaid Tear Factory performance by Elizabeth Doud. April 16, 2019 – at Biscayne Elementary Community School, Miami Beach.
2019 promises to be the hottest year on record, and FUNDarte believes culture's role in progressive climate action is inevitable, and can be networked more deeply to expand partnerships and engage citizenry in meaningful ways. To address this issue, we founded Climakaze Miami to honor artists and thinkers making work at the intersection of culture and climate.
The 2018-2019 U.S. tour of Estado Vegetal by Manuela Infante is supported in part by Southern Exposure: Performing Arts of Latin America. General support for Climakaze Miami comes in part from the Miami Dade County Auditorium; the Miami-Dade County Department of Cultural Affairs and the Mayor and Board of County Commissioners; State of Florida, Department of State, Division of Cultural Affairs, the Florida Arts Council; The City of Miami Beach; The Miami Beach Botanical Garden; Culture Shock Miami; University of the Miami, Department of Modern Languages and Literatures Joseph Carter Memorial Fund; The Consulate of Chile in Miami; Centro Cultural de España en Miami; Pamela's Restaurant; Generacion Asere; The Miami Herald/El Nuevo Herald; MiamiArtZine; MAG; WDNA and Romaldesign.
FUNDarte is a multidisciplinary non-profit organization dedicated to producing, presenting, and promoting music, theater, dance, film and visual arts that speak to Miami's diverse cultures, with a special emphasis on artists from Latin America, the Caribbean and Spain. Climakaze Miami is a forward thinking initiative of FUNDarte, which tackles climate denial using live performance and interactive learning.