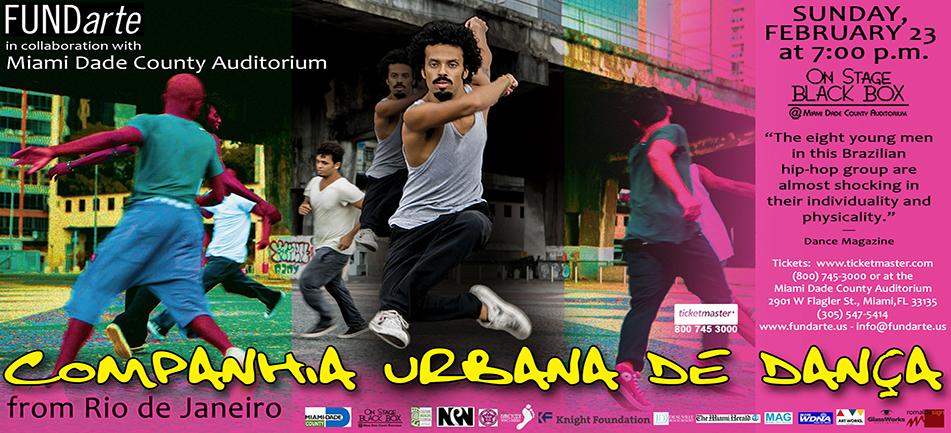 13 Aug

Companhia Urbana de Dança in Miami (2014)

Direct from Rio de Janeiro, Brazil, and for one night only, this fierce young company will perform two works from their high energy repertory, featuring choreography by Artistic Director Sonia Destri Lie: Na Pista (On the dance floor) and ID: ENTIDADES (ID: Entities) on Sunday, February 23, 2014 at 7:00 p.m. at On.Stage Black.Box Theater at Miami Dade County Auditorium (2901 W Flagler St., Miami, FL 33135)

 

"The eight young men in this Brazilian hip-hop group are almost shocking in their individuality and physicality." —Dance Magazine

Freely mixing urban street styles, social dances, and thought-provoking contemporary vocabulary, the audacious and dynamic Companhia Urbana de Dança unleashes startlingly new forms for a truly moving experience. Composed of eight immensely talented young men from the favelas of Rio de Janeiro on their first US tour, this poetic and explosive company stuns with stamina-testing solos and jaw-dropping group movement that defies the limits of physicality while retaining choreographic rigor. Alternately mesmerizing and rippling with adrenaline and raw energy, these two works conceived and choreographed by director Sonia Destri Lie explore the cultural roots of Brazil and the gritty life stories of the dancers themselves.

What:           Na Pista (On the dance floor) and ID: ENTIDADES (ID: Entities) by Companhia Urbana de Dança


When:          Sunday February 23, 2014 at 7:00 p.m.

Where:         Miami Dade County Auditorium (2901 W Flagler St. Miami, FL 33135). (305) 547 5414.

Cost:              $25 at the door and $5 discount for students (-18) and seniors (+65) with ID. A limited number of $50 VIP tickets are available, VIP tickets includes Wine or Champagne and preferred seats.

Tickets:         www.ticketmaster.com, by phone (800) 745-3000. No service charge at the Miami Dade County Auditorium Box Office, Monday through Friday from 9:00 a.m. – 4:00 p.m.

Info:                (305) 547-5414; (786) 348-0789 / www.fundarte.us

About the Company:

Founded in Brazil in 2004 by dancer Tiago Sousa and choreographer and Artistic Director Sonia Destri Lie, Companhia Urbana de Dança is an ensemble of street performers working to foster the human experience through dance. Destri's experiences traveling through Europe for work in theater, films exposed her to hip-hop and b-boy techniques. Highly influenced by Brazilian street forms, she began to integrate these techniques into her already established contemporary movement sensibility. Pulling from the favelas of Rio where many of her company members grew up, Companhia Urbana de Dança aims to transcend cultural boundaries, while showcasing eclectic skill sets.

About the Artistic Director:

Sonia Destri Lie is the artistic director and choreographer of Companhia Urbana de Dança. Receiving her degrees in both psychology and ballet has rendered her a unique perspective on human expression and human form. Destri had travelled throughout Brazil and Europe after completing her studies, working in dance, theatre, film, and musicals. It was then when she discovered hip-hop and b-boying dance. She had defined her unique and refreshing interpretation of these styles by infusing them with the rich cultural influences of Brazil and the favelas from within. Her works creatively embrace elements of hip-hop, b-boying, contemporary dance, and also Brazilian social dances. Destri's choreography has been cited as a significant contribution to the field of dance. She generates an entirely new genre that coincidentally returns a greater appreciation for existing dance styles and the significance of socio-cultural influences. Media and contemporaries' reviews of her performances are nothing short of spectacular. She received the Best Script Award by the Ford Foundation, the Staging Award 2011 by the State of Rio de Janeiro for the show "Eu Danço", the FADA Award by the City Hall of Rio de Janeiro (2012 and 2013), and the Best Choreography Award by Conseil International de la Danse (CID_Unesco).

FUNDarte is a multidisciplinary non-profit organization dedicated to producing, presenting, and promoting music, theater, dance, film, and visual arts that speak to Miami's diverse cultures with an emphasis on Hispanic/Latino arts and culture. FUNDarte particularly works to nurture emerging artists and those with little or no exposure to South Florida audiences; facilitate intercultural and international exchanges; and provide local audiences and artists with educational opportunities that expand their creative, critical, and social perspectives.

ABOUT THE MIAMI-DADE COUNTY AUDITORIUM

Miami-Dade County Auditorium opened its doors in 1951. It has a splendid history as one of South Florida's premier performing arts centers. This popular multipurpose theatre features Art Deco Revival décor. It offers two dynamic presentation styles: a 2,372-seat theater that can host major dance, theatre and music performances; and a 250-seat black box theatre in which both the audience and performers share the stage of the auditorium, adapted into an innovative studio theatre for more intimate – and often cutting-edge – shows. In January 2012, the operation of Miami-Dade County Auditorium was transferred to the Department of Cultural Affairs, which has a track record and reputation of innovation and artistic excellence.

Project and organizational support for Jorge Luis Pacheco in concert comes in part from the Miami Dade County Auditorium, the Miami-Dade County Department of Cultural Affairs and the Mayor and Board of County Commissioners, State of Florida, Department of State, Division of Cultural Affairs, the Florida Arts Council and the National Endowment for the Arts; Glassworks Multimedia, Barefoot Wine, Romaldesign, MAG and WDNA.