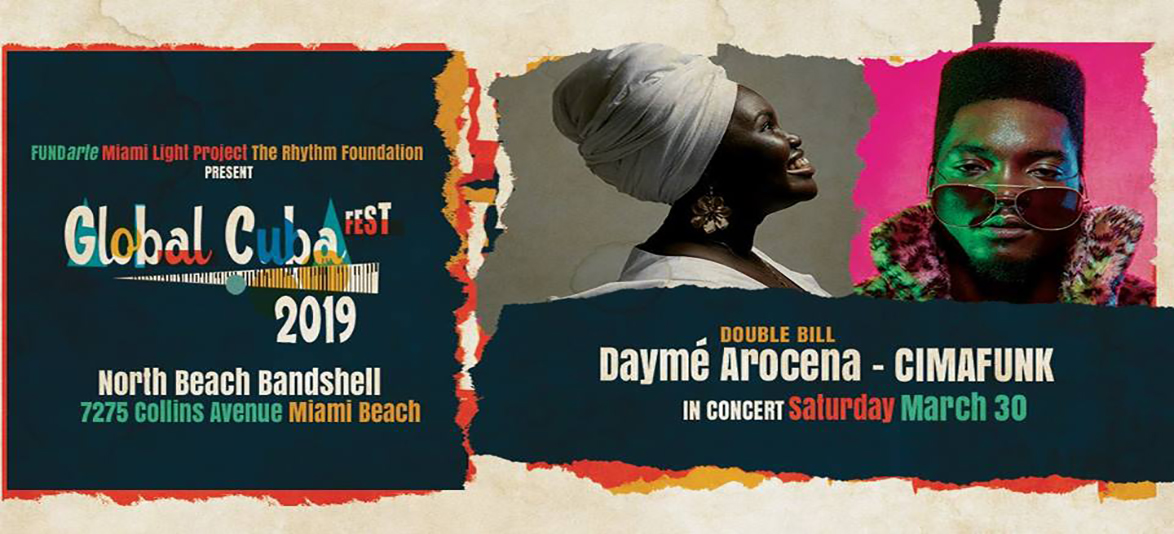 27 Sep

Daymé Arocena and CIMAFUNK. Global Cuba Fest 2019

FUNDarte, Miami Light Project and The Rhythm Foundation present Global Cuba Fest 2019 featuring Daymé Arocena and CIMAFUNK in concert on March 30th at 6:00 p.m. | North Beach Bandshell, Miami Beach.

Global Cuba Fest returns to Miami Beach and Wynwood with the freshest and most relevant Cuban artists from our island neighbor and its diaspora. Presented this year in partnership with Miami Light Project and The Rhythm Foundation.

With her captivating charisma and radiant spirit, Daymé Arocena effortlessly blends traditional Santeria chant, jazz stylings, contemporary R&B influences, and Afro-Cuban rhythmic complexity for audiences worldwide. Her passion for the musical traditions of her homeland is boundless – "reigniting the Cuban soundtrack wherever she plays" (NPR). At every performance, Daymé coaxes her audiences into lively call-and-response chants with an irrepressible smile on her face, enamoring the whole audience in her charm. "Scat-singing over her trio's swaying rhumbas and cha-cha-chas," (DownBeat), Daymé's impact upon the history of Cuban music is undeniable.

Erik Alejandro Rodriguez—known as Cimafunk—is the latest and hottest addition to Havana's melting pot music scene. Born in Cuba's rural province of Pinar del Rio, Erik sang at his church on Sundays before working odd jobs and eventually deciding to study medicine. After two years, he realized his calling was to create music, so he dropped out of school, moved to Havana, and began his journey as Cimafunk. In 2018, he saw record numbers of concert-goers at Cuba's hottest cultural space, the Fábrica de Arte, which has launched his fanbase on and off the island. Cimafunk's music blends a range of explosive funk and Afro-Cuban rhythms and rituals.  Unlike anything happening in the world today, Cimafunk's sounds are a sped up, highly danceable and Caribbean injected reckoning of "Brick House." It's unlike anything happening in the music world today.

What:             Daymé Arocena and CIMAFUNK in Concert

When:            Saturday, Mar. 30th at 6:00 p.m.

Where:          North Beach Bandshell, (7275 Collins Ave Miami Beach, FL 33141)

Cost:              $35 on line | $40 at the door | $5 discount for Students and Seniors (Limited)

Tickets:         www.northbeachbandshell.com and by phone at (786) 453-2897

Info:                www.northbeachbandshell.com

Global Cuba Fest 2019 also features Nu Deco Ensemble Nucleus in concert with world-renowned Cuban singer Yusa on March 6th, 7th and 8th at The Light Box at Goldman Warehouse (404 NW 26 Street Miami, FL 33127) at 8:00 p.m. For more info: www.miamilightproject.com

About the Artists
Daymé Arocena on stage at Global Cuba Fest. Presented by FUNDarte, Miami Light Project and The Rhythm Foundation Mar. 30th at North Beach Bandshell, Miami Beach. Photographer Elvis Suarez GlassWorks Multimedia
Daymé Arocena, Mar. 30th at 7:15 p.m. | North Beach Bandshell, Miami Beach.

Born and raised in Havana, her conservatoire training was combined with an upbringing grounded in Cuba's own musical foundations. Accepted age 9 into one of the country's prestigious music schools, she studied a choir directing course rooted in Western classical tradition. Meanwhile, she grew up with the day-to-day schooling in folkloric music that's common to most Cuban households. At regular, intimate get-togethers, celebrating the island's Santería religion, dancing and singing are the gatherings' mainstays – a combination that's meant she sees its deep-rooted traditions in a wider musical context.
Daymé Arocena draws inspiration from the intertwining musical legacies of her native Cuba. A singer, composer and choir director, she's a bright-shining performer carrying the flame for a new generation of Cuban musicians. Approaching jazz, soul and classical influences with an innate sense of rhythm, she released her second album, Cubafonía, in early 2017. With her home country's rich musical traditions serving as the album's springboard, she uses its different musical styles as the basis for each of Cubafonía's tracks, finding outside influences, from her tours of the world these past two years, to build on them.
Emerging from a culture where hybrids and amalgamations are the norm, Daymé embraces that reality. At a time when Cuba's borders look set to become more open, she is an outward-looking artist finding new musical connections. More importantly, she's doing it with an understanding of where she comes from. "We don't have this native culture," Daymé explains. "We don't have indigenous people, like Maya or Quechua. They made a country with people from everywhere – that's what makes Cuban culture so different." More information: http://daymearocena.com/en/
CIMAFUNK, on stage at Global Cuba Fest. Presented by FUNDarte, Miami Light Project and The Rhythm Foundation Mar. 30th at 9p.m. at North Beach Bandshell, Miami Beach. Photographer Elvis Suarez GlassWorks Multimedia

CIMAFUNK, Mar. 30th at 9:30 p.m. | North Beach Bandshell, Miami Beach.

Cimafunk is a singer, a composer and a producer and one of the most singular emerging artists of Cuba's alternative music. His music is a fusion of funk and Afrocuban music. His lyrics come directly from the Cuban streets and his music is designed to get you dancing!
His inspiration grows from an eclectic panel of black music: from James Brown's, George Clinton's and Prince's Funk and the soul music of Al Green and Bill Withers to Cuban "Trova" of Beny Moré and Bola de Nieve and Juan Formell's y Los Van Van's "songo".
Cimafunk realesed its debut album, Terapia, at the end of 2017. More information: https://cimafunk.com/
FUNDarte  is a multidisciplinary non-profit organization dedicated to producing, presenting, and promoting music, theater, dance, film, and visual arts that speak to Miami's diverse cultures with an emphasis on Hispanic/Latino arts and culture. FUNDarte particularly works to nurture emerging artists and those with little or no exposure to South Florida audiences; facilitate intercultural and international exchanges; and provide local audiences and artists with educational opportunities that expand their creative, critical, and social perspectives.
Founded in 1988, The Rhythm Foundation, has presented concerts, festivals and events featuring over 800 established and innovative artists from around the world. Special focus is given to those cultures connecting to South Florida audiences. In 2015 The Rhythm Foundation began year-round management of the North Beach Bandshell amphitheater for the City of Miami Beach. http://www.rhythmfoundation.com/
Founded in 1989, Miami Light Project is a not-for-profit cultural organization which presents live performances by innovative dance, music and theater artists from around the world; supports the development of new work by South Florida-based artists; offers educational programs for students of every age; and cultivates the development of new audiences reflecting the diverse cultural and economic make-up of South Florida. Miami Light Project is a cultural forum to explore some of the issues that define contemporary society. http://www.miamilightproject.com/
Supporters: The Global Cuba Fest 2019 is funded by John S. and James L. Knight Foundation; the Miami-Dade County Department of Cultural Affairs and the Cultural Affairs Council, the Miami-Dade County Mayor and Board of County Commissioners; State of Florida, Department of State, Division of Cultural Affairs and the Florida Council on Arts and Culture; the City of Miami Beach Department of Tourism and Cultural Development, Cultural Affairs Program, Cultural Arts Council and the Miami Beach Mayor and City Commissioners; Publix Super Markets Charities; The Batchelor Foundation; Macy's; and The Horns Project/Horns to Havana.