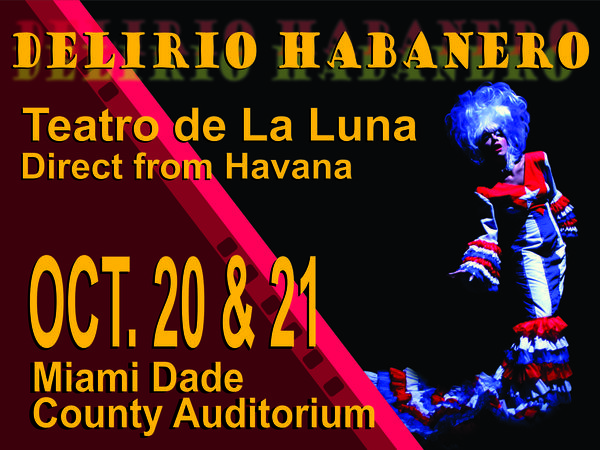 14 Jul

Delirio Habanero by Teatro de la Luna

FUNDarte, CCEMiami and University of Miami's Cuban Theater Digital Archive present award-winning Cuban musical starring famous Cuban cinema, television, and theater actors. Written by Alberto Pedro and directed by Raúl Martín, Havana Delirium/Delirio habanero is performed by Teatro de la Luna, featuring Laura De La Uz, Amaryllis Núñez and Mario Guerra.

Havana Delirium/Delirio habanero:
Every night, in an old abandoned bar, three delirious characters come together, believing themselves to be famous stars. There, they find refuge from the hostile environment that surrounds them; and there, they invite us to relive each of their personal stories, loaded with music and emotion.  Celia Cruz, Beny Moré, and legendary lounge singer Varilla, appear to reincarnate in these three beings who must ultimately face an inevitable end…

Havana Delirium/Delirio habanero is set in 1990s Havana during the Special Period in Times of Peace, marked by the collapse of the Soviet Union and Cuba's free fall into economic, social, and moral chaos. The play embarks upon the Special Period and flashes back to Cuba's Hey Day of the 1940s and 50s when casinos and cabarets were at their peak, featuring nightclubs such as The Tropicana. The three characters, set in an atmosphere of "delirium," believe themselves to be the following cultural icons of the 1940s and 50s: La Reina – Celia Cruz, the Queen of Salsa; El Bárbaro – Beny Moré, the King of Rhythm; Varilla – the famous barman of the Bodeguita del Medio, made famous by Hemingway in the 1950s. They sing, dance, and banter about their lives and troubles to escape from the crumbling world outside. Memories and song help them to relive glorious experiences as they face an inevitable fate. These interactions comment on political and racial divisions and fragmented societies yearning for reconciliation.

What:             Delirio Habanero by Teatro de la Luna (In Spanish with English supertitles)


When:            October 20 and 21, 2011. 8:30 p.m.


Where:          On.Stage Black.Box Theater at Miami Dade County Auditorium (2901 W Flagler St., Miami, FL 33135)

Cost:              $25 and $5 discount for students (-18) and seniors (+65) with ID

Tickets:         www.ticketmaster.com, by phone (800) 745-3000. No service charge at the Miami Dade County Auditorium Box Office, Monday through Friday from 9:00 a.m. – 4:00 p.m.

Info:                (305) 547-5414 / www.fundarte.us

FUNDarte is a multidisciplinary non-profit organization dedicated to producing, presenting, and promoting music, theater, dance, film, and visual arts that speak to Miami's diverse cultures with an emphasis on Hispanic/Latino arts and culture. FUNDarte particularly works to nurture emerging artists and those with little or no exposure to South Florida audiences; facilitate intercultural and international exchanges; and provide local audiences and artists with educational opportunities that expand their creative, critical, and social perspectives.