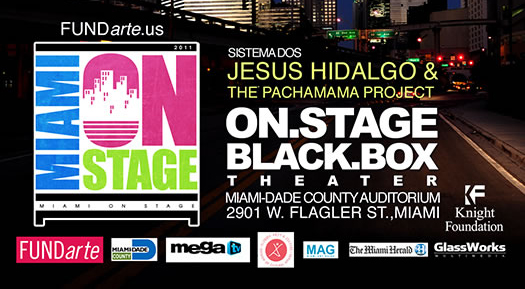 15 Jul

Earth Day Celebration Jesus Hidalgo and The Pachamama Project

The Miami On Stage series will feature the following performance at the new On.Stage Black.Box Theater at Miami-Dade County Auditorium:

April 22, 2011 "Earth day Celebration: Jesus Hidalgo and The Pachamama Project will present Sistema Dos (System Two), a multi-media project that integrates environmental consciousness with music, featuring invited artists such as Peruvian folkloric group Kuyayky, and El Grupo de Danza del Centro Cultural Boliviano MASIS. Other guests will include Shamans Jose Fernando Andrade from Colombia, Joe Iron Eagle of the Apache Chicagua Nation, and U.S.-based Lee Emerson. This project proposes a parallel relationship between the minutiae of everyday life and a path that connects us to the heart of Mother Earth. The songs demonstrate a solid influence rooted in ancestral, classical and pop genres, and contain a powerful philosophical message designed to raise public consciousness in order to promote societal concern for the protection and preservation of the Planet's natural resources, along with its flora and fauna, as well as the ancient wisdom of Amazonian indigenous tribes that celebrate internal wisdom, love, life and the possibility of a better world.

What:             Earth Day Celebration Jesus Hidalgo and The Pachamama Project


When:            April 22, 2011. 8:00 p.m.


Where:          On.Stage Black.Box Theater at Miami Dade County Auditorium (2901 W Flagler St., Miami, FL 33135)

Cost:              $20 and $5 discount for students (-18) and seniors (+65) with ID

Tickets:         www.ticketmaster.com, by phone (800) 745-3000. No service charge at the Miami Dade County Auditorium Box Office, Monday through Friday from 9:00 a.m. – 4:00 p.m.

Info:                (305) 547-5414 / www.fundarte.us

Jesus Hidalgo is a Venezuelan artist who comes from a family of musicians and artists. He is a singer, composer and producer who has had the opportunity from a very early age to work with musicians like Placido Domingo, Puerto Rican Power, Bacilos, Oscar de Leon, Simon Diaz, Irakere, Dyango , Aida Cuevas, Los Del Rio, MDO, Rocio Durcal,among others. He has also worked next to famous music producers such as Bebu Silvetti, Emmanuelle Ruffinengo, Rodolfo Castillo, Jose Lugo, Pedro Alfonso and German Ortiz. As an artist, Jesus Hidalgo, has recorded six albums, three of which were with the successful Venezuelan Latin Pop group URBANDA, and three with LOS HIDALGO. The group LOS HIDALGO was met with great recognition in Puerto Rico, South America, Spain and the United States, as well as been winners of many international awards (1992, 1993 and 1994 Ronda Awards Best Pop Group, Venezuela; 2001 Premios Lo Nuestro, Nominee Best Latin Vocal Group; 2002 Aplausos Awards Best Vocal Group, Puerto Rico). Jesus Hidalgo has signed an exclusive publishing deal with Universal Music Publishing and as an artist with Warner Music, Lideres Entertainment, Sesac Latina and recently he is working in a new production Sistema Dos.

FUNDarte is a multidisciplinary non-profit organization dedicated to producing, presenting, and promoting music, theater, dance, film, and visual arts that speak to Miami's diverse cultures with an emphasis on Hispanic/Latino arts and culture. FUNDarte particularly works to nurture emerging artists and those with little or no exposure to South Florida audiences; facilitate intercultural and international exchanges; and provide local audiences and artists with educational opportunities that expand their creative, critical, and social perspectives.