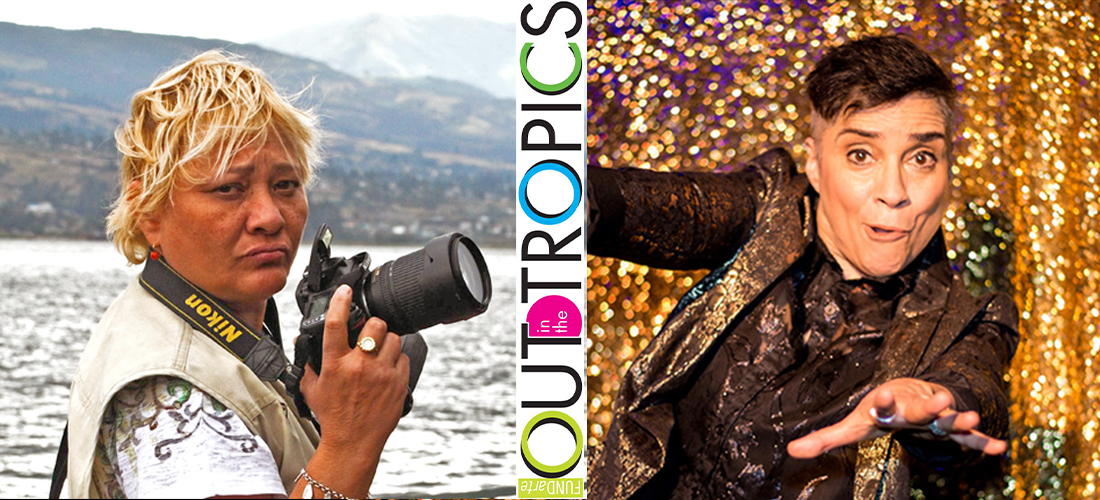 02 Mar

Ena Columbié & Marga Gomez (2 Events)

This double-billed event will feature an evening of a live literary reading (in Spanish) by Ena Columbié that explores Latino identity and issues surrounding migration through the juxtaposition of images and words and the performance Latin Standards by San Francisco-based solo performer Marga Gomez who will explore current themes such as acculturation and performing gender in the way of life of the newly arrived emigrant
May 7 at Miami Beach Botanical Garden
Out In The Tropics Double Bill Event at the Miami Beach Botanical Garden. May 7, 2022 2:00 p.m.
May 7, 2022 2:00 p.m. Deja que mis fotos te hablen y que mis letras te retraten (Let my photos speak to you and my words photograph you) by Ena Columbie .
Ena Columbie will present a multidisciplinary exhibit, which includes a live literary reading that explores Latino identity and issues surrounding migration through juxtaposition of images and words.
May 7, 2022 4:00 p.m. Latin Standards by Marga Gomez
Latin Standards was named New York Times "Critic's Pick" for its "winning heart and humor." Written and performed by GLAAD award winner Marga Gomez and directed by David Schweizer, "Latin Standards" recalls Marga's childhood in Washington Heights with her father, Willy Chevalier, comedian, producer, songwriter, and prominent figure in the golden era of New York's Latino variety shows also known as La Farandula. As a tribute to his memory, adult Marga defied reason and launched a hipster comedy night at "Esta Noche," a doomed San Francisco Latino drag club, during the onset of the city's gentrification crisis. It's an energetic, funny and poignant story of perseverance and creative addiction passed down from immigrant father to lesbian daughter. After playing full houses in Tucson in 2018 the Arizona Star said: "Gomez infuses her stories with such delicious details and character that you are transported. That makes for a fine 80 minutes."
More information: http://www.margagomez.com/
This event is Free
What: Photo Exhibit and Literary Reading by Ena Columbie and Latin Standards by Marga Gomez
When: May 7, 2022 2:00 p.m.
Where: The Miami Beach Botanical Garden

Cost: This event is Free
+Info: www.FUNDarte.us | www.mbgarden.org | 305.673.7256| 786.348.0789
FUNDarte is a multidisciplinary non-profit organization dedicated to producing, presenting, and promoting music, theater, dance, film, and visual arts that speak to Miami's diverse cultures with an emphasis on Hispanic/Latino arts and culture. FUNDarte particularly works to nurture emerging artists and those with little or no exposure to South Florida audiences; facilitate intercultural and international exchanges; and provide local audiences and artists with educational opportunities that expand their creative, critical, and social perspectives. Visit us at www.fundarte.us for more information about our exciting and diverse live programming.
(APRIL 7 – MAY 7)