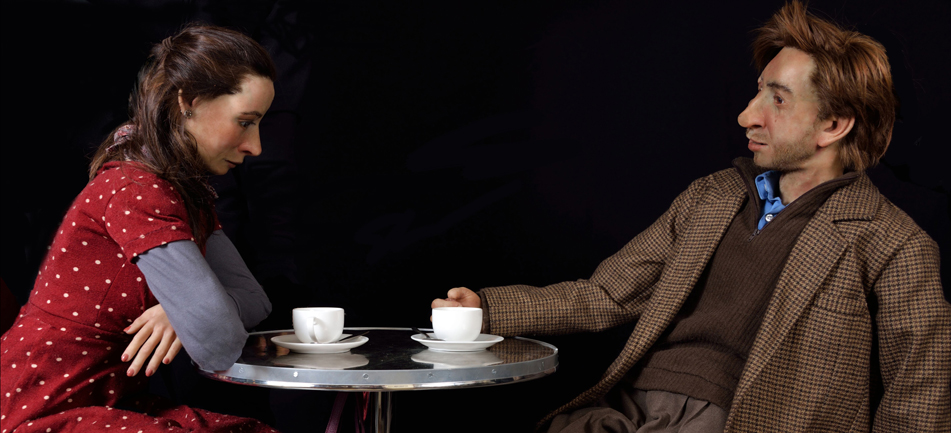 19 Jul

FEOS by Teatro y Su Doble (Chile)

FUNDarte's NO BORDERS series presents FEOS, Theatre from Chile by Teatro y Su Doble, Saturday, on Jan. 25 at 8:30 p.m. & Sunday, Jan. 26 at 3:00 p.m. at On.Stage Black.Box at Miami Dade-County Auditorium. (2901 W Flagler St., Miami, FL 33135).

Written by acclaimed Chilean playwright Guillermo Calderón, and inspired by the story La Noche de los Feos by Mario Benedetti, FEOS, directed by Aline Kuppenheim, is a visual feast of Bunraku-style puppetry.

Drawing deeply mature emotions, Teatro y Su Doble craft beautiful scenes that touch the soul, despite—or, perhaps, due to—their fundamental strangeness. A beautiful and moving work about the relation of the human being with the beauty and its opposite, with puppets manipulated with an extraordinary precision.

Incorporating stop motion projections, puppeteering of the highest caliber and a story that challenges audiences to look at their own faults with honesty and acceptance, the production is a unique work of beauty.

"Within this continuous process of exploration, Aline and his team found a new emotional and creative edge"

-Constanza Pastor, Arteallimite

"The result is simply masterful. A major work of art with just the right amount of everything, brimming with transparent beauty, sensitivity and emotion and resonating deeply with the audience."

– Pedro Labra, El Mercurio

What: FEOS by Teatro y Su Doble (Theatre from Chile) – 50 minutes with no intermission.


When: Jan. 25 at 8:30 p.m. & 26 at 3:00 p.m.

Where: On.Stage Black.Box at Miami Dade-County Auditorium

Cost: $30 adults | $25 students and seniors with ID (limited seating)| $20 for groups of 10 or more.

Tickets: Ticketmaster; by phone (800) 745-3000 and at the Miami Dade-County Auditorium Box Office, Monday through Friday from 9:00 a.m. – 4:00 p.m.

More Information: (305) 547-5414; (786) 348-0789 / www.fundarte.us, info@fundarte.us

Adult content, intense subject matter. Age recommendation: For ages 14+.
Theatre-Puppetry-Workshop by Teatro y su Doble, Chile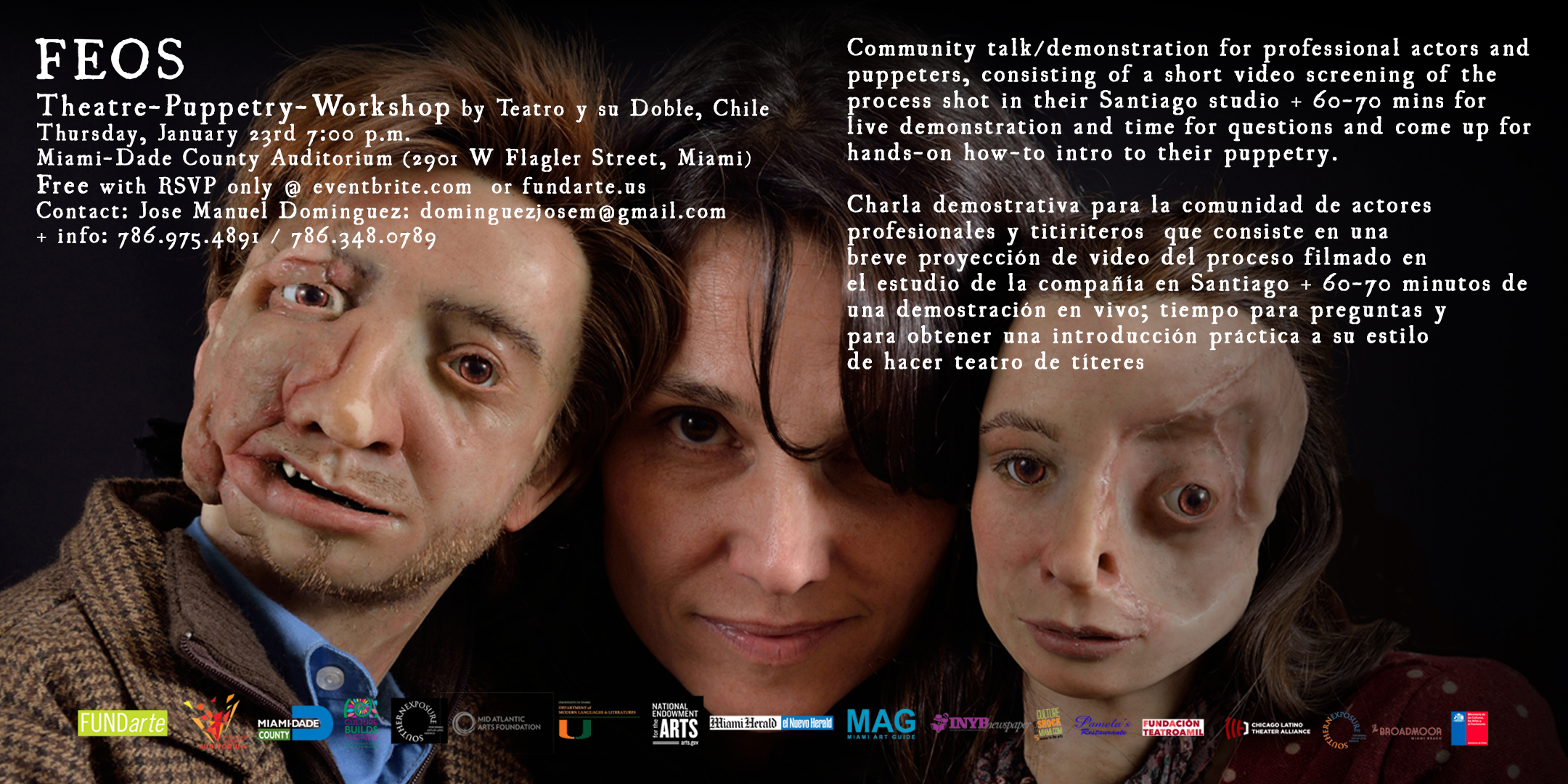 Community talk/demonstration for professional actors and puppeteers.
During this demonstration, the participants will be shown a short video about the process shot in their Santiago studio + 60-70 mins for live demonstration and time for questions and come up for hands-on how-to intro to their puppetry.
Aline Kuppenheim organized Teatro y su Doble specifically to reinvest their artistic practice and values and find common ground with millennials along with contemporaries.
Notably, Feos was co-created by Aline with Santiago Tobar, a former company member of Teatro y Su Doble and founder of Silencio Blanco, which toured Miami in 2017 with Chiflon.
The Teatro y Su Doble artists are deeply interested in creating community, and this means going to meet people where they are, and inviting people "in" to the shows.
They are excited to meet a range of communities in different settings on their inaugural U.S. tour and North American premiere of Feos. Of special interest for the artists is to make meaningful connections with immigrant Latino peoples residing in the U.S. and other non-English-speaking residents, of all ages.
Theatre-Puppetry-Workshop by Teatro y su Doble, Chile
Thursday, January 23rd, 7:00 p.m.
Miami Dade County Auditorium (2901 W Flagler Street, Miami)
Free with RSVP only @ eventbrite.com

Contact: Jose Manuel Dominguez: dominguezjosem@gmail.com
+ info: 786.975.4891 | 786.348.0789
For more interaction visit our Workshop event at Facebook
Synopsis:
A man and a woman who have spent their whole lives alone and subjected to stares due to physical deformities have a chance encounter in line at a movie theatre and together go in search of the light behind the darkness, although nothing is quite as it seems.
The story is oriented for adults and is about the encounter while waiting on line in a movie theater by two anonymous beings, touched when seeing one another's physical deformities. The story that Benedetti narrated in first person by the male character is transformed in this illustrious production into a dialogue enveloped by scenes that provide the audience intimacy and reflection.

Foto por Elio Frugone Piña (www.fototeatro.cl)
About the Artists:
Teatro y su Doble was formed in 2005 as the Teatro Milagros to experiment with and create new theatrical styles and different theatrical tools. From the very beginning, puppets were used, with these eventually becoming their tool of choice instead of actors. The puppeteer is at the beck and call of these inanimate objects, an invisible presence, with the two creating what is finally called theater in miniature between them. Inanimate objects convey emotions by bringing the script to life and through the audience's willingness to believe. The company has already performed two outstanding works, El Capote and Sobre la cuerda floja, the latter also coproduced by the Teatro a Mil Foundation.
https://teatroysudoble.cl/
Aline Küppenheim Gualtieri (b. 1969, Barcelona) is one of the most recognized actors on the national scene, with a career in film, television and theater. After graduating from the Fernando González Theater Club in the early 1990s she started her career acting in television series with TVN, Channel 13 and Mega TV, before leaving television in 2007. In cinema she has appeared in films by Andrés Wood (Machuca and La Buena Vida) and Sebastián Lelio (Una Mujer Fantastica), among others, and in the series Prófugos by Pablo Larraín and Ecos del desert by Andrés Wood. For more than a decade she has been dedicated to working in theater, founding in 2005 the company Teatro y su Doble (Ex Milagros) which produces original works of puppetry with content aimed at children and adults, using puppets intricately designed and built by her and the company members. They have created four works to date: El Capote (2007), On The Tightrope (2010), Feos (2015) and Peter and The Wolf (2019).
Guillermo Calderón (b. 1971, Chile) is an actor, playwright and theater director.
As director and playwright, he has authored a body of work that challeges audiences in its political content and an intensely physical and emotional performance.
He is winner of the Critics Circle Award in 2006 and 2008, two Altazor Awards in 2007, and the José Nuez Martín Award in 2008. A year later, in January 2009, he premiered December with Teatro en el Blanco. In 2010 he directed What is left in the way, written by Isidora Aguirre and based on the massacre of farm workers and the Mapuche people in Ranquil in 1934.
In 2011 he premiered Villa + Speech, a play in two parts, which was presented in former torture camps for his rendering of an imaginary speech by (Chilean President) Michelle Bachelet. His work have been presented throughout the world to critical accalim, and he has taught at the University of Chile at the Pontificia Universidad Católica, and Universidad Mayor.
FUNDarte is a multidisciplinary non-profit organization dedicated to producing, presenting, and promoting music, theater, dance, film and visual arts that speak to Miami's diverse cultures with an emphasis on Hispanic arts and culture. FUNDarte particularly works to nurture emerging artists and those with little or no exposure to South Florida audiences; facilitate intercultural and international exchanges; and provide local audiences and artists with educational opportunities that expand their creative, critical and social perspectives.
"Touring support is provided by Southern Exposure: Performing Arts of Latin America, a program of the National Endowment for the Arts (NEA) and administered by the Mid Atlantic Arts Foundation (MAAF). Additional support is provided by the Ministerio de Cultura Fondo Nacional para el Desarrollo Cultural y las Artes (FONDART), the Chilean public program of the National Council of Culture and Arts. A coproduction with Santiago a Mile International Festival (FITAM). World premiere: Santiago a Mil International Festival, 2015, Santiago, Chile. U.S. tour lead presenting organization: Chicago Latino Theater Alliance (CLATA)"
Financial and administrative support for FUNDarte's 2019-20 series is provided in part by Miami Dade County Auditorium; Miami-Dade County Department of Cultural Affairs and the Mayor and Board of County Commissioners; State of Florida Department of State; Division of Cultural Affairs and the Florida Arts Council; University of the Miami, Department of Modern Languages and Literatures Joseph Carter Memorial Fund, Cuban Theater Digital Archive; Miami Art Guide; El Nuevo Herald; INBY New Papers; Pamela Restaurant, and The Broadmoor Hotel.