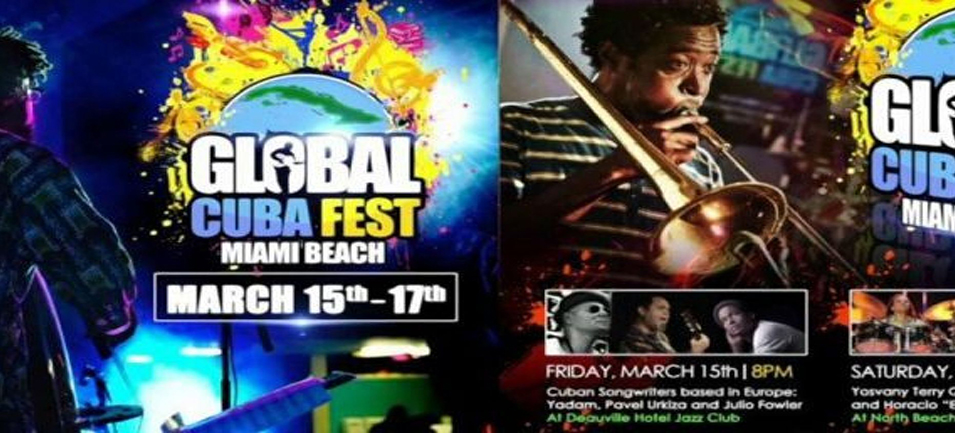 12 Jun

Global Cuba Fest 2013

FUNDarte and Miami Light Project open the 6th Global Cuba Fest, a month-long festival of performances that celebrates the contemporary music and artists of Cuba and the Caribbean Diaspora, with a historic first-ever U.S. performance by Cuban songstress Ivette Cepeda on March 9th at the Miami-Dade County Auditorium.

A weekend of diverse Cuban music in Miami Beach is lined up as part of the Miami-wide festival, Global Cuba Fest, which celebrates the roots of Cuban music and the genre's funkiest innovations exploring jazz, son montuno, bolero, trova, timba and Afro-Cuban rhythms. This year's lineup on Miami Beach features a widely diverse array of talented contemporary artists including Julio Fowler, Yadam, Pavel Urkiza, Yosvany Terry, Hilario Bell, Horacio "El Negro" Hernandez and The Creole Choir of Cuba.

The Miami Beach component of the festival will kick off with a celebration of Afro-Cuban percussion, songwriting, and musical artistry. This series will feature some of the hottest contemporary musicians working in the genre today, with workshops for local youth and an interactive concert for the whole family. The Global Cuba Fest Miami Beach Weekend events will take place at the Deauville Hotel Jazz Club and the North Beach Band Shell in Miami Beach.

YADAM performs on stage at Global Cuba Fest 2013. Friday, March 15th at The Deauville Hotel Jazz Club. Photograph by GlassWorks Multimedia
Friday, March 15th at 8:00 p.m.
The Deauville Hotel Jazz Club
The Club will re-open its doors with a unique concert by three of the best contemporary Cuban singers and songwriters currently based in Madrid, who have been revitalizing the Cuban music scene in Spain for more than a decade: Yadam, Pavel Urkiza and Julio Fowler. Yadam will bring his unique cutting-edge lyrics and electrifying energy to the local stage along with Pavel Urkiza, an exceptional guitarist and songwriter, whose music combines indigenous and New Age sensibilities with traditional Cuban rhythms and Jazz. Joining them, and appearing for the first time in the U.S., will be the talented Julio Fowler, representing the new wave of Cuban singer/ songwriter whose music is an original mixture of identity & vanguard, an assembly of his Cuban roots with an infusion of international musical trends that complement it. These 3 musicians will perform together in an unprecedented collaboration that celebrates the best of the post-filin generation, and the new fusions of the Diaspora's most innovative and poetic songwriters and interpreters.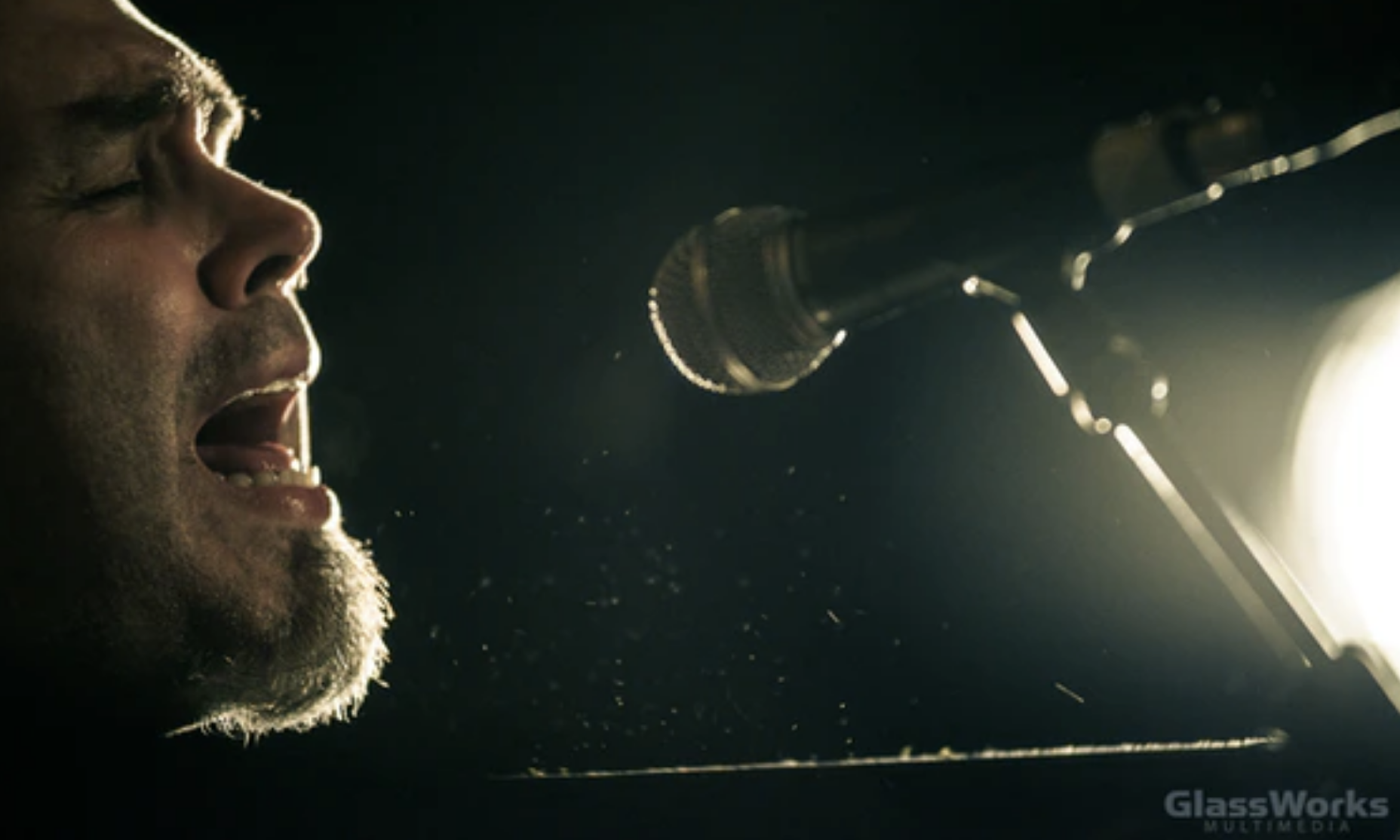 Pavel Urkiza performs on stage at Global Cuba Fest 2013. Friday, March 15th at The Deauville Hotel Jazz Club. Photograph by GlassWorks Multimedia
Saturday, March 16th at 2:00 p.m.
North Beach Bandshell
Special Interactive Concert and workshop for Children and Families featuring award-winning Miami-based percussionist Hilario Bell.  This is an offering for the whole family and will be a free event! Bring your congas!
Saturday, March 16th at 7:00 p.m.
The North Beach Bandshell
New York-based saxophonist and world-class chekeré player Yosvany Terry and his quintet's multidisciplinary presentation of "Afro Cuban Roots" with Osmany Paredes, Yunior Terry and Pedrito Martinez as invited artists. This performance is followed on the same night by the Miami-based Grammy Award winner Horacio "El Negro" Hernandez who will heat up the dance floor with his high-powered, sizzling contemporary Latin Jazz percussion, accompanied by his Italy-based Jazz troupe Italuba, performing for the first time in the U.S.
The Creole Choir of Cuba performs on stage at Global Cuba Fest 2013. Sunday March 17 at The North Beach Bandshell. Photo by José Pérez Carrillo
Sunday, March 17th at 7:00 p.m.
The North Beach Bandshell
The Creole Choir of Cuba performs a concert of vocal music honoring the history of their Haitian ascendants enslaved to the Caribbean from West Africa. The Creole Choir's ten remarkable singers have nurtured traditional Haitian resistance songs and revived vocal traditions passed down through their Haitian-Cuban families since the early 19th century, gradually incorporating contemporary Haitian influences into their unique hybrid sound.  This unforgettable concert will delight audiences both young and old and unite Miami's Cuban and Haitian communities in a celebration and homage to our shared cultural roots.
Gema Corredera, Global Cuba Fest 2013. Photo, courtesy of Gema Corredera.

Gema Corredera, one of Miami's most loved musical treasures, will be performing highlights from her first solo album, Derramando Luz (Spreading Light) with a very special guest Marta Valdes, on Saturday, April 6th, at 8:00 p.m. at Miami Dade County Auditorium, presented by FUNDarte and Artes Miami.
This celebrated vocalist and guitarist brings her exceptional voice and musicianship to the local stage with a sound influenced as much by her Cuban roots as by Jazz, Brazilian, Opera, and Flamenco. Her voice sashays fluidly through a multitude of genres, weaving a rich tapestry of Jazz and Cuban fusion that continuously recalls the tropical sensuality of Cuban Rumba, Son, "Filin," Bolero and Afro-Caribbean rhythms. With a stage presence that is unassuming yet intimately captivating, Gema Corredera is an earthy, sophisticated singer with an amazing vocal range and a versatile performance language that is intimate, smooth, funky, playful, and undeniably seductive.
Founded in 1989, Miami Light Project is a not-for-profit cultural organization which presents live performances by innovative dance, music and theater artists from around the world; supports the development of new work by Miami-based artists; and offers educational for students of every age. Since our inception, we have reached a diverse cross-section of communities throughout Miami-Dade County with an extensive outreach effort that includes partnerships with other arts organizations, universities and social service agencies. Miami Light Project is a cultural forum to explore some of the issues that define contemporary society. www.miamilightproject.com
FUNDarte is a multidisciplinary non-profit organization dedicated to producing, presenting, and promoting music, theater, dance, film, and visual arts that speak to Miami's diverse cultures with an emphasis on Hispanic/Latino arts and culture. FUNDarte particularly works to nurture emerging artists and those with little or no exposure to South Florida audiences; facilitate intercultural and international exchanges; and provide local audiences and artists with educational opportunities that expand their creative, critical, and social perspectives.