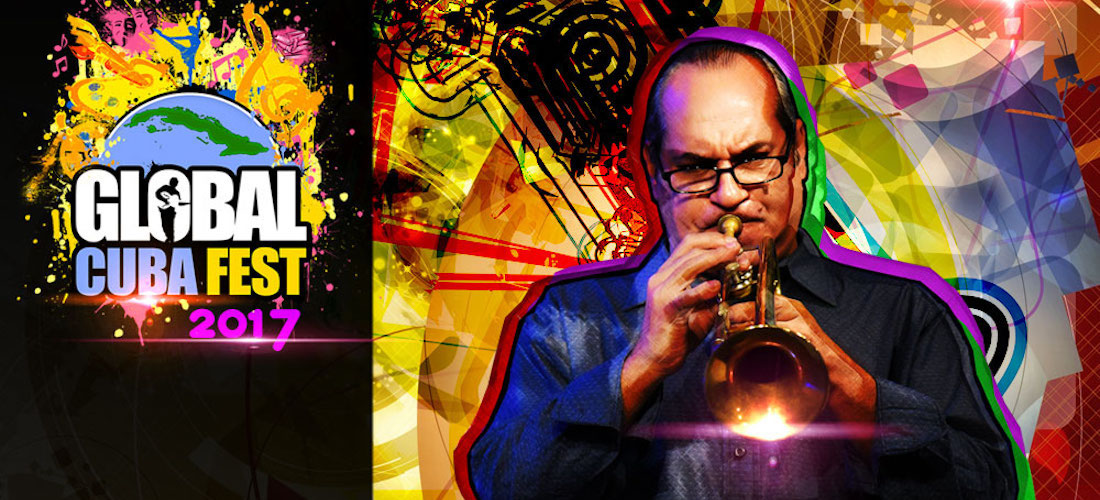 18 Nov

GLOBAL CUBA FEST 2017!

Miami, FL – February 9, 2017 – FUNDarte and Miami Light Project, in collaboration with Miami-Dade County Auditorium, present the 10th annual edition of Global Cuba Fest (GCF) 2017, a very special evening celebrating an event that for a decade has brought the most talented musicians from Cuba and the Cuban Diaspora to Miami audiences. Come celebrate this historical evening with us and be a part of the history of live Cuban music in Miami, on Saturday March 18 from 7:00 p.m. to 11:00 p.m. at Miami-Dade County Auditorium (2901 W Flagler St., Miami, FL 33135).

Three amazing concerts will bring to the stage some of the most celebrated names in contemporary Cuban music, such as internationally renowned pianist Érnan López Nussa; multifaceted composer and trumpet player Carlos Puig, presenting his latest project with a stellar lineup of Cuban musicians residing in Miami and special guests such as Ahmed Barroso, Lillian García, and Pavel Urkiza, among others. The band Picadillo, based in Madrid, Spain, and featuring such talented musicians as Hector Agüero Lauten, Rey Rodríguez Gay, and Cuban-American vocalist Sol Ruiz, will close out the event with their acclaimed sonic fusion of Cuban and US-based influences in a sophisticated and explosive project specifically tailored for Miami audiences attending the 10th Anniversary Celebration of Global Cuba Fest (GCF) in Miami, with renowned contemporary Cuban author Wendy Guerra as the evening's mistress of ceremonies.

[vc_vídeo link='https://www.youtube.com/watch?v=3M8u5HrZ–A']

Global Cuba Fest 2017

What: Cuban Fiesta celebrating the 10th Anniversary of Global Cuba Fest in Miami.

When: Saturday, March 18, 8:30 p.m. to 11:30 p.m. (Doors open at 7:00 p.m.)

Where: Miami Dade County Auditorium (2901 W Flagler St., Miami, FL 33135)

Price: $30 General Admission | $25 Students and Seniors | $20 groups of 10 or more (Limited availability).

Tickets: On sale through Ticketmaster at www.ticketmaster.com; by phone at (800) 745-3000, and at Miami Dade County Auditorium Box Office, Monday-Friday 9:00 a.m. – 4:00 p.m.

For more information: (305) 547-5414
Global Cuba Fest 2017 Program Lineup
FUNDarte presented, Ernán López Nussa in concert at Global Cuba Fest 2017, March 18th,  at Miami Dade County Auditorium. Photographer Generacion Asere.
This renowned Cuban pianist has built an international reputation thanks to his capacity to integrate rhythm, lyricism, and fusion in a singular and authentic manner. This talented composer, arranger and performer creates music characterized by impressive formal richness and amazing versatility. Ernán studied classical piano at the prestigious Instituto de Artes de Cuba and developed his musical style in the 1980s while working with the Afrocuba, which has become an iconic institution of Cuban music. Throughout his career as a soloist, López-Nussa has traveled and performed at such famed venues as Ronnie Scott's in London and New Morning in Paris, as well as touring through Chicago, Los Ángeles, Tokyo, Rio de Janeiro, Sao Paulo, Buenos Aires, Madrid, Rome, and many other cities around the world. This pianist has been awarded the Grand Prize at the International Cubadisco Fair multiple times, for his album "From Havana to Río" released in 2000, "Veinte pianos" released in 2011, and "Sacrilegio" released in 2014. His body of work contains over 15 solo recordings.
Facebook: https://www.facebook.com/ernan.lopeznussa.1
YouTube: https://www.youtube.com/channel/UC1OEhncLQvqqIXbUdWIHLjw/videos
FUNDarte presented, Carlos Puig in concert at Global Cuba Fest 2017, March 18th,  at Miami Dade County Auditorium. Photographer Generacion Asere.
Carlos Puig Hatem (Miami/Cuba)
A multifaceted artist, Carlos Puig has developed simultaneously different lines of work over the last 30 years, as a jazz, pop, latin, and film composer, trumpeter, pianist, arranger, orchestrator, and conductor, as well as a Classical composer with more than 20 symphonic, chamber and choral works.
Puig has performed and recorded his music in many countries around the world (USA, Germany, France, Italy, Spain, Austria, Denmark, Switzerland, Netherlands) collaborating with artists such as Ravi Coltrane, Horacio "El Negro" Hernández, Celia Cruz, Gema & Pavel, Julio Barreto, Willy Chirino, and many others. The Carlos Puig Group is his latest project, a jazz fusion band focused on creating an improvised music which combines elements of jazz, pop, and Afro-Cuban traditions, placing an emphasis on the harmonic style and the form of the compositions.
Facebook: https://www.facebook.com/cpuighatem
YouTube: https://www.youtube.com/channel/UCMIhZiHvBAtGrcSl4u12LbA
Other videos: https://www.youtube.com/watch?v=Xt1WMSCLurY
FUNDarte presented, Picadillo band in concert at Global Cuba Fest 2017, March 18th,  at Miami Dade County Auditorium. Photographer Generacion Asere.
Picadillo (Madrid, Spain)
Picadillo is a band that represents the "latin alternative" musical movement and was created in Madrid in 2010 by musicians hailing from Cuba and the United States. Their musical style mixes traditional Cuban sounds such as guaracha and son, fusioned with jazz, blues, rock and rhythmic elements of New Orleans bluegrass music. With a flavor that is simultaneously vintage and fresh, Picadillo has performed in diverse venues in Italy, Spain, the United States, Canada, and Cuba. Their first recording, "Las Cosas de la Vida" contains ten original compositions that earned them international recognition in the global musical industry through the Warner Chapell Music label. Currently, Picadillo is in the final stages of recording their second album "El Manicomio" ("The Insane Asylum") incorporating the use of traditional instruments such as the tres (a small three-stringed guitar), the marimbula (a percussive instrument), and the órgano oriental (eastern organ).
Website: http://picadillomusic.weebly.com/
Facebook: https://www.facebook.com/picadilloband/?ref=page_internal
EPK: https://www.facebook.com/picadilloband/videos/
FUNDarte presented, Wendy Guerra at Global Cuba Fest 2017, March 18th,  at Miami Dade County Auditorium. Photographer  Generacion Asere.
Wendy Guerra (Cuba)
Wendy Guerra (Havana, 1970) is a Cuban poet and novelist. Guerra has contributed to different magazines and newspapers, including the Spanish daily El Mundo (where she maintained the blog Habaname for five years) and The Miami Herald, where she currently writes about arts and literature. Guerra's first collection 'Platea a oscuras' won her a prize from the University of Havana when she was barely 17 years old. She earned a degree in Filmmaking from Havana's Instituto Superior de Arte, where Gabriel García Márquez was her screenwriting professor. Guerra's first novel, 'Everyone's Leaving' (2006), was largely based on her own diaries and followed the young protagonist's childhood and adolescence in Cuba. NPR's Alan Cheuse said of Guerra in 'Everyone's Leaving': "she describes with a freshness and intensity I haven't read before." The novel was adapted into a film by the Colombian director Sergio Cabrera in 2014. Upon her return to Cuba from Spain in 2006, where she had gone to receive the Bruguera Prize, she was asked to step down from hosting her own television show and, although her novels have been translated into several languages, only one of them has been published in Cuba. Guerra has been a guest lecturer at Princeton University and Dartmouth College. In 2010 she was proclaimed Chevalier de l'Ordre des Arts et des Lettres in France and in 2016 she was promoted to the rank of Officer. She has always lived in Havana.
Facebook:https://www.facebook.com/wendy.guerratorres
Twitter:https://twitter.com/wendyguerrat?lang=en
Artists are available for interviews. Press requests and high resolution images: Esther de la Rosa | esther@fundarte.us | +1 (305) 984-6650 | www.fundarte.us
More Shows from Global Cuba Fest:
Nu Deco Ensemble with special guests Danay Suarez and Dayramir Gonzalez. Presented by Miami Light Project and FUNDarte. March 9,10,11, 2017 at 8:00 p.m. at The Light Box at Goldman Warehouse | 404 NW 26th Street | Wynwood. For more information: www.miamilightproject.com
Caleb Casas and Waldo Franco in 10 Millones from Argos Teatro, Havana, Cuba / Photographer Manolo Garriga
"10 Million" U.S. Premiere of the latest play by Argos Teatro. Presented by Copperbridge Foundation and FUNDarte in collaboration with MDCA. March 24 and 25 at 8:30 p.m. and March 26 at 5:00 p.m. at Miami Dade County Auditoirum. For more information: http://copperbridge.org/
FUNDarte (www.fundarte.us) is a multidisciplinary non-profit organization dedicated to producing, presenting, and promoting music, theater, dance, film and visual arts that speak to Miami's diverse cultures, with a special emphasis on artists from Latin America, the Caribbean and Spain. FUNDarte works to nurture and elevate emerging artists and those who are not well known by South Florida audiences; facilitate intercultural exchanges on an international level; and promote educational opportunities for local audiences and artists in order to broaden their creative, critical and social perspectives. Visit us online at www.fundarte.us for more information about our programs and events.
Miami Light Project is a partner of The National Performance Network (NPN). This Project is made possible in part by the NPN Performing Americas Program (PAP) Curatorial Team. The program supports international tours and exchange opportunities in collaboration with the Network of Cultural Promoters of Latin America and the Caribbean (La RED). Principal support for NPD comes from the Doris Duke Charitable Foundation, Ford Foundation, National Endowment for the Arts, MetLife Foundation and Nathan Cummings Foundation.
Miami-Dade County Auditorium opened its doors in 1951. It has a splendid history as one of South Florida's premiere performing arts center. Over the years it has hosted countless numbers of operas, symphonies, theatre presentations, ballets, concerts, lectures, presidential candidates, graduations, naturalization services and a host of other programs of great community interest. This popular multipurpose theatre features Art Deco Revival décor. Recently renovated, this state of the art facility has for decades served as the center for showcasing the diversity of our cultural life and celebrating the Hispanic arts community. The operation of Miami-Dade County Auditorium was transferred to the Department of Cultural Affairs in January 2012; the Department has a track record and reputation for innovation and artistic excellence. The Auditorium is managed by the Miami-Dade County Department of Cultural Affairs (www.miamidadearts.org), with funding support from the office of the Miami-Dade County Mayor and Board of County Commissioners.
FUNDarte has won a 2-year Knights Arts Challenge award for the project "From El Barrio to the Mainstage", an initiative to commission and present four Miami-based musical artists to new audiences. FUNDarte is proud to present Carlos Puig as a recipient of one of our Knight Arts Challenge commissions.
The concerts of Global Cuba Fest 2017 are sponsored by the Miami Dade County Auditorium, Miami-Dade County Department of Cultural Affairs, the Cultural Affairs Council, the Mayor and Miami-Dade County Board of County Commissioners; State of Florida, Department of State, Division of Cultural Affairs and the Florida Council on Arts and Culture, with the support of Miami Light Project, Xael Charters, The Deauville Resort Hotel, WDNA, WLRN, The Miami Herald, El Nuevo Herald, Miami Art Guide, Glassworks Multimedia, Mira TV, Generacion Asere, Romaldesign, FIU's Cuban Research Institute, and Centro Cultural de España en Miami.