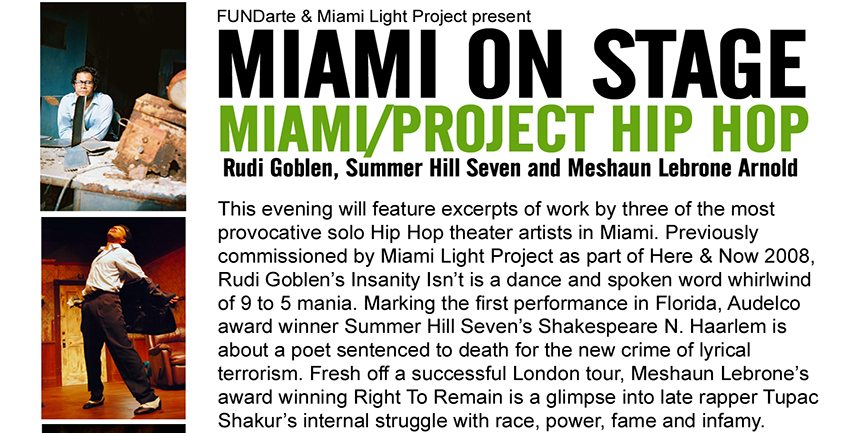 03 Sep

Hip Hop, featuring Insanity Isn't

FUNDarte and Miami Light Project are proud to present Miami On Stage- a Night of Hip Hop Theater featuring Rudi Goblen, Meshaun Lebrone Arnold and Summer Hill Seven on Saturday May1, 2010 at 8PM at the Byron Carlyle Theater on Miami Beach.

This evening will feature excerpts of work by three of the most provocative solo Hip Hop theater artists in Miami. Previously commissioned by Miami Light Project as part of Here & Now 2008, Rudi Goblen's Insanity Isn't is a dance and spoken word whirlwind of 9 to 5 mania. Marking the first performance in Florida, Audelco award winner Summer Hill Seven's Shakespeare N. Haarlem is about a poet sentenced to death for the new crime of lyrical terrorism. Fresh off a successful London tour, Meshaun Lebrone Arnold's award winning Right To Remain is a glimpse into late rapper Tupac Shakur's internal struggle with race, power, fame and infamy.

Miami On Stage was created by FUNDarte to offer a showcase of some of Miami's best and brightest talents in theater, dance and music. This performance is also part of Miami Light Project's Miami/Project Hip Hop Initiative, which is a forum to educate and celebrate the Hip Hop movement by exploring the social and cultural influences that have contributed to its development worldwide.

The Miami On Stage series continues on the first Saturday of each month in North Beach, presenting the best of South Florida performing artists. On June 5th there will be two performances Hilo,(Thread), by Jose Dominguez, directed by Lucia Aratanha, and Sipping Fury from a Teacup, created by Elizabeth Doud & Jennylin Duany and performed by Elizabeth Doud and Carlos Caballero.

Also in North Beach: Free Yoga classes on the beach Mondays and Fridays at 7:00 a.m at Ocean Terrace and the Bandshell, as well as a Farmer's market in Normandy Isle Circle Saturdays from 9:00 a.m. to 6:00 p.m.


What:             Night of Hip Hop Theater featuring Rudi Goblen, Meshaun Lebrone Arnold and Summer Hill Seven


When:            Saturday May 1, 2010 at 8: 00 p.m.

Where:           Byron Carlyle Theater (500 71st Street, Miami Beach)

Cost:                $20 general admission, $15 students (under 25) & seniors (over 65) with I.D.

Tickets:          Tickets in advance through Ticketmaster at www.ticketmaster.com and by phone
(800) 745-3000 (service charges apply) or in-person at the Byron Carlyle day of show and in advance at the Colony Theatre box office, 1040 Lincoln Road (no service charges)

More Information: (786) 348-0789 / www.fundarte.us, info@fundarte.us

FUNDarte is a multidisciplinary non-profit organization dedicated to producing, presenting, and promoting music, theater, dance, film, and visual arts that speak to Miami's diverse cultures with an emphasis on Hispanic/Latino arts and culture. FUNDarte particularly works to nurture emerging artists and those with little or no exposure to South Florida audiences; facilitate intercultural and international exchanges; and provide local audiences and artists with educational opportunities that expand their creative, critical, and social perspectives.

Founded in 1989, Miami Light Project is a not-for-profit cultural organization which presents live performances by innovative dance, music and theater artists from around the world; supports the development of new work by South Florida-based artists; and offers educational programs for students of every age. Since our inception, we have reached a diverse cross-section of communities throughout Miami-Dade County with an extensive outreach effort that includes partnerships with other arts organizations, universities and social service agencies. Miami Light Project is a cultural forum to explore some of the issues that define contemporary society.