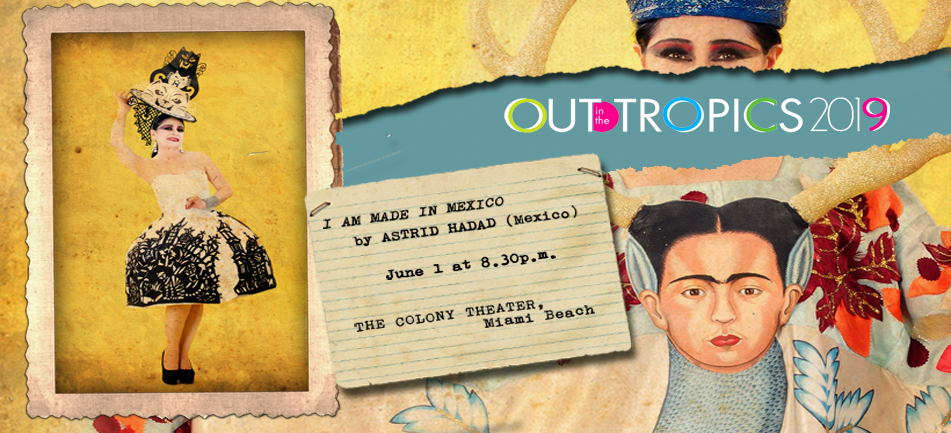 28 Sep

I Am Made In Mexico by Astrid Hadad (Mexico)

I Am Made In Mexico by Astrid Hadad (Mexico)

Jun. 1st at 8:30 p.m. | The Colony Theater, Miami Beach

FUNDarte presents Out In The Tropics 2019, a performing arts series featuring artists who approach issues of Gender Politics, Sexuality, and LGBTQ identity. Now celebrating its 10th anniversary, Out in The Tropics will present, I Am Made In Mexico by Astrid Hadad on Jun. 1st at 8:30 p.m. at The Colony Theater, Miami Beach.

Astrid Hadad is an internationally acclaimed Mexican cabaret performer, historian, social critic and activist. Her unconventional shows – with syncretic style and eclectic taste – combine ranchera, bolero, rumba, rock and jazz, a unique musical form that has been dubbed 'Heavy Nopal' (after the quintessentially Mexican cactus whose juice is distilled to make Tequila).

"One of the most provocative stage acts since the Weimar Republic was in bloom"
The New York Times.

What: I Am Made In Mexico by Astrid Hadad (Mexico)

When: Jun. 1st at 8:30 p.m.

Where: The Colony Theater, Miami Beach (1040 Lincoln Rd Miami Beach, FL 33139)

Cost: $30 adults | $25 students and seniors | $20 for groups of 10 or more

Tickets: http://www.colonymb.org/tickets-events-1

More Information: (305) 674 1040

Event Details:

Saturday Jun. 1st – 8:30 p.m. I Am Made In Mexico by Astrid Hadad at The Colony Theater (1040 Lincoln Rd Miami Beach)
 Astrid Hadad performs on stage. OITT Festival, presented by FUNDarte at The Colony Theater, Miami Beach. Jun. 1st,  2019.  Photographer:  Generacion Asere
Synopsis
With outrageous wearable art, fierce Mexico-City performance art diva Astrid Hadad mixes feminism and fabulosity in extravagant events featuring a live band. She confronts politics, Mexican hypocrisy, machismo, and corruption in cabaret-style productions filled with music combining ranchera, bolero, rumba and rock, and featuring extravagant costumes, which have become a hallmark of her performances. This cultural icon has inherited a unique Mexican female surrealism and created her own that pulses with campy humor and irony.
75 minutes with no intermission.
About the Artist:
Astrid Hadad is a well-known Mexican actress and performance artist, born in Chetumal, Quintana Roo, Mexico. She attended the National Autonomous University of Mexico, originally planning to major in political science and journalism, but then changing to theatre. After appearing in a number of shows, she came to the fore in 1985 in "Donna Giovanni," an all-female adaptation of Mozart's opera, which was directed by Jesusa Rodríguez and became a great hit in Europe. It closed after its 500th performance, in the Palacio de Bellas Artes in Mexico City.
Drawing on elements and traditions of Mexican and Latin-American popular culture, Hadad creates unconventional and baroque visual proposals that highlight complex social and political realities in an entertaining and accessible manner – so much so that entire families, from grandparents to their grandchildren, are a fixture in the audience of Hadad's many public performances in Mexico. A cultural icon in Mexico, she has performed at numerous universities, art centers and museums throught the country festivals including Cervantino and Cumbre Tajin and before an audience of a million people in Mexico City's Zocalo.
Each of Hadad's shows is a fusion of song, theater and cabaret, filled with music and featuring extravagant costumes, rather like portable sets, which have become a hallmark of her performances. In conjunction with Tierra Misteriosa, the show she created to mark Mexico's centennial, dozens of costumes from her archive were toured to museums throughout Mexico and featured in 64-page publication of the same name.
Hadad has headlined numerous performances in the United States at Yerba Buena Center (San Francisco), Redcat (Los Angeles), Central Park SummerStage (New York) and the Kennedy Center in Washington, DC. In December 2014 she debuts a new show, Le Cabaret Bizzare de Astrid Hadad, at the Musée de Quai Branly in Paris. She has written and performed over 30 original shows including Heavy Nopal, La Multimamada, La Pecadora, Seducida y Abandonada, and Corazon Sangrante. As an accomplished vocalist, her albums circulate internationally.
http://www.astridhadad.com
Project and organizational support for FUNDarte's Out In The Tropics 2019 comes in part from: the Miami-Dade County Department of Cultural Affairs and the Mayor and Board of County Commissioners; Miami Dade County Auditorum; the Knight Foundation; the National Endowments for the Arts; the City of Miami Beach Cultural Affairs Program, Cultural Arts Council, and the Miami Beach Mayor and City Commissioners; State of Florida, Department of State, Division of Cultural Affairs and the Florida Council on Arts and Culture; Centro Cultural de España; Instituto Cultural de Mexico; Miami Beach Botanical Garden, University of Miami Departments of Modern Languages and Literatures Joseph Carter Memorial Fund; Miami Light Project; Pamela Restaurant; Romaldesign; Generación Asere; Glassworks Multimedia; The Broadmoor Hotel; Miami Art Guide; MiamiArtZine; and The Miami Herald.
THE COLONY THEATRE is located in the heart of South Beach on Lincoln Road. It first opened on January 25, 1935 as a Paramount Pictures movie house. Recently, the building underwent a three-year $6.5 million renovation to restore its original Art Deco grandeur and update its stage and technical equipment. Today, the COLONY is a 417-seat state of the art venue proudly managed by Miami New Drama. Its impressive art deco design makes it one of the crown jewels of Miami Beach. The theatre hosts an exciting array of events, including music, dance, comedy, and theatre performances. The Colony Theatre is also home to Miami New Drama's own exciting theatrical season. http://www.colonymb.org/
FUNDarte is a multidisciplinary non-profit organization dedicated to producing, presenting, and promoting music, theater, dance, film, and visual arts that speak to Miami's diverse cultures with an emphasis on Hispanic/Latino arts and culture. FUNDarte particularly works to nurture emerging artists and those with little or no exposure to South Florida audiences; facilitate intercultural and international exchanges; and provide local audiences and artists with educational opportunities that expand their creative, critical, and social perspectives.