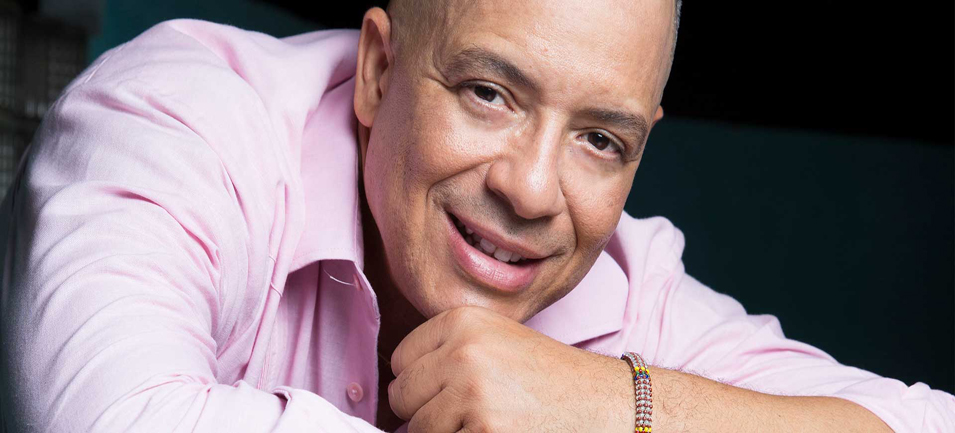 26 Jul

Issac Delgado in concert!

FUNDarte and The Rhythm Foundation present Issac Delgado in concert, on Saturday November 30th at 8:00 p.m. at North Beach Bandshell, Miami Beach. (7275 Collins Avenue Miami Beach, FL 33141)

El Chévere De La Salsa! One of Cuba's most famous stars and a respected musical innovator, GRAMMY-nominated vocalist Issac Delgado returns to Miami with his new album. Lluvia Y Fuego (Rain and Fire) brilliantly showcases the effect of his return to his homeland and a re-investment in traditional song forms. The recording features lushly arranged original compositions and tributes to timeless Cuban sonero Benny Moré and Puerto Rican salsa king Cheo Feliciano.

A dazzling live performer who was mentored by legendary Cuban jazz pianist Gonzalo Rubalcaba, Delgado helped pioneer the timba style, as lead singer of the wildly influential group NG La Banda in the late 1980s. Restlessly inventive, he has continually rewritten the rules of Caribbean dance music, constantly playing with time and tempo, employing jazz-inspired passages and mixing in cutting edge rhythms and avant-garde electronics.

"The Cuban singer Issac Delgado played a handful of shows in New York (and) his band was magnificent. A sonero — an improvising singer — he was one of the significant stars of timba, Cuban salsa with harder-hitting rhythm sections. You could stand agog at how complex the operation was, the interlocking patterns in clave rhythm that all seemed irregular, with Mr. Delgado's midrange voice balanced on top of the music, commanding and swinging."

– Ben Ratliff, New York Times

Issac Delgado is an award-winning composer, vocalist, and performer who has played an essential role in the evolution of Cuban music as it is known today. Born in Havana in 1962, he helped to further both the salsa and timba genres, starting his career as a group member of several prominent Cuban bands. He went on to establish himself as a solo artist and leader of a number of talented musical groups throughout his career, all laced with his unique creative sensibility. Having recently returned to Cuba after ten years abroad, Issac is poised to launch a new offering in 2019 with his latest release Lluvia Y Fuego, the highly anticipated 17th album of the treasured "El Chévere De La Salsa". More information at: https://issacdelgado.com/

What:              Issac Delgado in Concert

When:             November 30th / 8:00 p.m.

Where:           North Beach Bandshell, Miami Beach. (7275 Collins Avenue Miami Beach, FL 33141)

Cost:                 $40 General Admission

Tickets:          www.northbeachbandshell.com and by phone at (786) 453-2897

Info:               www.northbeachbandshell.com

FUNDarte is a multidisciplinary non-profit organization dedicated to producing, presenting, and promoting music, theater, dance, film, and visual arts that speak to Miami's diverse cultures with an emphasis on Hispanic/Latino arts and culture. FUNDarte particularly works to nurture emerging artists and those with little or no exposure to South Florida audiences; facilitate intercultural and international exchanges; and provide local audiences and artists with educational opportunities that expand their creative, critical, and social perspectives. More information at: http://fundarte.us/

The Rhythm Foundation, is an award-winning non-profit cultural music presenter.  Founded in 1988 in Miami Beach with the goal of increasing multicultural awareness through the presentation of live music, the Rhythm Foundation produces concerts by established and innovative artists from around the world. Special focus is given to those cultures of greatest relevance to South Florida's diverse audiences. Since 2015, we have managed the historic North Beach Bandshell for the City of Miami Beach. http://www.rhythmfoundation.com/

  

Supporters: This event is funded by John S. and James L. Knight Foundation; the Miami-Dade County Department of Cultural Affairs and the Cultural Affairs Council, the Miami-Dade County Mayor and Board of County Commissioners; State of Florida, Department of State, Division of Cultural Affairs and the Florida Council on Arts and Culture; the City of Miami Beach Department of Tourism and Cultural Development, Cultural Affairs Program, Cultural Arts Council and the Miami Beach Mayor and City Commissioners.