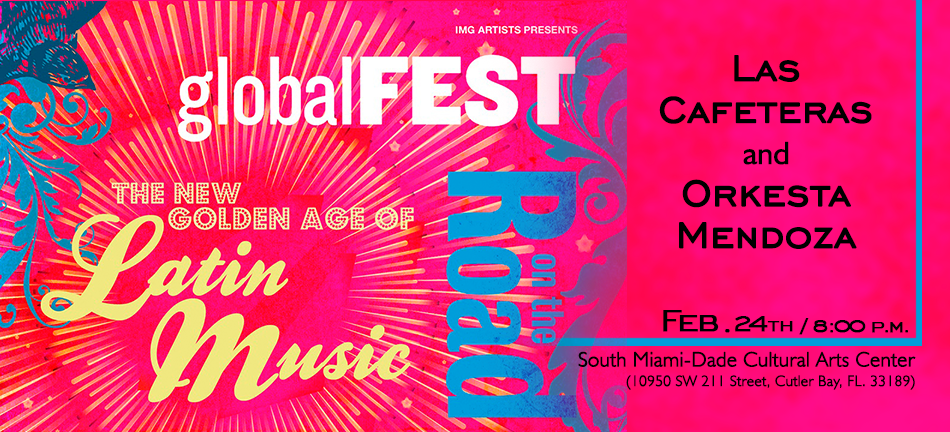 01 Sep

Las Cafeteras & Orkesta Mendoza in concert

FUNDarte and South Miami-Dade Cultural Arts Center present globalFEST on the Road: The Golden Age of Latin Music featuring the contemporary Latin sounds of Las Cafeteras and Orkesta Mendoza, on Feb. 24th / 8:00 p.m. at South Miami-Dade Cultural Arts Center.

Join us for an exciting evening of Latin culture as Mexico and Cuba combine musical forces when the infectious indie mambo band Orkesta Mendoza and the Chicano band Las Cafeteras team up for an explosive evening of contemporary Latin sounds.

Orkesta Mendoza is a hot new Latin music band from Tucson, Arizona founded by singer and guitarist Sergio Mendoza in 2009. The band uses Latin percussion, accordion, brass, and steel guitars, to create a sound dubbed as "indie mambo" that pays tribute to the Latin Big Bands of the 1950s and 60s, while mixing in such traditional genres as ranchera, bolero, and cumbia, and topping off with punk, funk and indie rock.

Las Cafeteras is a Los Angeles based ensemble that tightly and flawlessly weaves Afro-Mexican (son jarocho) influences with hip hop, folk, Native American rhythms, and an assortment of other musical styles. Adopting a sound that transcends national boundaries, Las Cafeteras creates music that inspires social change and encourages cross-cultural understanding. Best Latin Alternative Band LA Weekly

This performance is funded in part by a grant from South Arts in partnership with the National Endowment for the Arts, and is co-presented in partnership with South Miami-Dade Cultural Arts Center.

What: Las Cafeteras and Orkesta Mendoza in concert

When: Feburary 24th, 2018 – 8:00 p.m.

Where: South Miami-Dade Cultural Arts Center (10950 SW 211 Street, Cutler Bay, FL. 33189)

Cost: $40 Adults | $20 Seniors and Students with ID (Limited) | $60 VIP

Tickets: www.smdcac.org; by phone (786) 573-5300 and at the South Miami-Dade Cultural Arts Center Box Office, Tuesday through Friday from 12:00 p.m. to 7:00 p.m., Saturday 12:00 p.m. to 5:00 p.m.

More Information: (786) 573-5300; (786) 348-0789

About the artists:

 

Orkesta Mendoza was founded as La Orkesta in 2009 by Sergio Mendoza, a veteran of the well-known band Calexico, as a tribute project to the Cuban mambo king Pérez Prado, which proved too much fun to stop. Later renamed Orkesta Mendoza, the band has performed at WOMEX 14 Official Showcase Selection of World Music Expo 2014 and at Pachanga Latino Music Festival in May, 2015. Currently gaining momentum in the contemporary Latin music scene, this vibrant project departs from the Latin Big Band tradition, updating and combining influences from Mexico and across Latin America with such eclectic forms as electronica, strings, and American pop. Their recent album "¡Vamos a Guarachar!" – which fuses such disparate Latin musical genres as mambo, cumbia, bolero, and the Mexican huapango with touches of pop, funk, and even punk – was named one of Rolling Stone Magazine's 10 Best Latin Albums of 2016.

Las Cafeteras have taken the music scene by storm with their infectious live performances that defy musical borders, playing with bands such as Mexican icons Caifanes, Lila Downs, Colombian superstar Juanes, Los Angeles legends Ozomatli, folk/indie favorites Edward Sharpe and the Magnetic Zeros, the Los Angeles Philharmonic Orchestra, and most recently with Talib Kweli. Their 1st studio album "It's Time" has been featured on NPR, KCRW, the LA Times, & other platforms. Born and raised east of the Los Angeles River, Las Cafeteras are remixing roots music and telling modern day stories, creating a vibrant musical fusion with a unique East LA sound and positive social message.

Las Cafeteras, Feb. 24th, 2017 at South Miami-Dade Cultural Arts Center. Picture by Las Cafeteras
Their Afro-Mexican beats, rhythms, and rhymes deliver inspiring lyrics that document stories of a community seeking love and justice in the concrete jungle of Los Angeles. Using traditional Son Jarocho instruments like the jarana, requinto, quijada (donkey jawbone) and tarima (a wooden platform), Las Cafeteras sing in English, Spanish, and Spanglish and add a remix of sounds, from rock to hip-hop to rancheras. Las Cafeteras use music as a vehicle to build bridges among different cultures and communities, and create 'a world where many worlds fit'.
The LA Times described Las Cafeteras as "a uniquely Angeleno mishmash of punk, hip-hop, beat music, cumbia and rock … live, they're magnetic."
http://lascafeteras.com/music/
***
This event is part of the global performing arts series NO BORDERS presented by FUNDarte Inc. This series focuses on innovative contemporary works from Latin America, the Caribbean, and Spain, celebrating Miami's diverse multiethnic culture.
Financial and administrative support for FUNDarte's No Borders 2017-18 series is provided in part by Miami Dade County Auditorium; Miami-Dade County Department of Cultural Affairs and the Mayor and Board of County Commissioners; State of Florida Department of State, Division of Cultural Affairs and the Florida Arts Council; National Endowment for the Arts; The John S. and James L. Knight Foundation; South Arts; Southern Exposure: Performing Arts of Latin America, a program of Mid Atlantic Arts Foundation; Centro Cultural Español de Miami, University of the Miami, Department of Modern Languages and Literatures Joseph Carter Memorial Fund, Cuban Theater Digital Archive; The Deauville Hotel; Miami Art Guide, MiamiArtZine, El Nuevo Herald,
Generación Asere; Glassworks Multimedia; and Romaldesign.
FUNDarte is an engine for multicultural arts and culture in the U.S., presenting a yearly season of music, theater, dance, and cultural events that enrich local communities with artistic offerings from around the world, particularly focusing on Latin America, Spain, and the Caribbean, while also nurturing and showcasing Miami-based artists. For the last 15 years, FUNDarte's programs have built cultural bridges across Miami's diverse communities and provided cultural links to the global arts scene, promoting interdisciplinary and international collaborations. FUNDarte engages and empowers artistic communities locally and globally by promoting innovative artistry and international cultural exchange.
The South Miami-Dade Cultural Arts Center is managed by the Miami-Dade County Department of Cultural Affairs, with funding support from the Office of the Miami-Dade County Mayor and Board of County Commissioners. The Center is dedicated to presenting and supporting arts and culture and providing access to the arts to the entire Miami-Dade County community.
It is the policy of Miami-Dade County to comply with all of the requirements of the Americans with Disabilities Act. The facility is accessible and assistive listening devices are available in the Main Stage Auditorium and the Black Box Theater space. To request materials in accessible format, and/or any accommodation to attend an event at the South Miami-Dade Cultural Arts Center, please contact Stephanie Aponte, 786-573-5314, saponte@miamidade.gov, at least five days in advance to initiate your request. TTY users may also call 711 (Florida Relay Service).