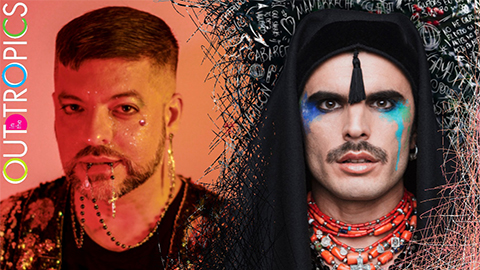 24 Feb

Miguel Gutierrez & Rodrigo Cuevas (2 Concerts)

This double billed event will feature an evening of two musical performances starting with Sadonna by Miguel Gutierrez; and followed by Trópico de Covadonga, an appropriation of folklore, myths and legends of northern Spain through the music of the Asturian queer musician Rodrigo Cuevas.
April 15 at North Beach Bandshell
Out In The Tropics Double Bill Event at The North Beach Bandshell. Apr 15, 2022 8:00 p.m.
Apr 15, 2022 8:00 p.m. Sadonna by Miguel Gutierrez at North Beach Bandshell
This musical project is exactly what it sounds like: sad versions of Madonna songs. Miguel Gutierrez shows just how tiny the spiritual distance is between the international pop superstar from Bay City, Michigan, and himself, an international experimental multidiscipline artist from Colonia, New Jersey. Backed by the SLUTINOS, the Sad Latino Boys Backup Singers, Sadonna ekes out the melancholy cry for help hidden within Madonna's uplifting lyrics.
More information: https://www.miguelgutierrez.org/sadonna
Co-Presented with Centro Cultural Español
Apr 15, 2022 9:00 p.m. Trópico de Covadonga by Rodrigo Cuevas at North Beach Bandshell
Rodrigo Cuevas is one of the most unclassifiable artists of the moment. Trópico de Covadonga combines folk and electronic sounds, divaism, humor, elegant eroticism, hedonism and the celebration of non-negotiable rights. Beautiful contemporary choreographies, staging that combines vintage elements with video projections and a wardrobe that will leave no one indifferent, create a formula that everyone would like to clone but that no one, except him can do.
More information: https://rodrigocuevas.sexy/
What:             Miguel Gutierrez & Rodrigo Cuevas (Two Concerts)
When:            Apr. 15, 2022 8:00 p.m. Doors open at 7:00 p.m.
Where:          North Beach Bandshell, Miami Beach (7275 Collins Ave, Miami Beach, FL 33141)
Cost:              $20 in advance | $25 at door | $5 off for Students, Seniors and Miami Beach residents.
33139; 33140; 33141 zip code holders
Tickets:         northbeachbandshell.com
+ info:             northbeachbandshell.com | 786.348.0789 or 305.672.5202
Out in the Tropics will present daring and innovative performances showcasing artists and projects that address gender politics, sexuality, and the LGBTQ identity. Featuring: Corporeal Decorum choreographed by Liony Garcia, Requiem por un Alcavarán by Lukas Avendaño, Sadonna a musical performance by Miguel Gutierrez, Trópico de Covadonga by Rodrigo Cuevas; Andares by Makuyeika Theatre Collective; Milonga, Sonata y Plata by Marco Flores; a literary reading and art exhibit by Ena Columbie; and Latin Standards by Marga Gomez among others.
FUNDarte is a multidisciplinary non-profit organization dedicated to producing, presenting, and promoting music, theater, dance, film, and visual arts that speak to Miami's diverse cultures with an emphasis on Hispanic/Latino arts and culture. FUNDarte particularly works to nurture emerging artists and those with little or no exposure to South Florida audiences; facilitate intercultural and international exchanges; and provide local audiences and artists with educational opportunities that expand their creative, critical, and social perspectives. Visit us at www.fundarte.us for more information about our exciting and diverse live programming.
(APRIL 7 – MAY 7)