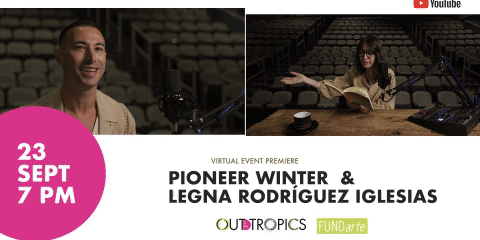 10 Sep

Out in the Tropics
 Don't miss Out in the Tropics Virtual Premiere, on September 23rd at 7:00 p.m. on FUNDarte's YouTube channel.
FUNDarte presents Out In The Tropics 2020, a yearly performing arts series featuring artists that address issues of gender politics, sexuality, and LGBTQ identity. This year, in celebration of its 11th anniversary, this program series will support two local artists with a subsidy for development of new works. Pioneer Winter and Legna Rodriguez will also create two new virtual presentations directed by Randy Valdes and filmed at The Colony Theater in Miami Beach that will premiere on Wednesday, September 23rd at 7:00 p.m. on FUNDarte's YouTube channel.
In response to the pandemic, Out in the Tropics 2020 will shift its project activities this year from live performances, and instead award two Miami-based artists with a subsidy and residency to support the development of new works.
Choreographer and dancer Pioneer Winter will present a video compilation of his work and an introduction to his new piece DJ Apollo; and literary artist Legna Rodríguez will debut a virtual presentation and launch of her recently completed book Mi pareja calva y yo vamos a tener un hijo (My Bald Partner and I Are Going to Have a Child). Both videos are directed, filmed, and edited by Randy Valdes, and will premiere on Wednesday, September 23rd at 7:00 p.m. and continue online from that point onward.
What:  A Virtual Introduction to "DJ Apollo" and Presentation by Pioneer Winter
A Virtual Presentation and book launch Mi pareja calva y yo vamos a tener un hijo (My Bald Partner and I are Going to Have a Child) by Legna Rodríguez.
When: Wednesday September 23rd – 7:00 p.m.
Where: www.youtube.com/c/fundarteusnonprofit
Cost: Free!
Tickets: Subscribe at https://www.youtube.com/c/fundarteusnonprofit
More Info: 786.348.0789 | www.fundarte.us
A Virtual Introduction to "DJ Apollo" and Presentation by Pioneer Winter
DJ Apollo imagines the eponymous early 20th century neoclassical ballet into the story of a fallen idol. An immersive, physical theater work to purge both the god-like status attributed to the nightclub disc jockey, through themes of aging, irrelevance, decay, and isolation that dominate youth-obsessed queer experience.
Pioneer Winter is a Miami-based choreographer and dance artist. He directs Pioneer Winter Collective, a group of allies, activists and artists in their own right, whose bodies and voices transform their social, political, and cultural landscapes. Recognized in Dance Magazine's 2019 "25 to Watch" PWC is a contemporary dance and physical theater company that democratizes performance in public spaces, museums/galleries, stage, and film.
Pioneer's choreography has been commissioned by several South Florida universities, the Adrienne Arsht Center for the Performing Arts, Miami Theater Center, Karen Peterson and Dancers, Tigertail Productions, MDC Live Arts, and Jacksonville Dance Theatre. Fellowships and awards have included the Dance Miami Choreographers Program, Miami Goes Elsewhere (Greensboro, NC), and MDC Live Arts Lab Alliance. Pioneer Winter's work is supported by local, state, foundation, and fellowship awards, including a MAP Fund and New England Foundation for the Arts (NEFA) National Dance Project Production grant award for his project Birds of Paradise, which will premiere at the Adrienne Arsht Center in late-Fall 2021. Pioneer Winter is the Adrienne Arsht Center's first Artist-in-Residence collaboration in a decade. He's curated and directed the ScreenDance Miami Festival presented by the Miami Light Project since 2017. Pioneer Winter has been an FIU Honors College faculty fellow since 2014. As Assistant Teaching Professor, he lectures in areas of social justice and art, epistemology, and dance technique and composition in both the Honors College and Theatre Department (CARTA). More information: http://pioneerwinter.com/
A Virtual Presentation and book launch Mi pareja calva y yo vamos a tener un hijo (My Bald Partner and I are Going to Have a Child) by Legna Rodríguez.
In this intense and unsettling collection of poems, the author takes on a crucial life experience – maternity – and does so with the joy and pain that one feels when traversing an all-encompassing adventure over which one has no control. The poetry acquires a dual purpose as both a vehicle for emotions and a tool through which to explain a transcendental human experience. The author assumes with courage an issue that is understood as eminently feminine while challenging the stigma associated with gender in order to center a period that has marked her life by her own choice.
The book's opening poem, «¿Cómo quieres que sea el futuro?» ("How do you want the future to be?") gives us a glimpse of the book's general tone, submerging us into a poetic quotidian world filled with humor and tenderness, on occasion bordering the absurd. The work plays with language in order to draw us closer to the most profound fears, disappointments, and despair, but also to hope and joy.
This collection of poems, conceived as a personal anecdote sustained by the day to day occurrences that characterize a desire and its realization, is divided into three parts: a zygote/abortion and gamete/pregnancy, each preceded by a brief prologue in which the author explains how she carried out a home insemination so that she and her partner could become parents. The first section is marked by the loss of a child, and the terrible sensation of having become a "child-abortionist." The second part is marked by the fullness of abundance – "There comes a day when sadness abandons you" – but also by the uncertainty of facing the unknown. In this apparently simply book, a careful reading reveals the author's aim to approach a complex and kaleidoscopic reality in which prosaic domestic life coexists with the need to understand the ultimate meaning of every emotion, and every experience lived.
Legna Rodríguez Iglesias is a prize-winning Cuban poet, fiction writer, and playwright. She has published widely, including the poetry books Mi pareja calva y yo vamos a tener un hijo (Ediciones Liliputienses, 2019), Miami Century Fox (Akashic Books, 2017), and Transtucé (Editorial Casa Vacía, 2017); the short story collections La mujer que compró el mundo (Editorial Los Libros de La Mujer Rota, 2017) and No sabe/no contesta (Ediciones La Palma, 2015); and the novels Mi novia preferida fue un bulldog francés, (Editorial Alfaguara, 2017), Mayonesa bien brillante (Hypermedia Ediciones, 2015), and Las analfabetas (Editorial Bokeh, 2015). Among her literary awards are the Centrifugados Prize for Younger Poets (Spain 2019), the Paz Prize (the National Poetry Series, 2017), the Casa de las Américas Prize in Theater (Cuba, 2016), and the Julio Cortázar Ibero-American Short Story Prize (2011). Spinning Mill, a chapbook of her work, has recently appeared in English translation with CardBoard House Press (2019, translated by Katerina Gonzalez Seligmann). She currently lives in Miami where she writes a column for the online journal El Estornudo.
Project and organizational support for FUNDarte's Out In The Tropics 2020 comes in part from: Miami-Dade County Department of Cultural Affairs and the Mayor and Board of County Commissioners; the National Endowment for the Arts; the City of Miami Beach Cultural Affairs Program, Cultural Arts Council, and the Miami Beach Mayor and City Commissioners; State of Florida Department of State; Division of Cultural Affairs and the Florida Arts Council; South Arts; The Colony Theater and Miami New Drama; and Glassworks Multimedia.
FUNDarte is a multidisciplinary non-profit organization dedicated to producing, presenting, and promoting music, theater, dance, film, and visual arts that speak to Miami's diverse cultures with an emphasis on Hispanic/Latino arts and culture. FUNDarte particularly works to nurture emerging artists and those with little or no exposure to South Florida audiences; facilitate intercultural and international exchanges; and provide local audiences and artists with educational opportunities that expand their creative, critical, and social perspectives.