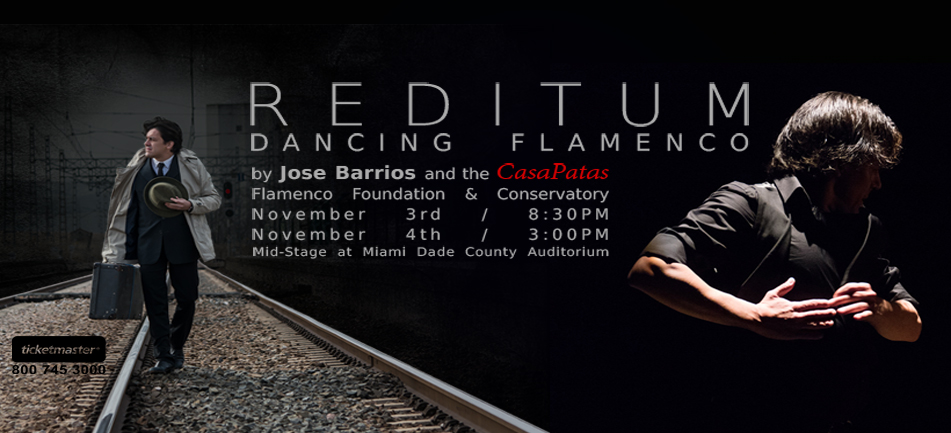 17 Sep

Reditum by Jose Barrios, Casa Patas Flamenco

On November 3rd & 4th, FUNDarte presents "Reditum, dancing flamenco", by the Casa Patas Flamenco Foundation & Conservatory at Mid-Stage Miami Dade County Auditorium (2901 W Flagler St., Miami, FL 33135).

 

"Reditum, dancing flamenco" features dancer & choreographer José Barrios in a vibrant and magical flamenco performance direct from Madrid, Spain.

Barrios premiered "Reditum, dancing flamenco" in 2017 at the prestigious Festival of Jerez and it was described by the critics as elegant and effortless while demonstrating a versatility and passion that demands attention from the audience.

The passionate strength of Madrid's famed Casa Patas returns to Miami with a choreography that relishes in the small yet grand memories that spark a smile and pinch the soul.

"Barrios is a cheeky guy with a wide grin, loud hand-clapping and a big personality."

The Washington Post / Pamela Squires

 

"His versatility, the passion that he emanates from the stage, and his respect and knowledge of flamenco traditions transform him into a gift to even the most sophisticated patrons of flamenco."

Spain Arts and Culture

What: "Reditum, dancing flamenco" by Jose Barrios, Casa Patas Flamenco Foundation & Conservatory.

When: November 3rd / 8:30 p.m. & November 4th / 3:00p.m. – 2018

Where: Mid Stage at Miami Dade County Auditorium (2901 W Flagler St., Miami, FL 33135).

Cost: $30 adults | $25 seniors and students with ID (limited seating).

Tickets: On sale via Ticketmaster at www.ticketmaster.com; by phone (800) 745-3000 and at the Miami Dade County Auditorium Box Office, Monday through Friday from 9:00 a.m. – 4:00 p.m.

Information: (305) 547-5414 or (786) 348-0789 / www.fundarte.us, info@fundarte.us

Synopsis:

Inspired by the poetry of Antonio Machado, this latest touring project of Casa Patas, features contemporary, cutting edge flamenco dance and multi disciplinary performance by Jose Barrios and dancers with a distinct cast of singers and musicians.

Approximate running time: 70 minutes with no intermission.
José Barrios performs on stage "Reditum, dancing flamenco" presented by FUNDarte at Miami Dade County Auditorium, on Nov 3,  2018.  Photographer: Generación Asere
About the artists:
José Barrios, Director & Choreographer
After studying with various flamenco professors in his native Cordoba, Jose Barrios began to work in festivals in Andalucia sharing the stage with top name artists. He continued his studies in Seville and Madrid with professors such as Manolo Marin, Domingo Ortega, La China, while developing projects as choreographer and dancer in different tours through the United States with the Boston Flamenco Ballet. Following this, he traveled to Japan to teach classes in academies in Osaka and Kyoto and dance alongside Belen Maya at the Jal Kyoto Festival. He settled in Madrid, where he worked with various tablao. Under the auspices of Casa Patas, he presents "Básicamente Flamenco" at the Gala Theatre in Washington, D.C.   (2007), at the Opera House in Cairo, Egypt (2009), and in Morocco at the Assilah Cultural Festival (2009). In 2010 and 2014 he is the invited guest artist at the "Festival de Cante Flamenco (Festival of Flamenco Song) in Miami.   He is also invited to choreograph and give classes at the Ensemble Español Chicago and dances as a soloist at their annual festivals.
In 2010, he participates in the closing ceremonies of Spain ́s Presidency of the European Union by creating and performing in "Por si acaso amanece" ("For if by Chance it Dawns") in Agadir, Morocco. This performance, sponsored by Casa Patas, toured the U.S. in 2011, along with his newly crafted project "Flamenco Algarabía".   In 2012, he premieres "Vino amargo" ("Bitter Wine") at the Fringe Festival in Madrid.   In 2014, in collaboration with Casa Patas and the Cervantes Institute, he represents Spain at the VI Festival de Danza Contemporánea de Argel (Algeria), creating and performing in "A solas con él" ("Alone with Him").   In 2017, he creates, premieres and stars in the work "Reditum" at the prestigious Festival de Jerez.
The Casa Patas Flamenco Foundation and   Conservatory was born in the year 2000 with the goal of becoming a national clearinghouse for all activities related to the teaching, research and promotion of flamenco song, music and dance. Hence it is the mission of Casa Patas to actively promote this Art Form that was recognized by UNESCO in 2010 as an Intangible Cultural Heritage of Humanity. To that end, every week, the Casa Patas tablao (flamenco stage) presents a broad range of artists who represent different dance, song and musical styles. In total, there are 300 performances annually. The artists who appear at Casa Patas can also be seen at theaters, festivals and cultural centers throughout the globe.
"Reditum, dancing flamenco" by Casa Patas Flamenco Foundation & Conservatory (Spain), presented in Miami by FUNDarte, has financial and administrative support provided in part by Miami Dade County Auditorium; Miami-Dade County Department of Cultural Affairs, the Mayor and Board of County Commissioners; State of Florida, Department of State, Division of Cultural Affairs, the Florida Arts Council;; Centro Cultural Español de Miami; the University of Miami, Department of Modern Languages and Literatures, Joseph Carter Memorial Fund, Glassworks Multimedia; Romaldesign; Miami Art Guide; MiamiArtZine; and El Nuevo Herald.
FUNDarte's FLAMENCOS upcoming events in 2019:
Farruquito // February 2nd, 2019
co-presented with South Miami Dade Cultural and Arts Center
Heir to a famed gypsy flamenco dynasty, Farruquito first lit up the stage at age four, alongside his legendary grandfather El Farruco. Since then, he has been consistently acclaimed as one of flamenco's greatest performers, a dance artist of breathtaking power, virtuosity, and passion whom the New York Times dubbed "an eagle in flight."
Flamenco Rave II – Nuevo Flamenco // March 9 & 10, 2019
co-presented with Miami Dade County Auditorium
Experience the explosive movement and sound of contemporary flamenco that is currently redefining the genre in this extended performance featuring the most challenging and innovative experiments in freshly updated flamenco expression from the Iberian Peninsula.
FUNDarte (www.fundarte.us) FUNDarte is a multidisciplinary non-profit organization dedicated to producing, presenting, and promoting music, theater, dance, film, and visual arts that speak to Miami's diverse cultures with an emphasis on Hispanic/Latino arts and culture. FUNDarte particularly works to nurture emerging artists and those with little or no exposure to South Florida audiences; facilitate intercultural and international exchanges; and provide local audiences and artists with educational opportunities that expand their creative, critical, and social perspectives.