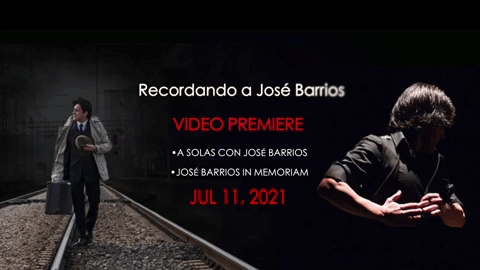 12 May

Remembering José Barrios!

The Casa Patas Foundation and FUNDarte, in collaboration with the Honorary Consulate of Spain in Seattle and the Semilla Flamenca studio, present the double digital premiere of the works A solas con José Barrios, and In memoriam, on Sunday July 11 at 5:30 p.m. (EAST) available on Casa Patas's YouTube channel, and FUNDarte's Facebook page.
In-Person Event
The videos will also be premiered in person, on September 26 at 5:30 p.m., at the North Beach Bandshell (7275 Collins Ave, Miami Beach, FL 33141), prior to the show that celebrates the Eighth Edition of Flamenco Sephardit, presented by Maestro Jeffrey Eckstein and Siempre Flamenco, which will begin at 7:00 p.m.. Featuring a cast of international opera stars, guitarists, flamenco masters, and distinguished classical musicians, Flamenco Sephardit promises audiences a deeply emotional and transcendent experience.
(The North Beach Bandshell is closed to the public through July, to provide support space for the Surfside disaster. This program is postponed until September 26,

although the digital premiere of the videos remembering José Barrios remains as announced, on

July 11th at 5:30 p.m.)
More information: www.flamencosephardit.com | www.northbeachbandshell.com/#/events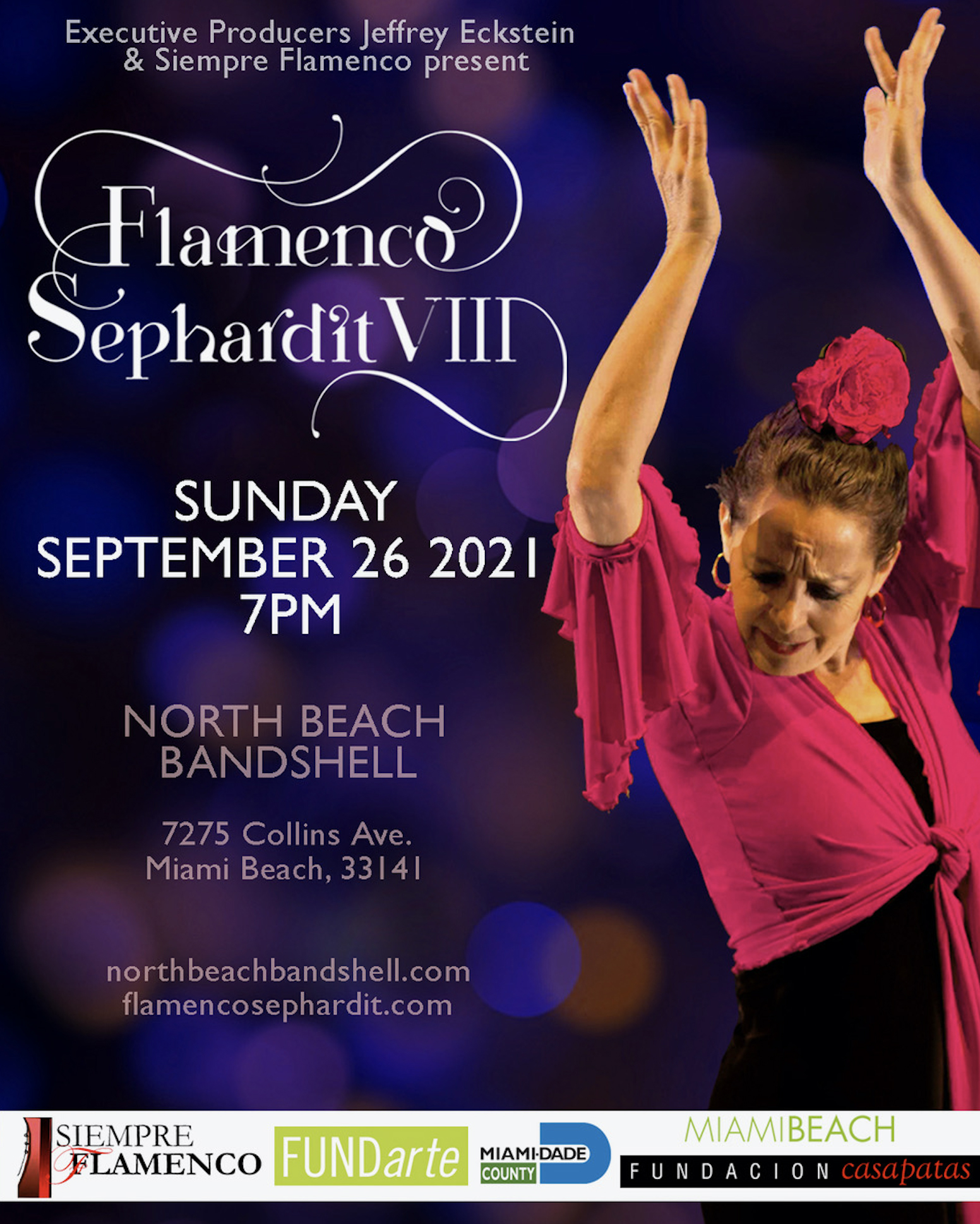 On the first year after the death of theoutstanding Cordovan choreographer and dancer, José Barrios, the Casa Patas Foundation and FUNDarte, with the collaboration of more than thirty entities from Spain and the United States, release two videographic materials thatcollect the professional career of this extraordinary artist.
A solas con José Barrios (Alone with José Barrios) is a video that summarizes an extensive process of compiling and editing interviews, performances and archive images of the bailaor. The piece In Memoriam shows a selection of Barrios choreographies, and has the participation of an outstanding group of artists who cultivate the flamenco genre.
What:             Remembering José Barrios with the Premiere of the videos, A solas con José Barrios and In Memoriam.
When:            Digital Premiere: July 11 at 5:30 p.m. (EAST) Miami / In-Person Premiere: September 26 – 5:30 p.m. at the North Beach Bandshell (7275 Collins Ave, Miami Beach, FL 33141)
José Barrios, Director & Choreographer
After studying with various flamenco professors in his native Cordoba, Jose Barrios began to work in festivals in Andalucia sharing the stage with top name artists. He continued his studies in Seville and Madrid with professors such as Manolo Marin, Domingo Ortega, La China, while developing projects as choreographer and dancer in different tours through the United States with the Boston Flamenco Ballet. Following this, he traveled to Japan to teach classes in academies in Osaka and Kyoto and dance alongside Belen Maya at the Jal Kyoto Festival. He settled in Madrid, where he worked with various tablao. Under the auspices  of  Casa  Patas,  he  presents  "Básicamente  Flamenco"  at  the  Gala  Theatre  in  Washington,  D.C.    (2007), at  the  Opera  House  in  Cairo,  Egypt  (2009),  and  in  Morocco  at  the Assilah  Cultural  Festival  (2009). In  2010 and 2014 he  is  the  invited  guest  artist  at  the  "Festival  de  Cante  Flamenco  (Festival  of  Flamenco  Song)  in  Miami.    He is  also  invited  to  choreograph  and  give  classes  at  the  Ensemble  Español  Chicago  and  dances  as  a  soloist  at  their  annual  festivals.
In  2010, he participates  in  the  closing  ceremonies  of  Spain  ́s  Presidency  of  the European  Union  by  creating  and  performing  in  "Por  si  acaso  amanece" ("For  if  by  Chance  it  Dawns")  in  Agadir,  Morocco. This performance,  sponsored  by  Casa  Patas, toured  the  U.S.  in  2011,  along  with  his  newly  crafted project  "Flamenco  Algarabía".    In 2012, he premieres  "Vino  amargo"  ("Bitter  Wine")  at  the  Fringe  Festival  in  Madrid.    In 2014, in collaboration  with  Casa Patas  and  the  Cervantes  Institute,  he  represents  Spain  at  the  VI  Festival  de  Danza  Contemporánea  de  Argel  (Algeria),  creating  and  performing  in  "A  solas con  él"  ("Alone  with  Him").    He premiered his latest work "Reditum" in 2017, at the renowned Festival de Jerez, and the following year he began a successful tour in the US.
The Casa Patas Flamenco Foundation and Conservatory was  born  in  the  year 2000  with  the  goal  of  becoming a  national  clearinghouse  for  all  activities  related  to  the teaching,  research  and  promotion  of  flamenco  song,  music and  dance. Hence it is the mission  of  Casa  Patas  to  actively promote  this  Art  Form  that  was  recognized  by UNESCO in  2010  as  an  Intangible  Cultural  Heritage  of  Humanity. To  that  end,  every  week,  the  Casa  Patas  tablao (flamenco  stage)  presents  a  broad  range  of  artists  who represent  different  dance,  song  and  musical  styles.  In  total,  there are  300  performances  annually. The  artists who  appear  at  Casa  Patas  can  also  be  seen  at  theaters, festivals  and  cultural  centers  throughout  the  globe.
FUNDarte
is a multidisciplinary non-profit organization dedicated to producing, presenting, and promoting music, theater,dance, film, and visual arts that speak to Miami's diverse cultures with an emphasis on Hispanic/Latino arts and culture. FUNDarte particularly works to nurture emerging artists and those with little or no exposure to South Florida audiences; facilitate intercultural and international exchanges; and provide local audiences and artists with educational opportunities that expand their creative, critical, and social perspectives. Visit us at
www.fundarte.us
for more information about our exciting and diverse live programming. FUNDarte@Home