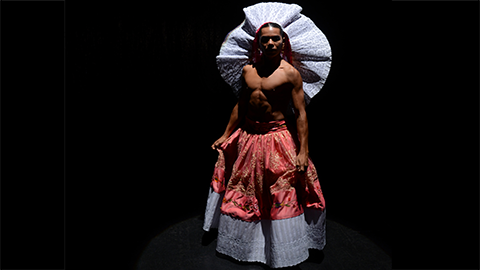 24 Feb

Requiem por un alcaraván by Lukas Avendaño

This performance will provide a rare exposure to the per-formative dance of the Zapotec man-woman known as the 'muxe'. Muxe culture provides a shrouded social acceptance for certain taboos while celebrating what is still seen as a transgression. A local bird, the curlew, whose mating ritual often ends up sacrificing the male for the female, inspires the dance. The piece also speaks and relates to subjects such as homophobia, and the way in which many queer and non-gender conforming people, mysteriously disappear in Latin America.
April 8 & 9 at Centro Cultural Español
Apr 8 & 9, 2022 9:00 p.m. Requiem por un alcavarán (Requiem for a Curlew), by Lukas Avendaño at Centro Cultural Español.

What:             Requiem por un alcavarán (Requiem for a Curlew), by Lukas Avendaño
When:            Apr 8, 9, 2022 9:00 p.m.
Where:          Centro Cultural Español (1490 Biscayne Boulevard, Miami, FL, 33132 (Entrance located on 15th St).)
Cost:              $15
Tickets:         https://microtheatermiami.com/taquilla-es/
+ info:             www.fundarte.us | 786.348.0789 or 305 448 9677
Out in the Tropics will present daring and innovative performances showcasing artists and projects that address gender politics, sexuality, and the LGBTQ identity. Featuring: Corporeal Decorum choreographed by Liony Garcia, Requiem por un Alcavarán by Lukas Avendaño, Sadonna a musical performance by Miguel Gutierrez, Trópico de Covadonga by Rodrigo Cuevas; Andares by Makuyeika Theatre Collective; Milonga, Sonata y Plata by Marco Flores; a literary reading and art exhibit by Ena Columbie; and Latin Standards by Marga Gomez among others.
FUNDarte is a multidisciplinary non-profit organization dedicated to producing, presenting, and promoting music, theater, dance, film, and visual arts that speak to Miami's diverse cultures with an emphasis on Hispanic/Latino arts and culture. FUNDarte particularly works to nurture emerging artists and those with little or no exposure to South Florida audiences; facilitate intercultural and international exchanges; and provide local audiences and artists with educational opportunities that expand their creative, critical, and social perspectives. Visit us at www.fundarte.us for more information about our exciting and diverse live programming.
(APRIL 7 – MAY 7)