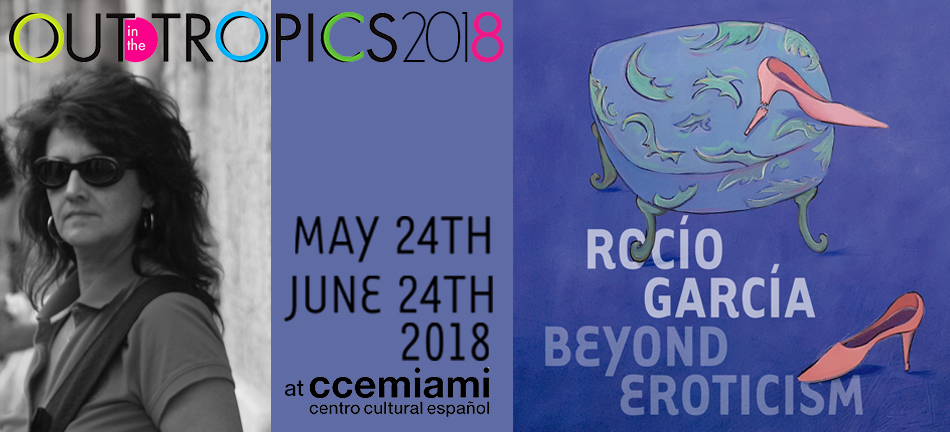 16 May

Rocío García: Beyond Eroticism (Opening May 24)

FUNDarte and Centro Cultural Español present,  Rocío García: Beyond eroticism. This is the artist second solo exhibition in the city of Miami as well as her first retrospective to date.

The view has been curated by Elvia Rosa Castro and its part of the program Out in the Tropics, an exhilarating program of multi-disciplinary performance art.

This representative compilation is composed of approximately 12 works (paintings) that are part of 8 series.  The series is the manner in which the artist produces work so as to exhibit it later.  In other words, each series has always culminated in an exhibition in some of the most important spaces in the Havana art scene, from Galería Habana, to Factoría Habana, where she exhibited The Mission in the 2015 Havana Biennial.

Opening Reception, Thu. May 24th from 7 PM – 9 PM. Reserve at Eventbrite

Exhibition continues Fri. May 25 – Fri. June 22, 2018, 9:00 AM – 4:00 PM.                          

Gallery open Monday – Friday closed at weekends.

WHERE: Centro Cultural Español (CCEMiami), 1490 Biscayne Blvd, Miami.

ADMISSION: FREE admission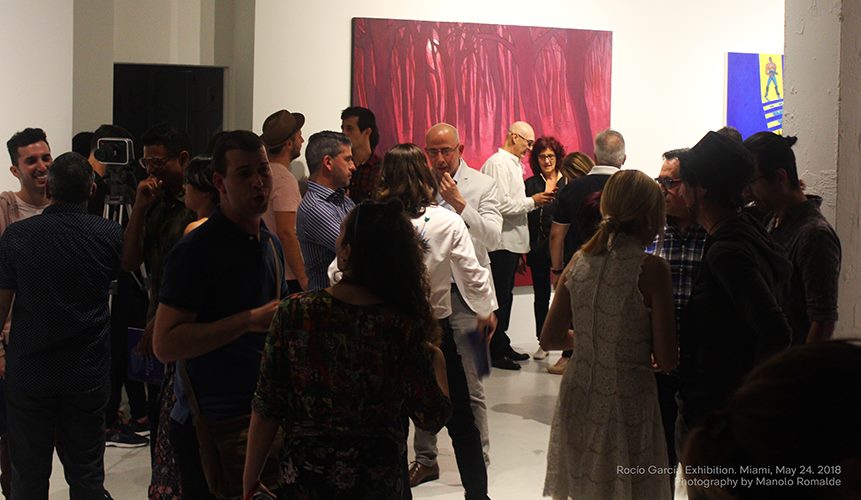 Rocío García: Beyond eroticism. Opening Reception. OITT Festival, presented by FUNDarte & Centro Cultural Español en Miami (CCEMiami). May 24, 2018. CCEMiami (1490 Biscayne Blvd, Miami). Photograph by Manolo Romalde
Her works are listed below in chronological order:
Serie Geishas de 5ta Avenida/ Geishas of 5th Avenue Series
Serie Hombres machos, marineros/ Men, machos, sailors Series
Serie El domador y otros cuentos/ The tamer and other stories Series
Serie El Thriller /The Thriller Series
Serie Very, very light and very oscuro (un policía con Alzheimer/ a cop with Alzheimer's)
Serie El retorno de Jack el castigador /The return of Jack the punisher series
The Mission
Serie Asesinatos/Murders Series
Chronologically speaking, the works date from the mid-1990s to the present.  Some of them are part of the artist's personal collection, while others are on loan from private collections located in the city of Miami. This makes it possible for audiences in South Florida to witness the artist's history and trajectory, her understanding of art and contemporary society, as well as her dialgoue with literature, film, and comics.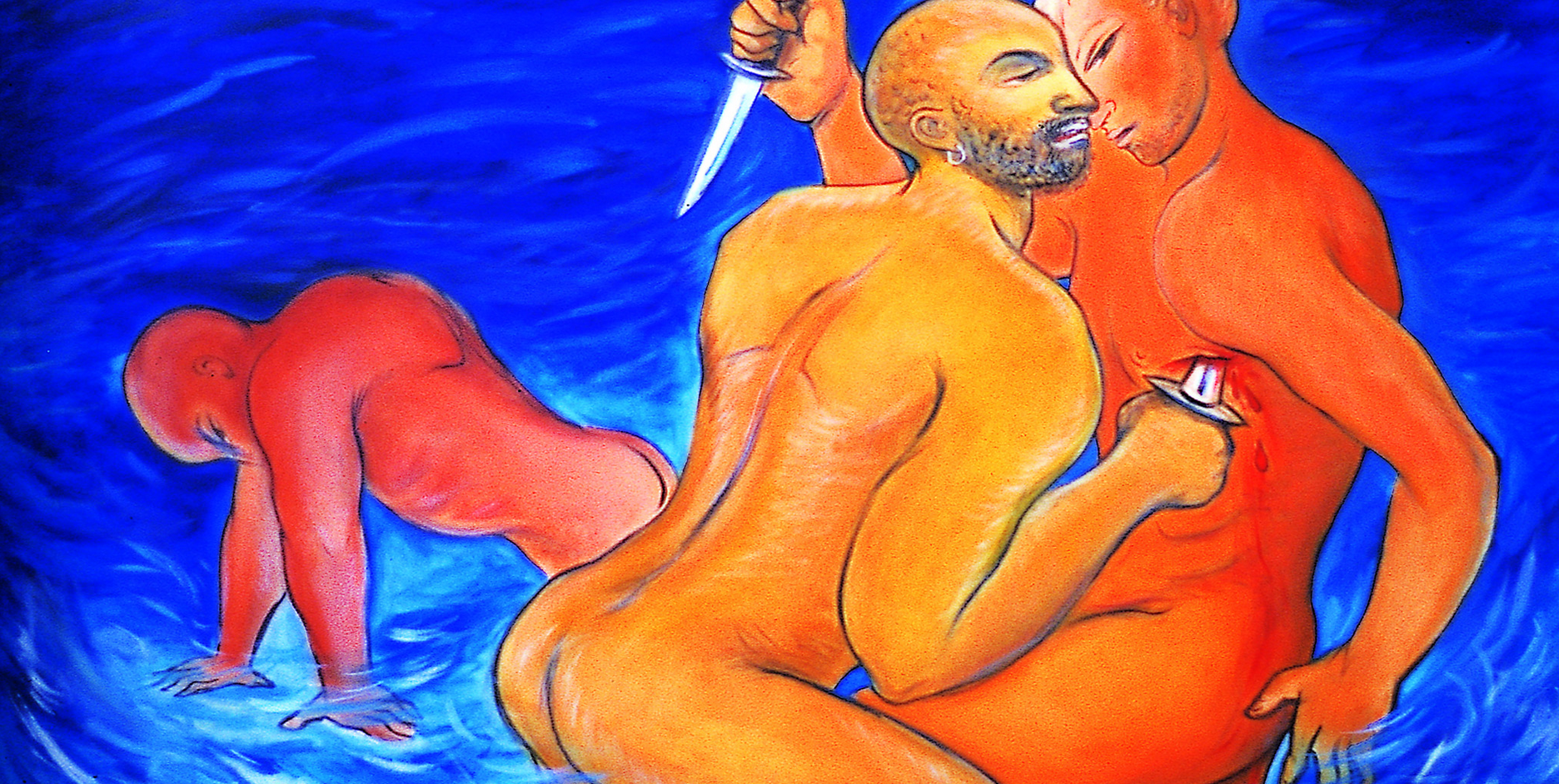 The theme of this exhibition, summarized in its title, is that the body, eroticism, homoeroticism, and violence in Rocío's paintings are a pretext, a linguistic alibi that may allow her to talk about the nature of power in its broadest sense.  Another key element in her work is the treatment of the simulation as an essential feature of human beings, as a strategy for survival.
"Rocío Garcia is not only one of the best Cuban artists of all time; she is also a cult artist. Possessing impeccable technical skill, as evidenced in the rhythmic interplay of lines inspired by Matisse with the minimalist and synthetic approach to the color planes appropriated from Bacon, Rocío distinguishes herself as an untiring seeker of beauty and perfection. This allows her works, which are filled with stories, to escape becoming ornate objects. Instead, they are nuanced and sophisticated, filled with details and references both obvious and subtle" said the curator, Elvia.
Influenced by the sequential nature of film and comic strips, as well as her arsenal of imaginary musings, Rocío creates stories in which the plot unfolds subtly between one canvas and another, or in some cases, even within a single canvas, where various scenes converge and are defined thanks to the planes of color.  In other, more extreme cases, she chooses to create diptychs, triptychs, or planes and pages specifically named as such in their various titles.
The view will be open to the public until June 24th 2018.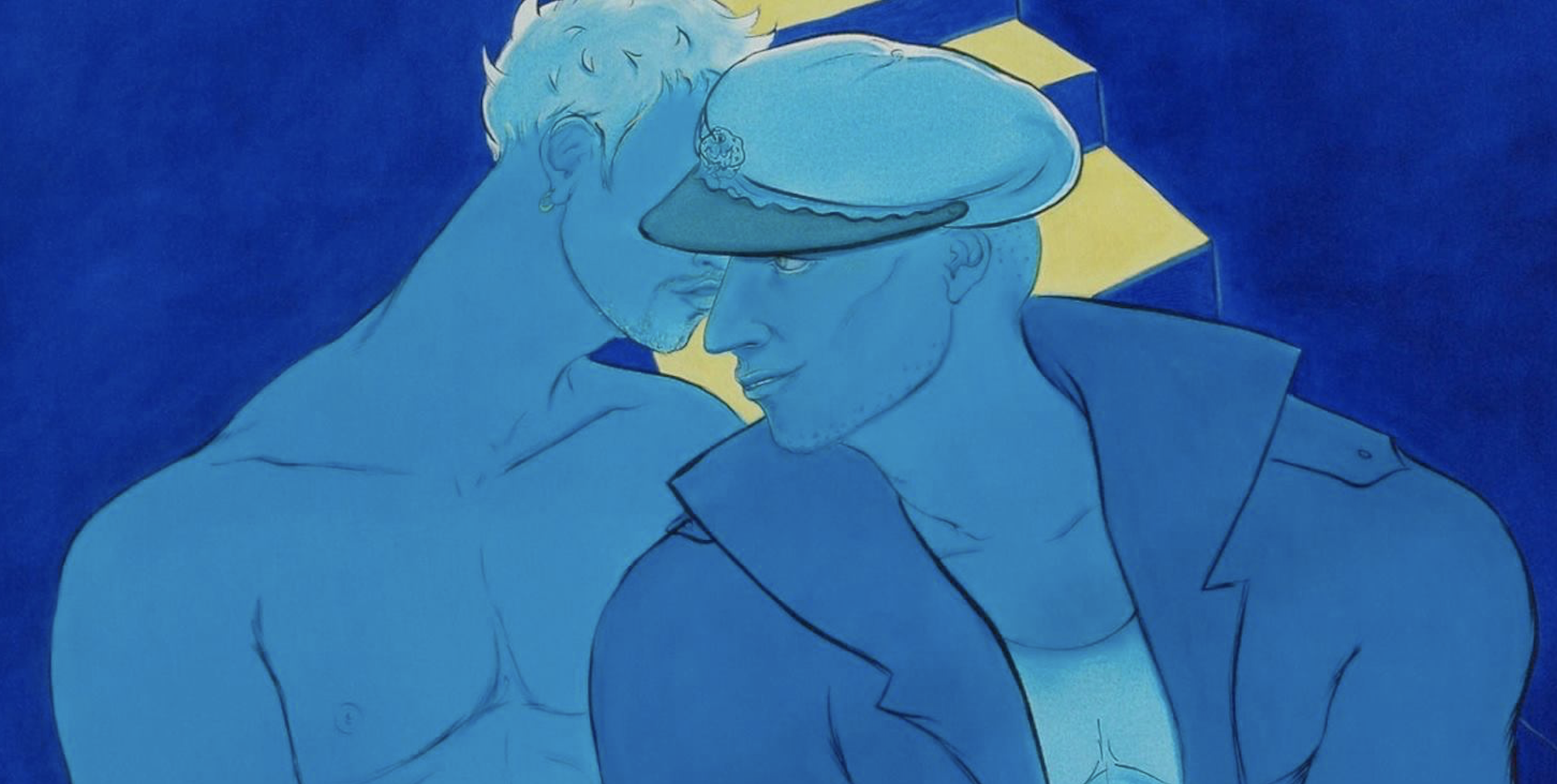 Project and organizational support for FUNDarte's Out in The Tropics 2018 comes in part from Miami-Dade County Department of Cultural Affairs and the Mayor and Board of County Commissioners; the National Endowments for the Arts; the City of Miami Beach Cultural Affairs Program, Cultural Arts Council, and the Miami Beach Mayor and City Commissioners; State of Florida, Department of State, Division of Cultural Affairs and the Florida Council on Arts and Culture; South Arts; Funding Arts Network (FAN); The Miami Foundation; Acción Cultural Española; Centro Cultural Español; MicroTheater Miami; The Gleason Room at the Fillmore Miami Beach; Miami Beach Botanical Garden, University of Miami Departments of Women and Gender Studies, LGBT Studies, and Modern Languages and Literatures, Miami Art Guide; MiamiArtZine; and The Miami Herald.
Centro Cultural Español de Cooperación Iberoamericana, Inc. (CCEMiami) was founded in 1996.  Organized for charitable, educational, artistic, and cultural purposes as set forth in Section 501 (c) (3) of the Internal Revenue Code that aims to promote and foster cultural cooperation, local creativity and the creation of a space for dialogue and exchange by means of a culturally relevant and continuous annual program.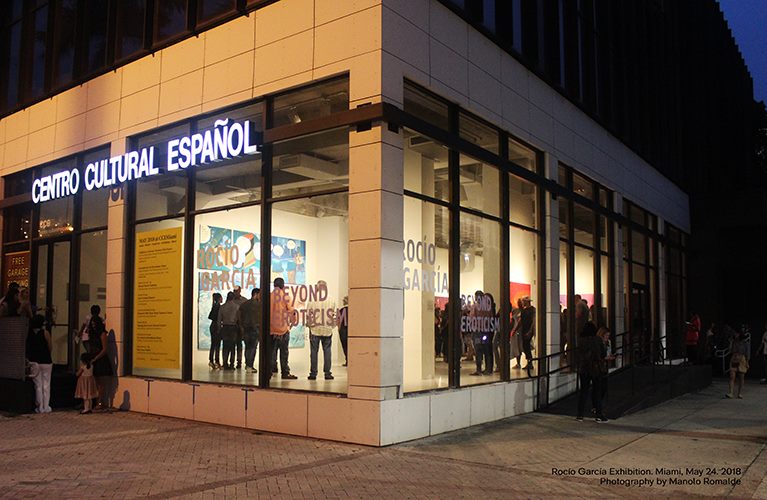 Rocío García: Beyond eroticism. Opening Reception. OITT Festival, presented by FUNDarte & Centro Cultural Español en Miami (CCEMiami). May 24, 2018. CCEMiami (1490 Biscayne Blvd, Miami). Photograph by Manolo Romalde
Visit www.ccemiami.org to find out more CCEMiami and the network of cultural centers belonging to the Spanish Agency for International Cooperation and Development (AECID). CCE Miami is the only one of its kind in the U.S. with a continuous annual program offered in every cultural discipline.
FUNDarte (www.fundarte.us) is a multidisciplinary non-profit organization dedicated to producing, presenting, and promoting music, theater, dance, film and visual arts that speak to Miami's diverse cultures.