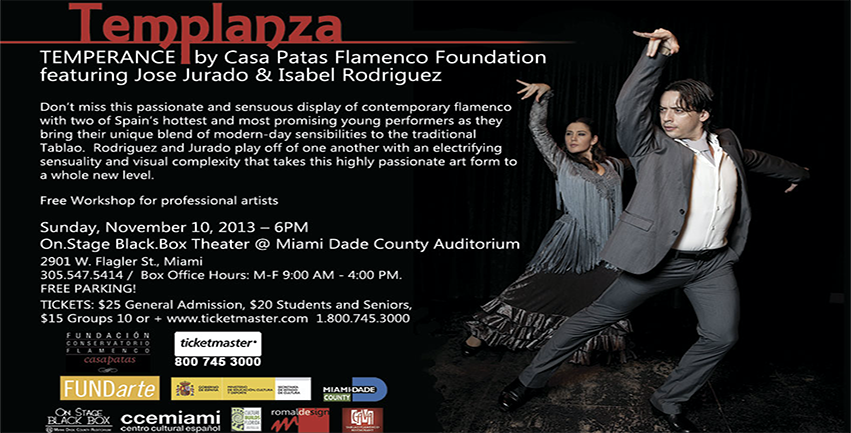 04 Sep

Templanza by Casa Patas Flamenco Foundation

FUNDarte in Collaboration with Miami-Dade County Auditorium. Templanza by Jose Jurado and Isabel Rodriguez, Casa Patas Flamenco Foundation, on Nov 10, 2013. 6:00 p.m. On.Stage Black.Box at Miami-Dade County.

Don't miss this passionate and sensuous display of contemporary flamenco with two of Spain's hottest and most promising young performers as they bring their unique blend of modern-day sensibilities to the traditional Tablao. Rodriguez and Jurado play off of one another with an electrifying sensuality and visual complexity that takes this highly passionate art form to a whole new level.

Free Workshop for professional artists.

What:         Templanza, by Casa Patas Flamenco Foundation featuring Jose Jurado & Isabel Rodriguez


When:         November, 10 at 6:o0 p.m.

Where:        On.Stage Black.Box at Miami Dade-County Auditorium

Cost:            $22 adults | $18 students and seniors with ID (limited seating)

Tickets:      Ticketmaster; by phone (800) 745-3000 and at the Miami Dade-County Auditorium Box Office, Monday through Friday from 9:00 a.m. – 4:00 p.m.

More Information: (305) 547-5414; (786) 348-0789 / www.fundarte.us, info@fundarte.us

FUNDarte is a multidisciplinary non-profit organization dedicated to producing, presenting, and promoting music, theater, dance, film, and visual arts that speak to Miami's diverse cultures with an emphasis on Hispanic/Latino arts and culture. FUNDarte particularly works to nurture emerging artists and those with little or no exposure to South Florida audiences; facilitate intercultural and international exchanges; and provide local audiences and artists with educational opportunities that expand their creative, critical, and social perspectives.