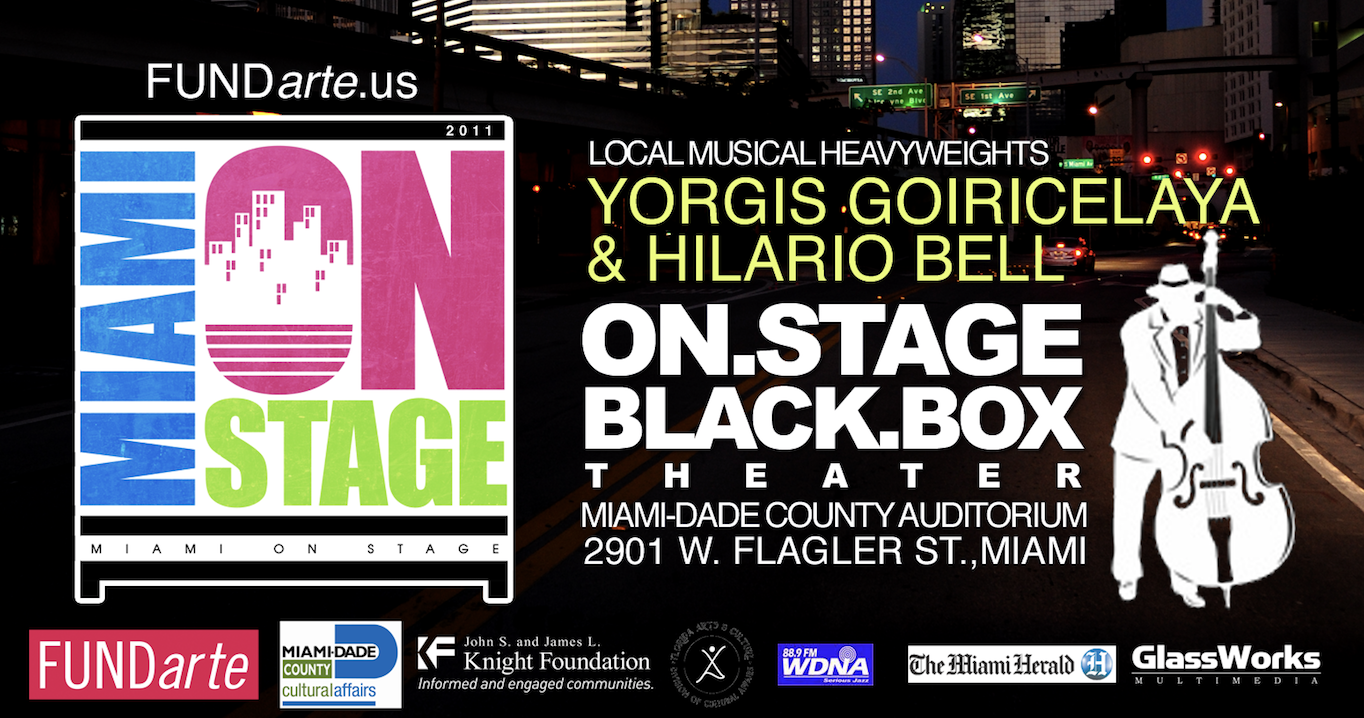 11 Nov

Yorgis Goiricelaya and Hilario Bell in concert!

Miami already boasts an exciting homegrown arts scene that will only continue to flourish and grow through increased opportunities for local professional artists to present their performance work.  FUNDarte's Miami On Stage is a curated multi-disciplinary performing arts series featuring work by South Florida's most talented performing artists.  The series includes one-to-two commissions of new work per season as part of its seasonal programming of local offerings. Now in its second year, Miami On Stage has literally taken its name to another level through an innovative collaboration with the Miami-Dade County Auditorium and its new On.Stage Black.Box.  The series will present four performances, featuring work from South Florida musicians, actors, playwrights, dancers, poets, filmmakers and visual artists. It will also include a number of complementary events, such as panel discussions, open rehearsals and post-show talkbacks.

The Miami On Stage series will feature the following performance at the new On.Stage Black.Box Theater at Miami-Dade County Auditorium:

March 18, 2011 – Latin Jazz Night Jam – Enjoy an exhilarating evening of Latin Jazz wizardry and improvisation as local musical heavyweights Yorgis Goiricelaya and Hilario Bell team up with other musicians to present an "unplugged" evening-length concert. The multitalented bassist Goiricelaya is best known for his participation with Latin musical luminaries such as Oscar D' Leon, Albita, Arturo Sandoval, Paquito D'Rivera, Celia Cruz, Chucho Valdés, Gonzalo Rubalcaba, Habana Abierta and many others, showcasing his youthful exuberance, extensive technical expertise and unbridled professionalism at an international level. Similarly well-rounded, percussionist Hilario Bell has shared the stage with Compay Segundo, Joshua Bell, Cachao, Willy Chirino, and other international legends, and recently garnered a Grammy nomination for his work with the group Tiempo Libre. Both artists have recently produced independent new albums, and the evening promises to be a non-stop extravaganza of musical innovation.

 

On.Stage Black.Box Theater, Miami-Dade County Auditorium, 2901 W. Flagler St., Miami

Tickets: $20 per performance /
$5 discount for Students (-18) & Seniors (+65); $50 Miami On Stage Pass (4 Events)

Tickets by phone: 800. 745 3000

www.ticketmaster.com or www.fundarte.us

Box Office Hours: M-F 9:00 a.m. – 4:00 p.m.

General Information: 305. 547. 5414

+ INFO: www.fundarte.us, info@fundarte.us or (305) 316-6165

FUNDarte is a multidisciplinary non-profit organization dedicated to producing, presenting, and promoting music, theater, dance, film, and visual arts that speak to Miami's diverse cultures with an emphasis on Hispanic/Latino arts and culture. FUNDarte particularly works to nurture emerging artists and those with little or no exposure to South Florida audiences; facilitate intercultural and international exchanges; and provide local audiences and artists with educational opportunities that expand their creative, critical, and social perspectives.