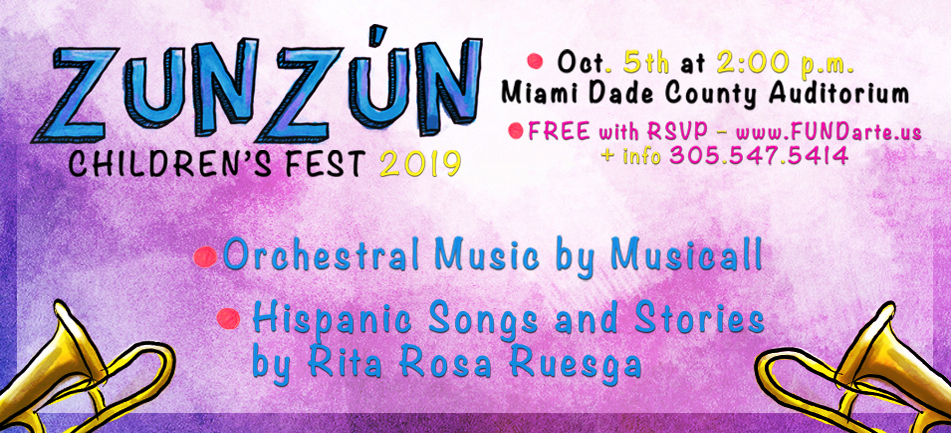 17 Jul

ZunZún Children's Fest 2019 – V Anniversary Celebration!

FUNDarte's FY 2019-20 Season opens Saturday, October 5th, 2019 at 2:00 p.m. with the 5th edition of our International Festival of The Arts for Youth and Children, "ZunZún Children's Fest" featuring Orchestral Music by Musicall and Hispanic Songs and Stories by Rita Rosa Ruesga at Miami Dade County Auditorium.

Join us in a fun journey of classical and contemporary orchestral music. Musicall brings us a lively Miami children's orchestra, conducted by Jose Antonio Bornot. Rita Rosa Ruesga and musicians interpret the most popular and lasting Latin American songs. Don't miss this commemoration of the cultural heritage of Latin American and Caribbean, and the world's classical musical legacies, which celebrate childhood and bring joy to the whole family.

This is a great opportunity to introduce Classical Music to Miami's youngest audience, moving them from listeners to active participants. Designed to bring kids and parents together in an atmosphere that entertains and inspires, ZunZún Children's Fest wants to develop creativity, imagination, and musical curiosity in people of all ages by presenting free and affordable programs for children and families.

ZunZún Children's Fest celebrates timely programming for families and youngest audiences through an array of bilingual musical and theatrical projects, by local and visiting artists that encourage the appreciation of the universal culture and the values of the "Hispanidad".

What: ZunZún Children's Fest – V Anniversary!

When: Oct. 5th at 2:00 p.m.

Where: Miami Dade County Auditorium

Cost: Free event with RSVP

Tickets: Reservations at eventbrite

More Information: (305) 547-5414; (786) 348-0789

Event Details:

Orchestral Music by Musicall and Hispanic Songs and Stories by Rita Rosa Ruesga on Saturday Oct. 5th at 2:00 p.m. at Miami Dade County Auditorium (2901 W Flagler St., Miami, FL 33135).
Orchestral Music by Musicall and Rosa Ruesga onstage, Oct. 5th 2019 at Miami Dade County Auditorium

About the Artists:
Rita Rosa Ruesga is a four-time Grammy award nominee who has impacted over 10,000 children with her Afro-Caribbean and Latin American musical projects for young audiences in Cuba, Mexico, Bolivia, Puerto Rico, Germany, Sweden, Panama, and the USA. Rita has produced several recordings of children's music, for which she has received international acclaim, and has worked with such renowned artists as Celia Cruz and Ricky Martin, as well as many others. Rita holds a degree in Choral Conducting from the National Art School of Havana and has written 3 children's books published by Scholastic Books.
Advanced Youth Symphony. Musicians in this group consistently place at the top of the All-State Band and Orchestra Competition and are leaders in their schools and communities. Advanced Youth Symphony is the Musicall's most advanced youth ensemble and counts with some of the top student musicians in the city.
José Antonio Bornot (Advanced Youth Symphony Conductor) brings more than 30 years of Music Education experience to Musicall; Orchestra Conductor, Composer and Arranger but overall a fantastic teacher, his vast teaching experience includes the Orchestral Practice Department Head at National School of Music and Orchestra Conducting Teacher at Higher Institute of Art, in Havana, Cuba; Orchestra Conducting Technique workshops and master classes facilitator at Complutense University of Madrid and City of Segovia State Conservatory, and works with Tchaikovsky State Conservatory under Dmitri Kitaenko, Chief Conductor of the Moscow Philharmonic and Professor at Tchaikovsky Conservatory (Moscow). Currently, he is the Music Teacher and Choir Director at St. Agatha Catholic School and the Choir Director at St. Kevin Catholic Church, both in Miami FL.
Musicall, Inc. is a Non-Profit Organization, that provides music instruction to all children in Miami, Florida, regardless level of income, age, medical condition, race or ethnicity. Musicall's purpose is to positively affect our society through music the great impact of music at educational and social levels is unquestionable; Children with participation in arts and music as a valuable experience broaden their understanding and appreciation of the world around them. Music education has a direct impact on academic achievements and brings the family closer together. More information at: https://www.musicall.org/
FUNDarte is a multidisciplinary non-profit organization dedicated to producing, presenting, and promoting music, theater, dance, film and visual arts that speak to Miami's diverse cultures with an emphasis on Hispanic arts and culture. FUNDarte particularly works to nurture emerging artists and those with little or no exposure to South Florida audiences; facilitate intercultural and international exchanges; and provide local audiences and artists with educational opportunities that expand their creative, critical and social perspectives.
Financial and administrative support for FUNDarte's 2019-20 series is provided in part by Miami Dade County Auditorium; Miami-Dade County Department of Cultural Affairs and the Mayor and Board of County Commissioners; State of Florida Department of State; Division of Cultural Affairs and the Florida Arts Council; University of the Miami, Department of Modern Languages and Literatures Joseph Carter Memorial Fund, Cuban Theater Digital Archive; Miami Art Guide; El Nuevo Herald; INBY New Papers; Pamela Restaurant; GlassWorks Multimedia, Generación Asere, ZunZún Arts and Education, Musicall.