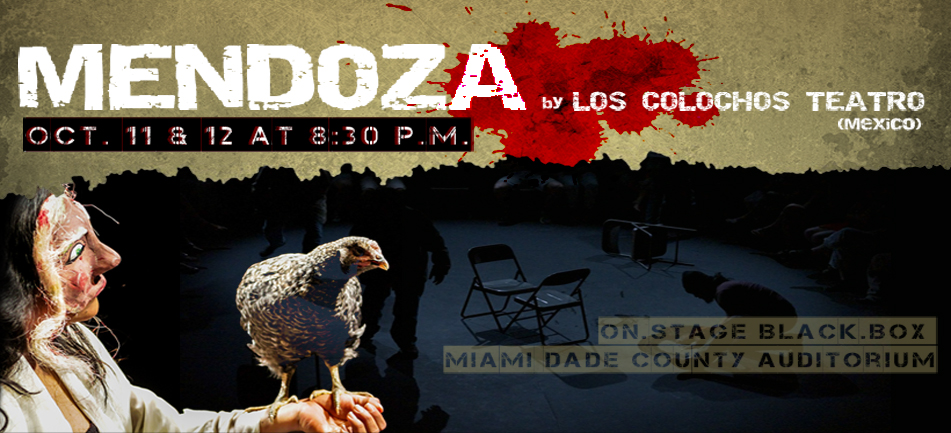 17 Sep

"Mendoza" by Los Colochos Teatro

FUNDarte presents for the first time in Miami "Mendoza", a theater play by Los Colochos Teatro (Mexico). The internationally acclaimed and award winner play will impress the Miami audience for two nights only, October 11th & 12th, 2018.

On October 11th & 12th, FUNDarte, in collaboration with The Miami Dade County Auditorium, proudly presents for the first time in Miami "Mendoza" at the On. Stage Black. Box Theater at Miami Dade County Auditorium (2901 W Flagler St., Miami, FL 33135). Performed in Spanish with English supertitles.

"Mendoza" is an adaptation by Antonio Zúñiga and Juan Carrillo of William Shakespeare's Macbeth in a Mexican context. With an alternative dramaturgy inspired by authors such as Juan Rulfo, and Elena Garro; a simple stage design refers to a "cantina" (saloon) that does not correspond to any particular time or place; six actors and three actresses remain all the time on stage with the audience very closely located to all four fronts. Directed by Juan Carrillo, the play is based on the economy of technical resources and therefore it is mainly supported by the acting and incredibly creative solutions.

In addition to many presentations in Mexico, the company has toured with the play in several renowned international theater festivals such as the IV Certamen Internacional Almagro Off, where it won the first price, at Almagro, España. Festival Iberoamericano de Teatro de Cádiz, España, it toured in Murcia, and Madrid, España in 2014, Heidelberg Stücketmarkt Festival 2015, Heidelberg, Germany, XV Festival Iberoamericano de Teatro de Bogota, Colombia, Festival Mayo Teatral in La Habana, Cuba.
Zona de Distención, Medellín, Colombia, XXXVII Festival Internacional de Teatro de Manizales, Colombia
 and Festival Sala de Parto 2016, Lima, Perú.

This event is part of the global performing arts series NO BORDERS presented by FUNDarte Inc. This series focuses on innovative contemporary works from Latin America, the Caribbean, and Spain, celebrating Miami's diverse multiethnic culture.

Synopsis:

Los Colochos Teatro brings an acclaimed and radical reimagining of Shakespeare's Macbeth to Miami as part of their U.S. tour. Inside the iconic Mexican setting of this classic work, General Mendoza returns to camp one night, and stumbles across a prophetic witch who claims that he will lead the army. Spurred into action by his wife, he begins a seemingly endless chain of grisly murders. This thrilling, fast-paced and blood-soaked ensemble production is inspired by the work of iconic Mexican writers like Juan Rulfo (Pedro Páramo) and Elena Garro, and interwoven with Mexican history—set against the backdrop of the Mexican Revolution and evocative of the gruesome events that exploded into the world's consciousness with the 2014 Ayotzinapa massacre.

Approximate running time: 2 hours and 15 minutes with no intermission

Please note: this production contains a live animal.

The play is apt only for age 16 and above.

What: "Mendoza" by Los Colochos Teatro

When: October 11th & 12th / 8:30 p.m. – 2018

Where: On. Stage Black. Box Theater at Miami Dade County Auditorium (2901 W Flagler St., Miami, FL 33135)

Cost: $30 adults | $25 seniors and students with ID (limited seating).

Tickets: On sale via Ticketmaster at www.ticketmaster.com; by phone (800) 745-3000 and at the Miami Dade County Auditorium Box Office, Monday through Friday from 9:00 a.m. – 4:00 p.m.

Information: (305) 547-5414; (786) 348-0789
Los Colochos Teatro performs on stage "Mendoza" presented by FUNDarte at Miami Dade County Auditorium, on Oct 11,  2018.  Photographer: Generacion Asere
About the artists:
Los Colochos Teatro  
Professional performers comitted to a quality, critical and national theatre.
Los Colochos is a young company with six years of work, in which they have participated in national and international festivals. They have had seasons in Mexico City in forums like Teatro Sergio Magaña, Teatro El Milagro, Labtrece, Centro Cultural Carretera 45, Foro A poco No, Teatro El Granero and Foro La Gruta. Colochos has also participated in the projects Salas de urgencia. The plays in their current repertoire are "El juego de la silla", show of puppets for children about the Mexican Revolution, "El enigma del Serengeti", farce of black humor about the desolation and "Mendoza" an adaptation of William Shakespeare ́s Macbeth, with the support of the young creators of the FONCA program, 2011.
"Mendoza" by Los Colochos Teatro (Mexico), presented in Miami by FUNDarte, has financial and administrative support provided in part by Miami Dade County Auditorium; Miami-Dade County Department of Cultural Affairs, the Mayor and Board of County Commissioners; State of Florida, Department of State, Division of Cultural Affairs, the Florida Arts Council;; Centro Cultural Español de Miami; the University of Miami, Department of Modern Languages and Literatures, Joseph Carter Memorial Fund, and Cuban Theater Digital Archive; Glassworks Multimedia; Romaldesign; Miami Art Guide; MiamiArtZine; and El Nuevo Herald.
Los Colochos Teatro performs on stage "Mendoza" presented by FUNDarte at Miami Dade County Auditorium, on Oct 11,  2018.  Photographer: Generacion Asere
FUNDarte (www.fundarte.us) is a multidisciplinary non-profit organization dedicated to producing, presenting, and promoting music, theater, dance, film, and visual arts that speak to Miami's diverse cultures with an emphasis on Hispanic/Latino arts and culture. FUNDarte particularly works to nurture emerging artists and those with little or no exposure to South Florida audiences; facilitate intercultural and international exchanges; and provide local audiences and artists with educational opportunities that expand their creative, critical, and social perspectives.