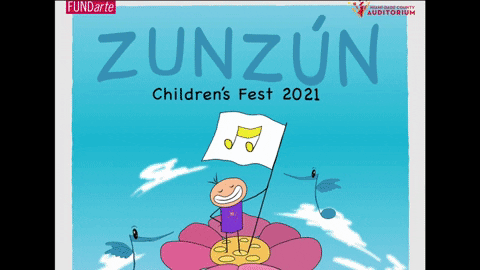 26 Aug

ZunZún Children's Fest 2021

FUNDarte and the Miami-Dade County Auditorium present the 7th edition of ZunZún Children's Fest, with a double bill festival featuring My Folk Life by Nallely Ponce and Insectos y Bicharracos by Rita Rosa Ruesga on Saturday, October 2nd, 2021 at 2:00 p.m. at Miami Dade County Auditorium (2901 W Flagler St, Miami, FL 33135).

My Folk Life.Org by Nallely Ponce, presenting Traditional Regional Mexican Dances featuring Ballet Folklorico Azteca accompanied with Mariachi Voces de America, a Pre-Hispanic Azteca Performance Presented by 'Tloke Nahuake' and a special appearance of las Catrinas 'Mariposa & Rainbow' by the Puppet Network from the Day of the Dead celebration!

Insectos y Bicharracos is a Musical Theatre play, inspired by the album of the same name, produced by Rita Rosa Ruesga. The renowned singer-songwriter will be accompanied by her band of local musicians, to tell this story full of color and Caribbean rhythms, with the costume and set design by Celia Ledón, artistic direction by Eddy Díaz Souza, and the general production by FUNDarte.

This work includes the participation of Luis Manuel Alvarez, Javier Fano, Oneysis Valido, Nirma Del Rio, Rachel Pastor and Leandro Peraza, (Actors); Odalis Cardona, Lennon Ruiz, Edward Magdariaga and Maria Consuelo Hernandez (Musicians); William Ruiz (Assistant Direction and Production); Richard Rodriguez (Lighting Design); and Marcos Menendez (Graphic and Visual Designs).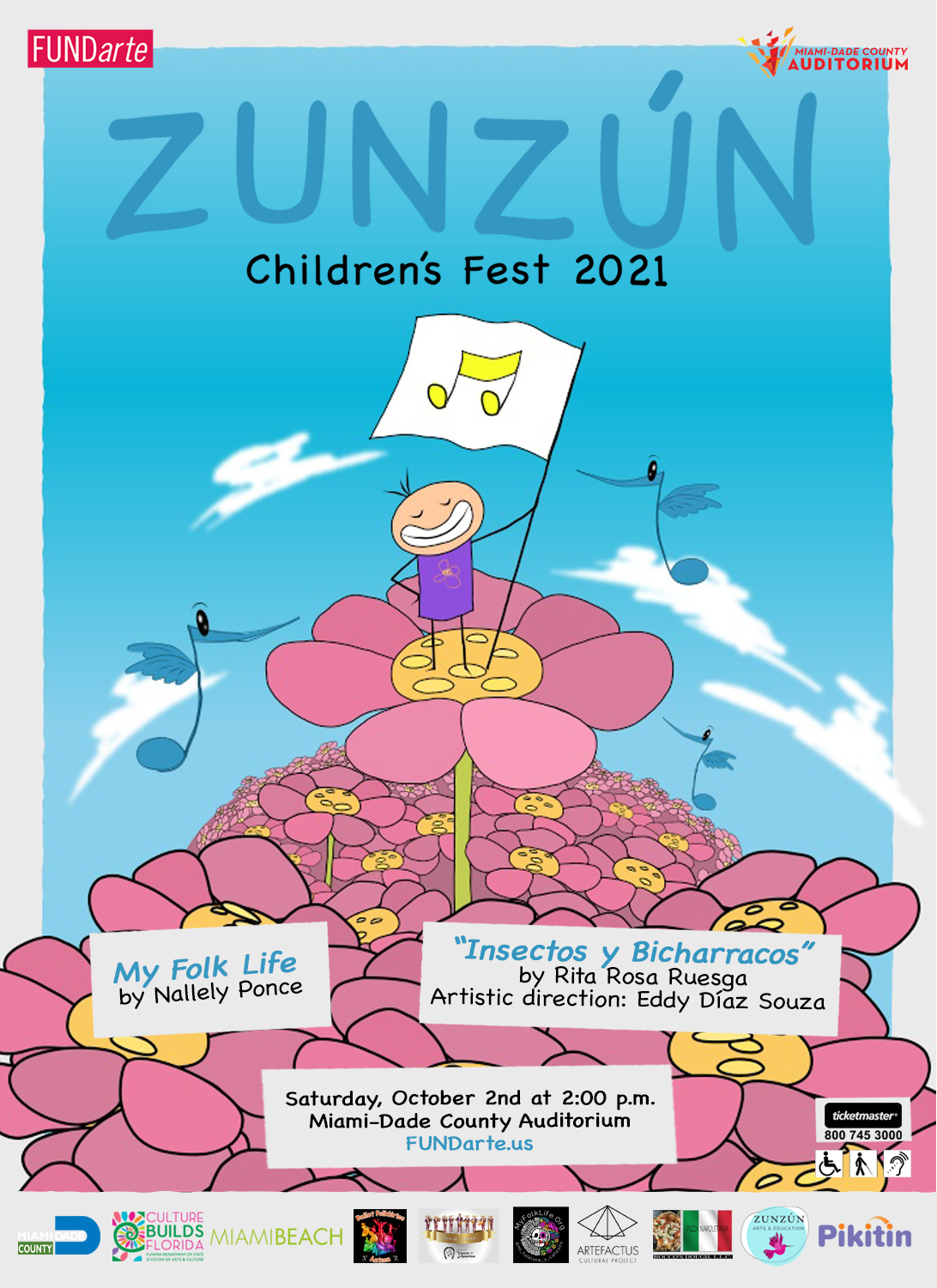 Synopsis: Rosa has baked a delicious tart to celebrate with her friends the cleaning of the yard. Musicians and insects have been invited to the party, but … the tart has disappeared. The investigation will serve to listen to (and also to dance) a selection of songs that can give clues to find the culprit. Do you dare to help find it? Join us to enjoy a weekend full of fun activities, workshops, and spectacular performances!
ZunZún Children's Fest celebrates timely programming for families and young audiences through an array of bilingual musical and theatrical projects by local artists that encourage the appreciation of the culture and the values of "Hispanidad". Don't miss this commemoration of the cultural heritage of Latin American, the Caribbean, and the world's Latin musical legacies, which celebrate childhood and bring joy to the whole family.
What: My Folk Life  by Nallely Ponce and Insectos y Bicharracos a Musical/Theatre play by Rita Rosa Ruesga
When: Saturday. October 2nd at 2:00 p.m.
Where: Miami Dade County Auditorium (2901 W Flagler St, Miami, FL 33135)
Cost: $5 for general admission
Tickets: on sale via Ticketmaster at www.ticketmaster.com; by phone
(800) 745-3000 and at the Miami Dade County Auditorium Box Office,
Monday through Friday from 9:00 a.m. – 4:00 p.m.
+ Information: (305) 547-5414 | www.FUNDarte.us
About the Artists:
Rita Rosa Ruesga is a four-time Grammy award nominee who has impacted over 10,000 children with her Afro-Caribbean and Latin American musical projects for young audiences in Cuba, Mexico, Bolivia, Puerto Rico, Germany, Sweden, Panama, and the USA. Rita has produced several recordings of children's music, for which she has received international acclaim, and has worked with such renowned artists as Celia Cruz and Ricky Martin, as well as many others. Rita holds a degree in Choral Conducting from the National Art School of Havana and has written 3 children's books published by Scholastic Books. More information: https://www.ritarosa.com/
My Folk Life directed by philanthropist Nallely Ponce encourages the appreciation and preservation of Latino cultural heritage. Celebrating Mexican traditions with children and families by taking them through a journey of Mexico, showcasing the colorful folkloric dances with their traditional beautiful attire 'trajes tradicionales' and festive Mariachi music.
More information: https://www.myfolklife.org/
FUNDarte is a multidisciplinary non-profit organization dedicated to producing, presenting, and promoting music, theater, dance, film and visual arts that speak to Miami's diverse cultures with an emphasis on Hispanic arts and culture. FUNDarte particularly works to nurture emerging artists and those with little or no exposure to South Florida audiences; facilitate intercultural and international exchanges; and provide local audiences and artists with educational opportunities that expand their creative, critical and social perspectives.
Financial and administrative support is provided in part by Miami Dade County Auditorium; Miami-Dade County Department of Cultural Affairs and the Mayor and Board of County Commissioners; The State of Florida, Department of State, Division of Arts and Culture and the Florida Council on Arts and Culture, Cultural Arts Council, and the Miami Beach Mayor and City Commissioners; Ballet Folklórico Azteca; Voces de América; My Folk Life; Artefactus; Rocco's Dough; ZunZún Arts and Education and Pikitin.